Research in Internal Medicine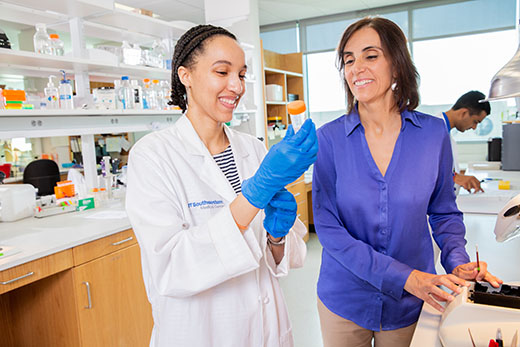 An Ideal Environment for Research
As part of one of the world's foremost research institutions, the Department of Internal Medicine at UT Southwestern Medical Center conducts basic science and clinical research with the goal of bringing the latest discoveries from the "bench to the bedside." Here, we take a multidisciplinary approach to research, fostering an environment for physicians, scientists, and students that is both collaborative and cooperative.
Basic and clinical studies in many fields help UT Southwestern deliver the future of medicine, today, by working at the leading edge of research. Our discoveries make a difference.
UT Southwestern research is supported by funding from major organizations, including the National Institutes of Health, Department of Veterans Affairs, American Heart Association, March of Dimes, National Kidney Foundation, and many more.
A Wide Array of Research Possibilities
The Department of Internal Medicine has active research programs underway in many of our subspecialties, offering physicians, scientists, and students alike stimulating and challenging opportunities to expand their knowledge, advance the field of medicine, and further their careers.