Dallas, Texas is a diverse and sprawling city filled with unique neighborhoods each with their own culture and flavor. There is something for everyone from the Bishop Arts District with streets lined with local restaurants, coffee shops, and music venues to the Carrolton area with options including Korean barbeque, karaoke, taiyaki, and H-Mart grocery shopping. If sports are your thing, come out and cheer on the Dallas Cowboys, Mavericks, and Stars (Dr. Walsh's personal favorite) with us. The food is amazing, and Dallas was voted Bon Appetit's "Restaurant City of the Year" in 2019. We love our city and want to give you a glimpse of what we like to do in our free time. With X+Y schedules on both categorical sides, you will have the golden weekends time to really enjoy all that Dallas and the surrounding area has to offer!
Socials, Retreats, and More!
Pediatrics Intern Retreat: Every year our pediatric program organizes a weekend excursion outside of town for some R&R and lots of fun outdoors activities for our residents! It's a great time to strengthen our friendships on the pediatric categorical side. The residents also get the chance to come together and reflect on the intern experience through guided workshops and activities.
Internal Medicine Intern Day-Off: During the Internal Medicine Day-Off, the seniors cover the interns for them to have a day to themselves with activities sponsored by the program. Each year has come up with a unique use of the day with activities ranging from Firm Olympics to tacos and pool parties. It is a great time to unwind with our internal medicine friends and get to know residents outside of our firms a little better.
Intern Switch Party:In preparation for our intern's first switch between Internal Medicine and Pediatrics, we get together and swap stories and advice for the transition. It's also a great excuse to all hang out and eat some great food together!
Senior Social: The transition from intern to senior can be challenging and sometimes feels daunting. We take this time to remind our rising PGY-2s that they have their whole Med-Peds family behind them to support them through this switch. We talk through some logistics but also reflect on our experiences of this transition as Med-Peds residents together. This year's focus was to normalize asking for help when needed, the process of growth and learning, and that your Med-Peds family is always there for you.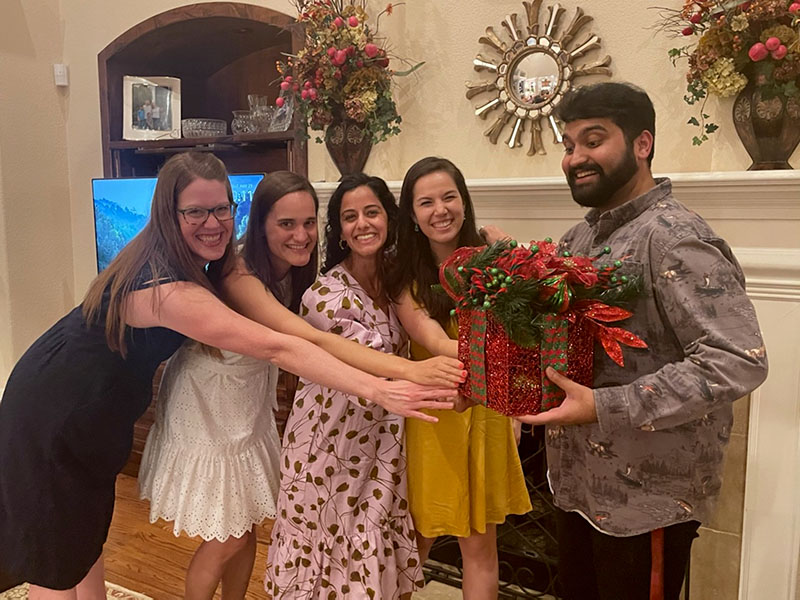 Journal Club and Med-Peds Trivia: Our wonderful conferences chairs have made education and board-prep fun and interactive with creative approaches like Med-Peds Trivia Hour! We had recent trivia nights at a local brewery (who even generously lent us the sound system) to engage in friendly competition over a drink and some pizza.
Happy Hours: We have monthly "Happy Hours" with our lovely program director, Dr. Walsh. This is built-in time to discuss concerns and suggestions and has produced real changes in our program innumerable times. It is incredible how accessible our leadership is and how responsive they are to our needs/concerns. We also love the chance to get together at least once a month to catch-up as a program outside of work!
Holiday Parties and More: Getting to be a part of three programs means three times the holiday parties and graduation celebrations! The annual white elephant gift exchange is one of our many traditions.
Follow Us on Instagram