Given the complexity of the NMR spectra plus restriction on signal-to-noise in both 2H and 13C NMR experiments, an operator- independent spectral analysis would be desirable. It is also important to establish a method which allows a measure of the uncertainties in the metabolic parameters of interest from a single NMR measurement. Bayesian inference coupled with Markov Chain Monte Carlo methods has been developed in collaboration with Dr. Larry Bretthorst at Washington University in St. Louis.
The automated analysis of the 2H free-induction decay takes advantage of prior metabolic knowledge (the combined contribution of the TCA cycle, glycogen and glycerol to plasma glucose cannot be greater than 100%) and prior NMR knowledge (chemical shifts) to provide an operator-independent estimate of both the metabolic results and the error in each metabolic parameter from a single raw free-induction decay. This analysis is now available for routine use at the Center.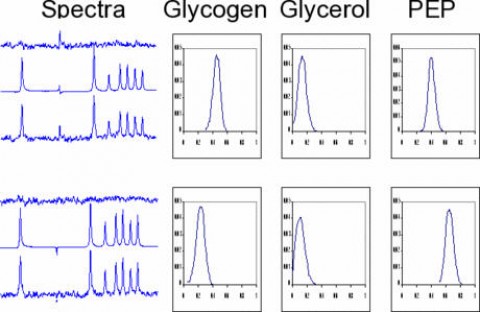 The analysis of 13C free induction decays is also being developed, in which the prior knowledge used includes the relationship between peak intensities and the parameters of models of the citric acid cycle and related pathways.