Winter weather 2023
Page updated Feb. 9, 2023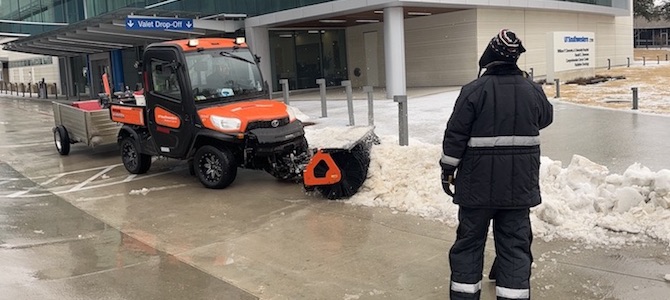 Jimmy Johnson, right, and Mario Banda clear a sidewalk.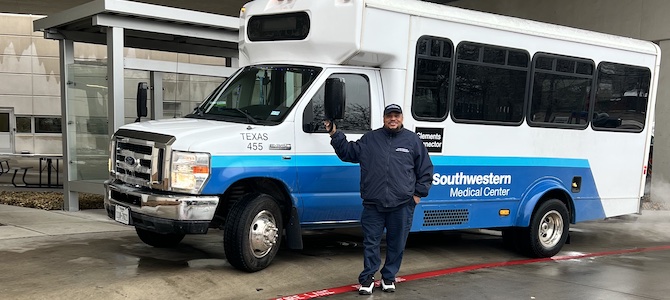 UTSW shuttle driver Dadrian Pearson waits to pick up riders.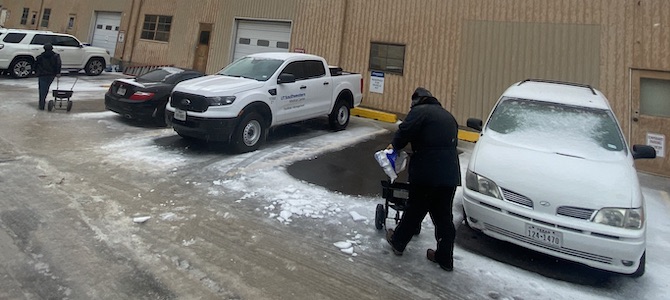 Gabriel Ortiz, left, and James McKinney clear ice from around trucks in a UTSW parking lot.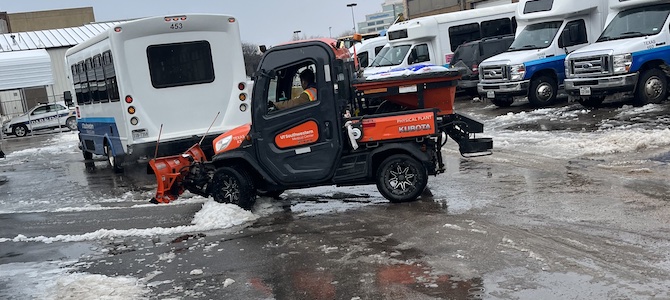 Jose Perez uses a utility vehicle to clear a parking lot where UTSW shuttle buses are parked.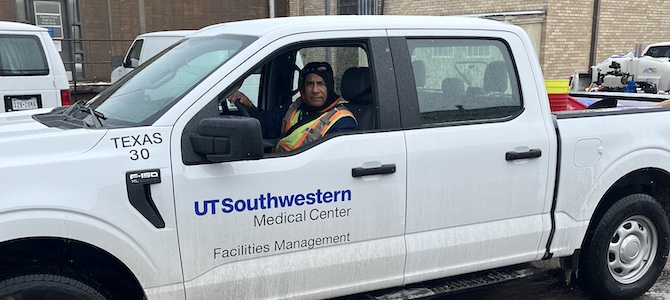 Julio Martinez sits in a truck.
---
UTSW winter weather update for Thursday, Feb. 2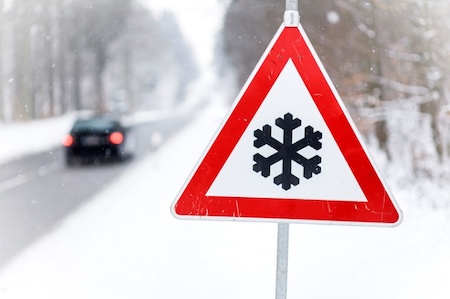 Temperatures are expected to climb above freezing Thursday afternoon, but hazardous driving conditions likely will remain throughout the day. Based on those forecasts, UTSW operations will continue to be impacted as we make the safety of our employees and staff and those we serve a priority.
Here is what you need to know for Thursday, Feb. 2.
UTSW policy
Per EMP-267: Attendance in Emergencies or Inclement Weather, employees who hold essential positions during emergencies – including all hospital and clinic personnel – are expected to make their best efforts to report to work as scheduled during inclement weather and to proactively communicate any necessary changes with their immediate supervisor. Those who are not approved to work remotely and decide not to report to campus will have leave accruals applied to the absence and may be subject to disciplinary action.
Overnight accommodations
Employees required to work on campus during the weather event should coordinate with their direct supervisor on emergency lodging.
A REDCap survey has been shared with University Hospital managers and directors to simplify the request process.
Anyone seeking hotel accommodations must receive preapproval from their supervisor to be eligible for reimbursement.
Ambulatory Operations
All in-person clinic visits scheduled for Thursday, Feb. 2, are shifting to virtual care, based on provider and patient capabilities, or are being rescheduled. There may be a few exceptions based on urgent patient needs, which are being communicated directly with those care teams.
Outdoor drive-thru operations, including COVID-19 testing and vaccinations, will remain closed through Thursday. Vaccinations previously scheduled for West Campus Building 3 will be rescheduled.
Surgical Services and Endoscopy
The Operating Room scheduling team is operating on an urgent/emergent schedule at William P. Clements Jr. University Hospital (CUH), Zale Lipshy Pavilion, and the Outpatient Surgery Center.
Surgical leadership will be working with the faculty and clinics to reschedule elective cases.
Digestive Disease Clinic leaders will be rescheduling elective cases.
Imaging/Cardiac Catheterization Lab/Interventional Radiology
Leaders and schedulers are contacting patients directly to adjust appointments, as needed.
As has been practice throughout the week, questions or concerns may be directed to Donald McLaughlin, Associate Vice President, Hospital Clinical Operations. donald.mclaughlin@utsouthwestern.edu.
Remote work and education
Employees already approved to work remotely are expected to continue doing so through this weather event.
Anyone who holds a position not designated as essential during inclement weather or other emergencies should work directly with their supervisor to confirm their status and determine next steps for their work schedule and location.
Employees who cannot work remotely should arrange with supervisors to make up missed time during the closure, where possible and during the same pay period, to avoid having to use leave accruals or unpaid leave.
Students should look for additional communications from their academic deans regarding remote learning.
Please see these FAQ to learn more about work during inclement weather.
Campus safety, parking, and shuttle service
Shuttle service
The UTSW DART shuttle route (from TRE to campus) and Hospital Express route (between CUH and Zale Lipshy) are running normally.
Guest Services is working with shuttle services to provide on-demand service for patients.
Any UTSW employee staying overnight at a local hotel can request shuttle service to and from campus by calling 214-648-3132. Operating times for these on-demand rides are 6-8 a.m. and 6-8 p.m.
Routes to off-campus locations such as Pegasus Park and Brookriver are canceled.
Parking
The solar lot next to the Bass Center is closed. Employees should park in the East Campus garage used by Radiation Oncology. You will not be ticketed.
Upper-level, outdoor parking decks will remain closed Wednesday and Thursday.
Safety
Pedestrian walkways and driveways continue to be treated.
Deliveries to UTSW locations
FedEx, UPS, and other delivery companies have informed us they will not be delivering to the main UTSW campus and many of our other locations Wednesday and Thursday due to road conditions.
Backup care
UT Southwestern offers backup, low-cost child, adult, and senior care to all full-time (40 hours a week) and part-time (30-39 hours a week) benefits-eligible employees through Bright Horizons. Availability may also be based on inclement weather.
Log in to the Bright Horizons website, click Sign Up, then use employer username UTSWcare and password UTSW123# (you will have the option to change your username and password after your initial login). You can also register by phone at 1-877-BH-CARES (1-877-242-2737). Bright Horizons consultants are available 24/7.
Additional details and guidance on ambulatory and hospital operations will be relayed to members of the Health System in subsequent messages.
If you have any questions about your specific role or circumstance, we encourage you to work with your supervisor.
During weather events like this, your dedication to UTSW's mission and to those we serve shines through the storm. We greatly appreciate your hard work and perseverance.