Volunteers needed for HealthFest at KwanzaaFest, Dec. 14-15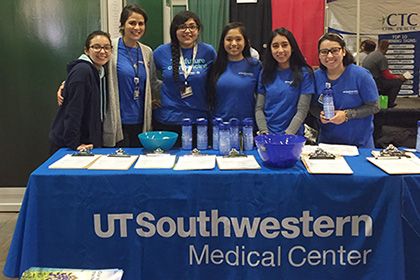 Join UT Southwestern for the 2019 HealthFest at KwanzaaFest on Saturday, Dec. 14, from 10 a.m-6 p.m. and Sunday, Dec. 15, from 11 a.m.-5 p.m. in the Automobile Building at Fair Park. The event is free to the public, but tickets are required. A longtime event participant, UTSW offers health information and screenings during the two-day event.
Last year, 60,000 tickets were distributed. This marks the 17th year HealthFest has been operating at KwanzaaFest, which is celebrating 28 years of community festivities.
Volunteers are needed to register vendors, work in the KidFest and Prize Center areas, assist with setup on Friday (day and evening), oversee the 5K Walk/Run on Saturday morning, and collect tickets at the door.
Volunteers are requested for two- to four-hour shifts and will need to report to the Automobile Building at Fair Park at 6:30 p.m. on Friday, Dec. 13, to receive their assignment, shift confirmation, and badge.
To volunteer or if you have any questions, kwanzaafest@utsouthwestern.edu the UTSW KwanzaaFest team.