This February, celebrate 28 days of #UTSWHeart

February's American Heart Month is just around the corner, and there are lots of opportunities for UT Southwestern employees to participate. Here are several – including a chance for one lucky person to win a professional portrait session! Check back for more activities to be added soon!
NEW! UT Southwestern Preventive Cardiology Lecture Series Honoring Heart Month: New 2018 Cholesterol Guidelines: Update and Case Discussion
Join UT Southwestern Cardiology for a panel discussion honoring Heart Month, New 2018 Cholesterol Guidelines: Update and Case Discussion, at noon Thursday, Feb. 28 in D1.602 lecture hall. Hosted by Dr. Amit Khera, the panel will include six experts on the new cholesterol guidelines. Lunch will be provided on an RSVP basis, BarbaraF.Green@utsouthwestern.edu Barbara F. Green to RSVP.
Special delivery prize to the winner of the 3 Million-Step Challenge!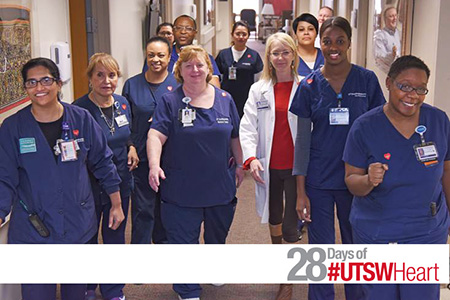 Question: Who wouldn't want breakfast tacos delivered to them by none other than Dr. John Warner, Executive Vice President for Health System Affairs?
Answer: We thought so.
Get ready to walk your loafers off, because this year's Heart Month Step Challenge is getting a turbocharge. The idea is for employees to collectively walk (and track) their steps on Thursday, Feb. 28. For the past two years, the venue for the challenge was held in clinical settings. This year, the competition is thrown open to the entire campus – and with higher stakes: the step goal is a combined 3 million steps.
The individual with the most steps will receive a breakfast taco delivery from Dr. Warner. Yes, really. That Dr. Warner. He'll bring breakfast to you to share with your team.
We need all of your help, so here's how to participate:
Track your steps throughout the day (Feb. 28, midnight - 11:59 p.m.) using a fitness tracker (Fitbit, pedometer, tracking app on your mobile phone).
If you have an iPhone, open the health app that's automatically installed on your phone. Your step count for the day will be listed on the main dashboard if you have enabled motion tracking. To enable motion tracking, go to Settings>Privacy>Motion & Fitness and toggle Fitness Tracking on.
When you're finished, you'll need to log your steps at utswmed.org/steps. You must log your steps by 11:59 p.m. on Thursday, Feb. 28.
Social media
Follow #UTSWHeart on your favorite social media network for heart-centric content during the month of February. Post, share, learn, and visit often to learn what makes UT Southwestern a special place for heart research, education, and clinical care.
Heart Month health fairs
Join us for one of two Heart Month Health Fairs on the first and third Fridays of February, and chat with one of UTSW's preventive cardiologists to learn more about "Knowing Your Numbers." Have your blood pressure and body fat percentage measured, and come taste a heart-healthy snack. Health fair dates and locations:
Friday, Feb. 1, Bass Administrative and Clinical Center
Friday, Feb. 15, South Campus
To sign up for the Rockport Walk fitness assessment, a walking test that indicates how physically fit you are, Carrie.Brown@utsouthwestern.edu Carrie Brown.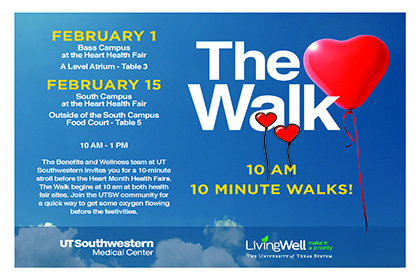 Walk The Walk
The Benefits and Wellness team at UT Southwestern invites you for a 10-minute stroll before the Heart Month Health Fairs on Feb. 1 and Feb. 15. The Walk begins at 10 a.m at both health fair sites. Join the UTSW community for a quick way to get some oxygen flowing before the festivities.
National Wear Red Day
National Wear Red Day is Friday, Feb. 1; show your support by wearing red for women's heart health.
Deadline passed: Take a walk to your favorite place on campus, snap a selfie, and win a professional portrait session!
Do you have a favorite place on campus? It could be a comfortable seat in the library, a visiting food truck or vendor, a work of art (the Chihuly sculpture, perhaps), or the indoor walking path at Bass. Whatever it is, we want to see you there, and we want to know about it.
This Heart Month, we'll share those beautiful walkable – or rest-able – places throughout the UTSW footprint (not just the main campus – in Fort Worth and Richardson, too). So:
Walk to your favorite spot.
Snap a selfie that shows you with your favorite view.
campus.updates@utsouthwestern.edu it to us at campus.updates@utsouthwestern.edu. Include your name, department, and a few words about your favorite place.
For a little extra fun, print this sign and include it in your photo, and share it on social media with #utswheart.
We'll compile the submissions into a Center Times Plus gallery, and one entrant will be selected at random to win a professional portrait photography session! Three additional random winners will score a Heart Month swag pack.
Submit your entry by Friday, Feb. 15, and look for the gallery the following week. This is the perfect opportunity to update your social media profiles with your picture taken by our own photographer of the UTSW stars.