Updated: Heart Month gets employees stepping up to the challenge
You did it!
UTSW employees shattered the goal of the Heart Month 2 million-Step Challenge. Not only did they hit the 2 million-step goal – they walked right past it to collectively walk an impressive 3,122,017 steps.
The challenge was held at Clements University Hospital, Zale Lipshy University Hospital, and POB 1 and 2 on Friday, Feb. 23.
Congratulations, and thanks for stepping up for heart health. In the coming weeks, we'll post photos and names of the individual challenge winners. Stay tuned!
Walkers at Clements University Hospital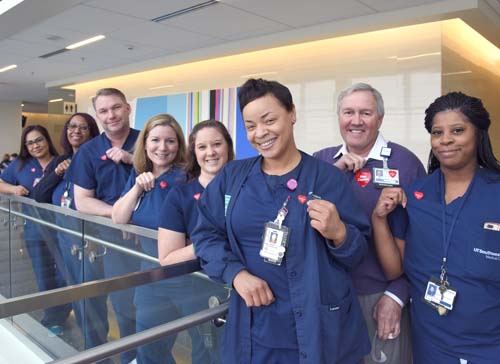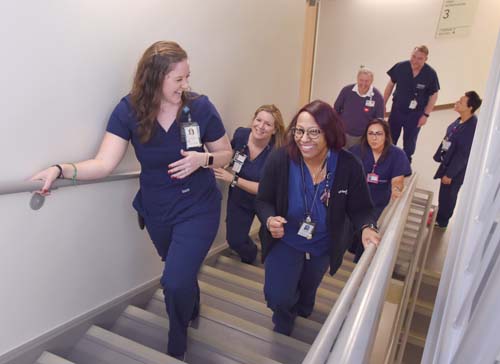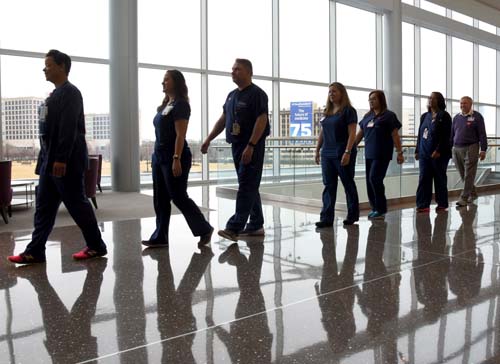 Walkers at Zale Lipshy University Hospital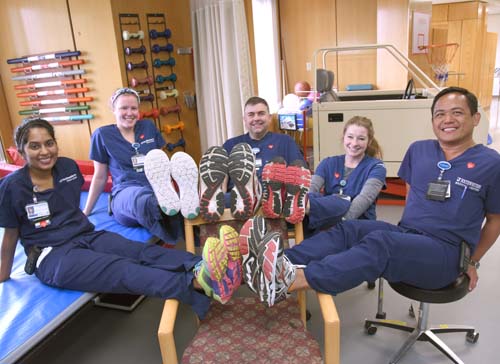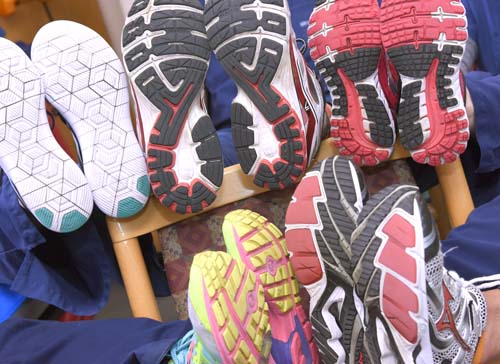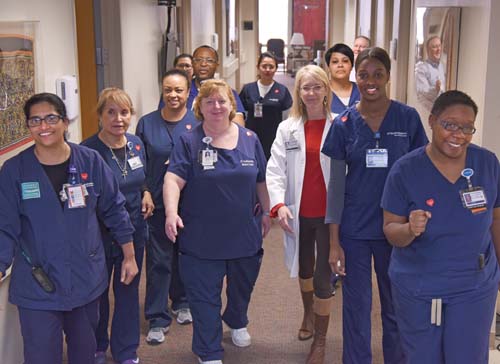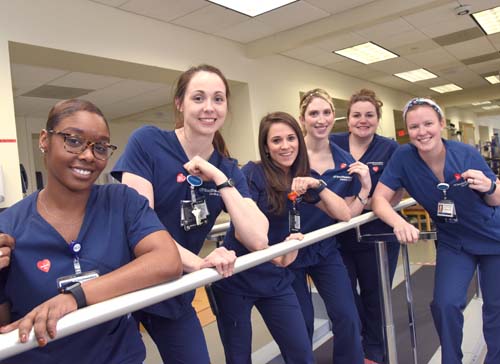 Walkers at POB 1&2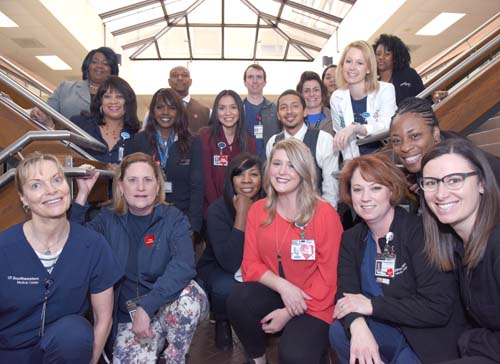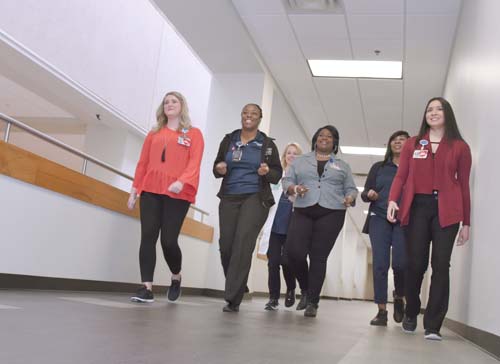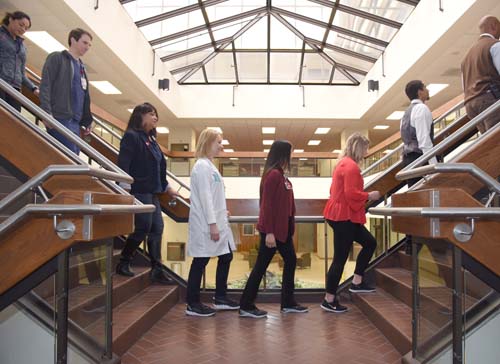 Previous Heart Month coverage:
Do you know your numbers? If you don't, this is the perfect time to get acquainted with them. February is American Heart Month, and there are several activities in the works at UT Southwestern, including health fairs, Heart Walks, Facebook Live video chats, and more. We'll be updating this page with links to more stories related to American Heart Month throughout the month, so bookmark this page, and print out our Campuswide Events calendar for a reminder of key dates during Heart Month.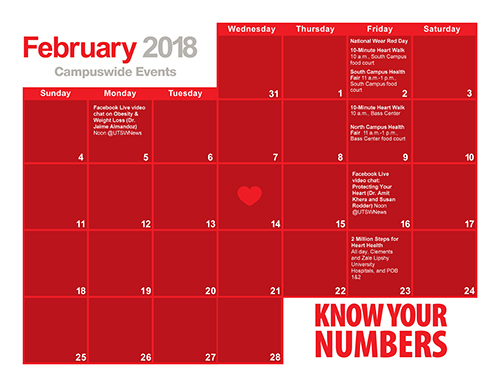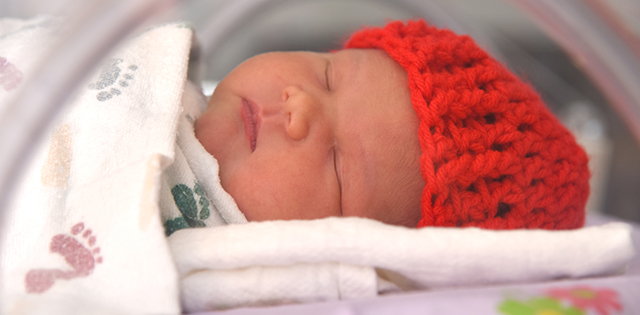 As part of the Little Hats, Big Hearts campaign, the American Heart Association and UT Southwestern teamed up with volunteers from around the country to give red hats to babies born in February and spread awareness for heart health. Plus: A 'Little Hats' video!
UT Southwestern Facebook Live Video Chats
2 Million-Step Challenge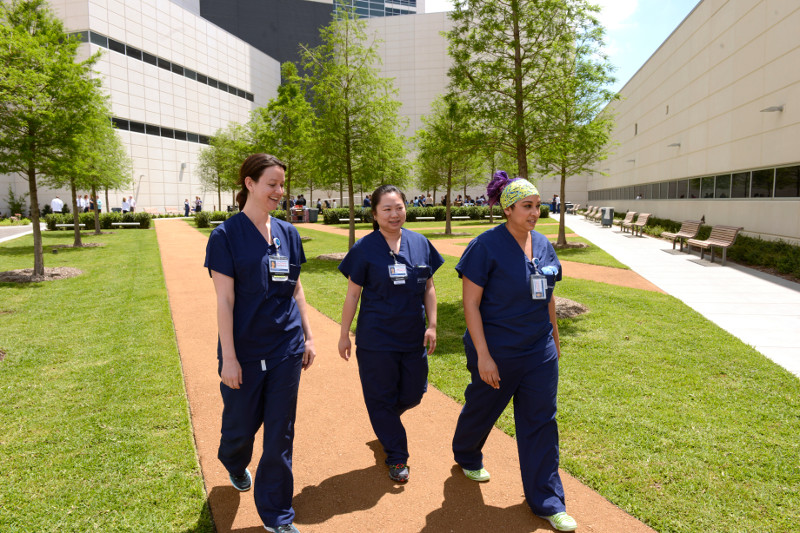 You might remember last year's 1 Million-Step Challenge at Clements University Hospital, a fun activity that demonstrated our commitment to fitness and heart health. It's on again this year, but we've upped the ante. The goal is for employees to collectively walk (and track) 2 million steps. This year, the initiative expands to also include Zale Lipshy University Hospital, and POB 1 and 2.
We need your help, so here's how to participate:
Track your steps throughout the day (midnight - 11:59 p.m.) using a fitness tracker (Fitbit, pedometer, tracking app on your mobile phone).
If you have an iPhone, open the health app that's automatically installed on your phone. Your step count for the day will be listed on the main dashboard if you have enabled motion tracking. To enable motion tracking, go to Settings>Privacy>Motion & Fitness and toggle Fitness Tracking on.
Email a screenshot or photo of your final step count to behearthealthy@utsouthwestern.edu by 11:59 p.m. on Friday, Feb. 23.
The individuals with the most steps will be awarded a prize.
Joint Conference on New AHA/ACC 2017 Hypertension Guidelines
UT Southwestern is holding a Joint Conference hosted by the Preventive Cardiology Program and Hypertension Section, in honor of American Heart Month. The conference will review the new American Heart Association/American College of Cardiology Hypertension Guidelines released November 2017 – "Understanding and Applying the Evidence." The event is geared toward clinicians but open to the campus.
The conference is from noon-1 p.m., Friday, Feb. 23, at D1.502 (South Campus). Lunch will be provided on an RSVP, first-come, first-served basis. Please respond to karen.modesitt@utsouthwestern.edu.
Health Fairs
Updated: Read a recap of this month's Heart Month Health Fairs.
First on the agenda are two Heart Month Health Fairs on the first two Fridays of February, where employees can chat with one of UTSW's preventive cardiologists to learn more about "Knowing Your Numbers." You can have your blood pressure and body fat percentage measured, and taste a heart-healthy snack.
Feb. 2, 11 a.m.-1 p.m., South Campus food court
Feb. 9, 11 a.m.-1 p.m., Bass Center food court
Don't forget to sign up for the Rockport Walk, a walking test that indicates how physically fit you are. The walk will be held only during the Feb. 2 Health Fair on South Campus. To sign up in advance, contact Karen Modesitt at karen.modesitt@utsouthwestern.edu.
28 Days, 28 Hearts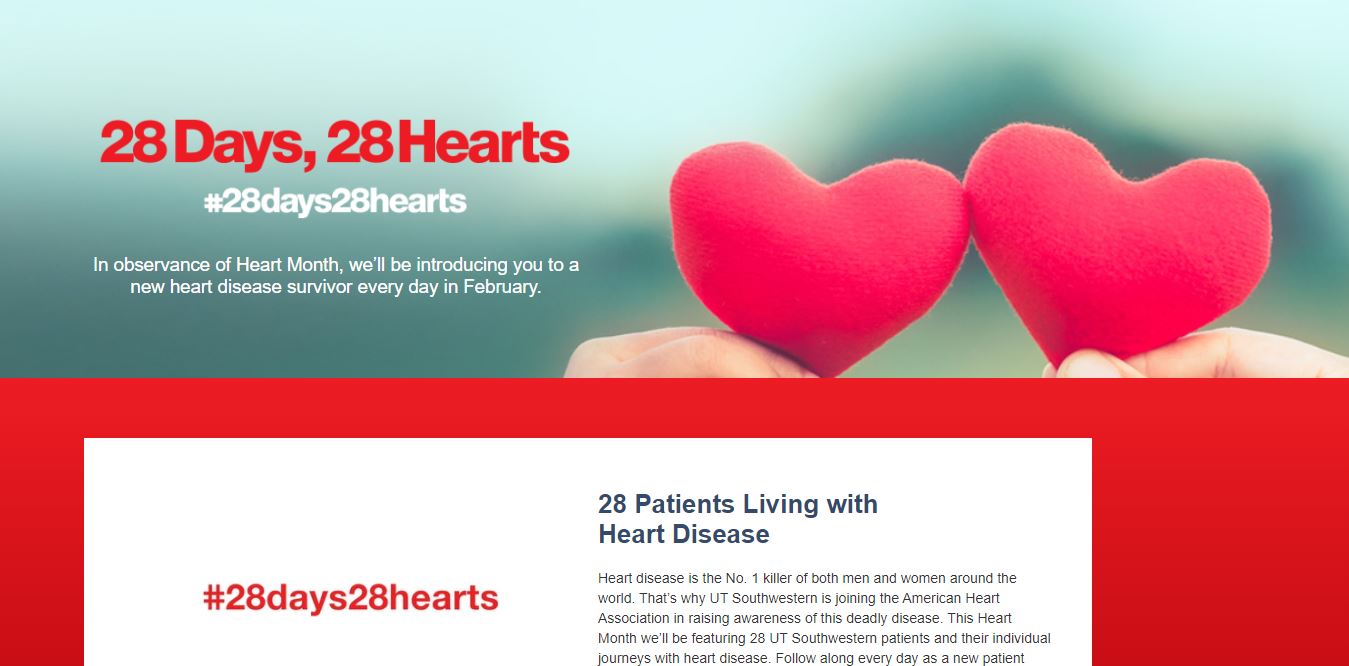 Be sure to check out 28 Days, 28 Hearts, a website dedicated to telling one heart disease survivor story each day throughout Heart Month.
The first "28 Days" story is that of Dennis McBride of Mount Pleasant, Texas. When Mr. McBride needed heart valve surgery, he turned to UT Southwestern and Dr. Neelan Doolabh. Dr. Doolabh performs a minimally invasive procedure that requires just a 2-inch incision, meaning less pain and faster recovery.