The Histo Pathology Core's mission is to facilitate morphologic and histologic assessment of murine transgenic and knockout phenotypes as well as experimental procedure-based models of disease for basic and clinical research. We utilize expertise in gross pathology, routine histology, in-situ hybridization, immunohistochemistry, laser-capture microdissection, materials science, photomicrography, and image analysis.
Overview
The Histo Pathology Core is a fully-staffed service center offering research histology and anatomic pathology on a fee-for-service basis. Opening in the spring of 1993 on UT Southwestern Medical Center's North Campus, the lab has served investigators at UT Southwestern as well as external academic and pharmaceutical clients for more than 30 years.
Drawing on this lengthy experience, the lab offers customized pathology services to meet the needs of basic- and clinical-science researchers alike. The lab's staff is well versed in embryology, organogeny, brain anatomy, and the pathophysiology of the mouse, and handles approximately 29,000 research specimens annually, with no request being too minimal, nor too complex.
The lab is affiliated with UT Southwestern's Departments of Pathology, Molecular Biology, and Internal Medicine.
About Our Funding
The Histo Pathology Core is supported in part by the Luducq Foundation for Cardiovascular Research, the O'Brien Center for Kidney Research, the Cancer Prevention & Research Institute of Texas, and the National Institutes of Health.
Location & Facilities
The Histo Pathology Core is located on 11th floor of the Simmons Biomedical Sciences Building on UT Southwestern Medical Center's North Campus. Comprised of five dedicated research suites, the lab occupies approximately 1,900-square-feet of lab and office space. (View Campus Map)
Lab Space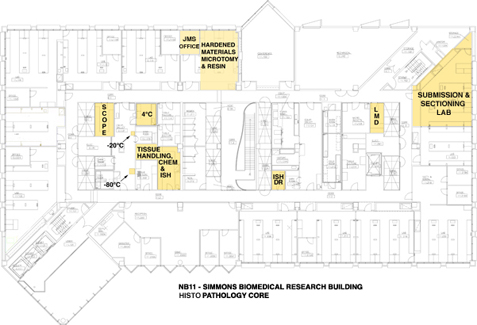 NB11.108
Scope Room; Advanced Microscopy, Cryostat
NB11.118
Support Lab; JMS Office
NB11.130
LMD Lab; Secondary Cryostat, Laser Microdissection
NB11.204
Tissue Handling Lab; Dissection, Vibratomy, Microscopy, Chemicals, ISH
NB11.222
Submission & Sectioning Lab; Microtomy, Processing & Embedding, Special Stains, IHC, Completed Work Pickup Hardened Materials Lab; Resin Infiltration, Saw, Grind, Polish, TC Microtomy
Office Space
H2.132
Office space and histopathology consultation arena for the lab's Pathologist and Director, Bret Evers, is located on the 2nd floor of the Danciger Building in H2.132.
NB6.420
Office space and histopathology consultation arena for the lab's Senior Pathologist, James Richardson, is located on the 6th floor of the Simmons Building in NB6.420.
FedEx/UPS Address
UT Southwestern Medical Center
Histo Pathology Core - NB11.222
6000 Harry Hines Blvd.
Dallas, Texas 75235-8573
Core Director