New Knowledge Commons to improve understanding of immune system
UT Southwestern to lead international consortium of scientists integrating trillions of data points over multiple data types to boost disease knowledge, treatment possibilities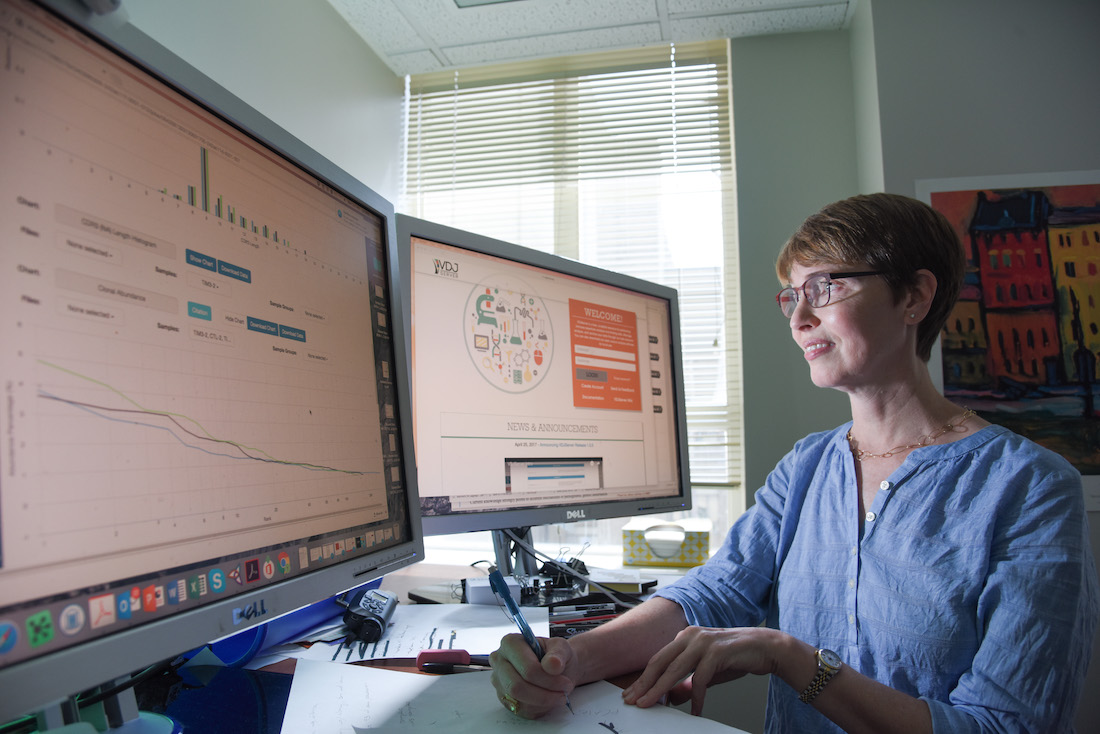 DALLAS – Nov. 09, 2023 – UT Southwestern Medical Center will lead a multi-institution effort to gather and assimilate information on the billions of sequences employed by immune receptors of the adaptive immune system. The project, funded by the National Institutes of Health, aims to improve the understanding of immunity and help facilitate the development of improved vaccines and treatments for many diseases.
The five-year, $5 million grant from the National Institute of Allergy and Infectious Diseases (NIAID), part of NIH, will establish the integrated Adaptive Immune Receptor Repertoire (AIRR) Knowledge Commons, a publicly accessible clearinghouse of knowledge of B-cell and T-cell receptors, the body's critical defenders in recognizing and removing pathogens. The adaptive immune system is especially relevant to autoimmune diseases, infectious diseases, transplantation, and cancers.
"The award demonstrates that NIAID and the research community believe this is an important effort. We have been working with our collaborators for years to build the foundation for a large project such as this," said Lindsay Cowell, Ph.D., Associate Professor in the Peter O'Donnell Jr. School of Public Health and the Department of Immunology, who will serve as the project's Principal Investigator. "We believe the Knowledge Commons can have broad impact because the adaptive immune system plays such an important role in maintaining health and in a wide variety of diseases."
Since 2015, experts in immunology, bioinformatics, and ethics from UT Southwestern and other institutions have worked together through the Adaptive Immune Receptor Repertoire Community initiative to develop protocols and standards for sharing and analyzing adaptive immune receptor data. As planned, the new Knowledge Commons will build on this work by integrating additional data types, including antigen specificities, genotype, haplotype, and population genetic data, and by running analytic and predictive algorithms on the integrated data. The resulting data and knowledge will be available through the AIRR Knowledge Commons website, which will further allow seamless access, exploration, analysis, querying, and downloading of the various data types from a single point of entry to enable systems-level analysis that would be prohibitively difficult using siloed distributed data.
Supporters believe this new initiative can enable a holistic understanding of how an individual's genetics, demographics, and history of antigen exposures interact to protect from illness, predispose to illness, or even drive illness. In turn, this understanding may eventually be applied to a multitude of clinical applications including improving vaccine design, developing diagnostics for autoimmune and infectious diseases, and even predicting responses to cancer immunotherapy.
"When large amounts of data are integrated, new and different insights can be found. These are things that no single research project can reveal but require hundreds of studies together to illuminate patterns and behaviors not observed before," said Dr. Cowell, who is also a member of the Harold C. Simmons Comprehensive Cancer Center.
An international consortium of scientists from UTSW, the La Jolla Institute, the University of Louisville, and Cincinnati Children's Hospital Medical Center as well as Simon Fraser University in Canada, Bar-Ilan University in Israel, and Birkbeck College, University of London in England will add their findings of these highly variable receptor sequences to the Knowledge Commons. Analytic and predictive algorithms will be run through the Texas Advanced Computing Center at the University of Texas on the integrated sequence data as well as the sample and donor metadata to generate a knowledge graph of relationships expected to contain billions of nodes and upward of trillions of edges.
"Some of the operations we will perform involve trillions and trillions of calculations," said Scott Christley, Ph.D., Computational Biologist in Dr. Cowell's group, who will serve as the project's Technical Lead. "This is called exascale computing and is the edge of what can be computed today. We need supercomputers to perform these calculations. Knowledge bases have the potential to accumulate more knowledge than any single person can master, with real potential to increase productivity and the rate of scientific discovery."
The research described in this press release is supported by the National Institute of Allergy and Infectious Diseases of the National Institutes of Health under award number U24AI177622. The content of the press release is solely the responsibility of the authors and does not necessarily represent the official views of the National Institutes of Health.
About UT Southwestern Medical Center
UT Southwestern, one of the nation's premier academic medical centers, integrates pioneering biomedical research with exceptional clinical care and education. The institution's faculty members have received six Nobel Prizes and include 26 members of the National Academy of Sciences, 20 members of the National Academy of Medicine, and 13 Howard Hughes Medical Institute Investigators. The full-time faculty of more than 3,100 is responsible for groundbreaking medical advances and is committed to translating science-driven research quickly to new clinical treatments. UT Southwestern physicians provide care in more than 80 specialties to more than 120,000 hospitalized patients, more than 360,000 emergency room cases, and oversee nearly 5 million outpatient visits a year.