Simmons Cancer Center's Dr. John Sweetenham to chair National Comprehensive Cancer Network Board of Directors
DALLAS – April 5, 2022 – John Sweetenham, M.D., Associate Director for Clinical Affairs at UT Southwestern's Harold C. Simmons Comprehensive Cancer Center, has been elected Chair of the Board of Directors of the National Comprehensive Cancer Network (NCCN).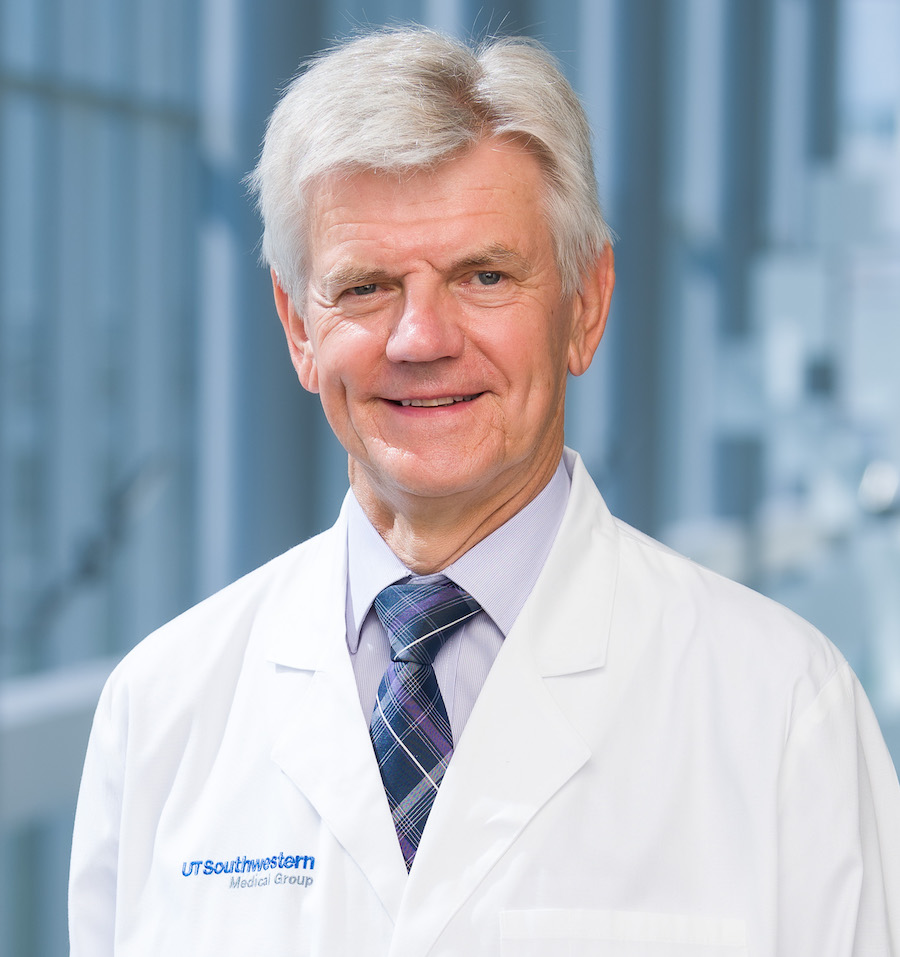 The NCCN is an alliance of 32 pre-eminent cancer centers in the U.S. devoted to patient care, research, and education, including those at Harvard, Yale, Stanford, and the Mayo Clinic, and its Board includes representatives from those institutions. Matt Kalaycio, M.D., Vice Chairman of the Cleveland Clinic Taussig Cancer Institute and the Cleveland Clinic's Transplant Center, joins Dr. Sweetenham as the Board's newly elected Vice Chair.
"I'm excited and highly honored to be elected Chair of the NCCN Board of Directors. NCCN's mission is to improve and facilitate quality, effective, equitable, and accessible cancer care so all patients can live better lives," said Dr. Sweetenham, a Professor of Internal Medicine who is internationally recognized for his clinical research on lymphoma and stem cell transplantation. "It is the nation's and the world's foremost organization in establishing guidelines for investigation and treatment of cancers and has had an enormous impact on the quality of cancer care."
Dr. Sweetenham, who joined UT Southwestern in 2019, has been a principal investigator on national and international clinical trials in lymphoma. Most recently, he was co-leader of an international trial that established a new standard of care for patients with Hodgkin lymphoma at high risk of relapse following stem cell transplantation. He also has served the NCCN in numerous capacities, most recently as a member of the NCCN Advisory Committee on COVID-19 Vaccination and Pre-Exposure Prophylaxis.
Prior to joining UTSW, Dr. Sweetenham was Senior Director for Clinical Affairs and Physician in Chief at the Huntsman Cancer Institute of the University of Utah. He has authored more than 200 original articles, chapters, and books and serves as an editor and ad hoc reviewer for numerous scholarly journals.
Through research, NCCN fosters innovation and knowledge discovery by supporting the study of both FDA-approved and investigational agents and devices; increasing opportunities for its member institutions to participate in oncologic investigations; developing new insights into cancer care delivery outcomes and quality; and demonstrating that collaboration between academia and industry results in valuable knowledge and improved cancer management.
"People all over the world look to NCCN for guidance on providing high-quality, evidence-based, expert-consensus cancer treatment. Our internationally respected leaders enable us to continue to earn that trust every day," said NCCN CEO Robert W. Carlson, M.D.
UT Southwestern and its Simmons Comprehensive Cancer Center joined the NCCN in 2020. Its faculty and staff have participated on panels that work to establish guidelines for clinicians on cancer treatment and prevention and to provide information that empowers patients.
"In our relatively short time as a member institution of NCCN, we have been successful in attracting funding for several important clinical trials and quality improvement projects, and members of the Cancer Center have been able to present their work at NCCN's annual conference, helping to further elevate the reputation of UT Southwestern and the Cancer Center," Dr. Sweetenham said. "Like many other organizations involved in the care of patients with cancer, NCCN is committed to addressing care disparities and ensuring equitable access to care for all those affected by cancer. I hope to be able to contribute to advancing that goal."
The Simmons Cancer Center is one of only 52 centers nationwide designated as a Comprehensive Cancer Center by the National Cancer Institute and the only one in North Texas. In 2021, the Simmons Cancer Center was ranked 24th among hundreds of cancer centers in the nation by U.S. News & World Report. Its faculty members treat more than 8,000 new cancer patients a year, participate in 376 active clinical trials and have more than $90 million in extramural cancer-focused research funding.
About UT Southwestern Medical Center
UT Southwestern, one of the nation's premier academic medical centers, integrates pioneering biomedical research with exceptional clinical care and education. The institution's faculty has received six Nobel Prizes and includes 25 members of the National Academy of Sciences, 16 members of the National Academy of Medicine, and 14 Howard Hughes Medical Institute Investigators. The full-time faculty of more than 2,800 is responsible for groundbreaking medical advances and is committed to translating science-driven research quickly to new clinical treatments. UT Southwestern physicians provide care in more than 80 specialties to more than 117,000 hospitalized patients, more than 360,000 emergency room cases, and oversee nearly 3 million outpatient visits a year.