'Something special': Mother delivers quadruplets months after brain surgery
UTSW doctors deliver first set of quadruplets at Clements University Hospital 
DALLAS – Sept. 22, 2020 – Katie Sturm had nearly gotten over the shock of learning she was pregnant with quadruplets when in February she suffered a seizure at work. She was diagnosed with a brain tumor, which was removed at UT Southwestern in March.
Then 18 weeks later, on July 3 and in the midst of a COVID-19 pandemic surge in Texas, the 27-year-old mother gave birth to four boys – the first set of quadruplets ever delivered at UT Southwestern's William P. Clements Jr. University Hospital.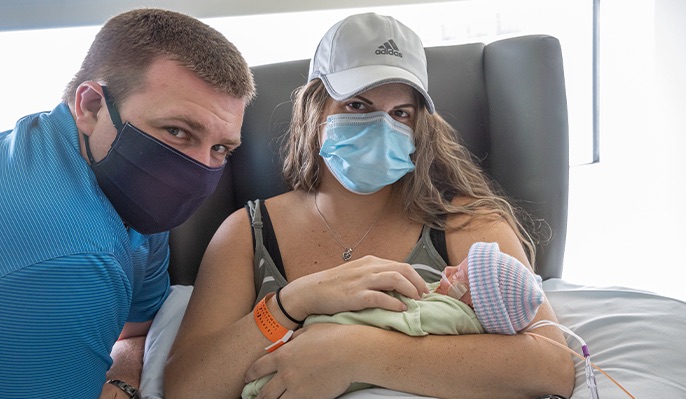 "I don't know what other way to describe it but to say it was something special – it was amazing," Sturm says about seeing all four boys for the first time. "The word that comes to mind about care at UT Southwestern is impressive. The care and the doctors have been great."
The C-section delivery was performed 32 weeks into Sturm's pregnancy by a team of 21 physicians, nurses, and health care staff. Even prior to birth, each baby was assigned a team of three health care providers in the Neonatal Intensive Care Unit (NICU). Because the mother had tested negative for COVID-19, doctors say they did not have to make any major adjustments to carry out the delivery during the pandemic.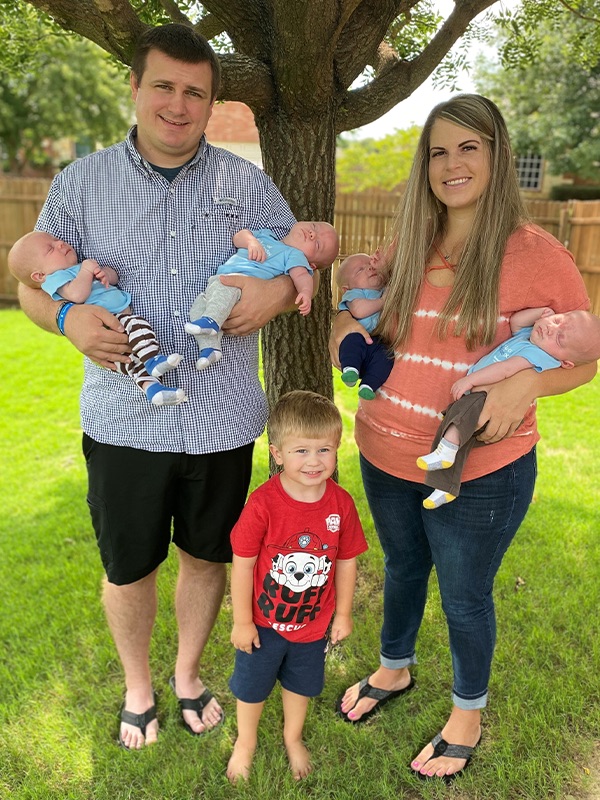 "The delivery could not have gone better. After all the routine preparation and other precautions, it all occurred without any hiccups," says obstetrician Patricia Santiago-Muñoz, M.D., a high-risk pregnancy specialist with experience in high multiple-birth deliveries. "It takes a village to carry this out, and Labor and Delivery, Anesthesia, and the NICU were all ready and even able to roll the C-section back an hour earlier than planned.
The births were also notable in that Sturm conceived her babies naturally. The odds of having spontaneous quadruplets are estimated at 1 in 700,000 births, but Dr. Santiago-Munoz, an professor of obstetrics and gynecology, says the true odds are hard to calculate because of the rarity of such births. The quadruplets were even more surprising because, at age 16, Katie Sturm was diagnosed with primary ovarian insufficiency and told she would be unable to have biological children.
The newborns – Austin, Daniel, Jacob, and Hudson – ranged in weight from 3.5 pounds to 4.3 pounds at birth. They remained in the NICU to gain weight, improve breathing ability, and learn to feed from a bottle. The first baby was able to go home after four weeks, the last after seven weeks.
"The boys really did quite well for what you'd expect for babies born at 32 weeks," says Becky Ennis, M.D., medical director at Clements University Hospital's NICU and associate professor of pediatrics at UTSW. "Premature babies can have prolonged pauses in their breathing that will improve with time, and taking a bottle for a baby is like running a marathon. So they have to build up their stamina and they have to practice that skill."
The quadruplets join older brother Ryan, 3, in the Sturm family, who live in Haslet, north of Fort Worth.
"You're never really ready for four babies – I don't know that I was ready for one. There is no manual for parenting, so you just figure it out as you go," says father Chris Sturm, 33.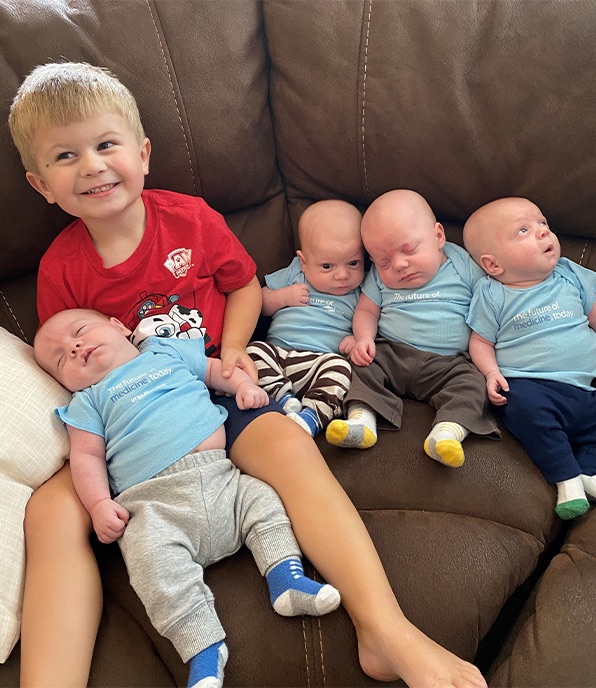 "It's been a great experience," he says. "With everything that is going on, it's nice not to have to worry about this as much because I know we're in good hands."
 Katie Sturm, who is a medical-surgical nurse at another hospital, had the seizure when she was three months pregnant. She was diagnosed with a tumor and referred to UT Southwestern, where she met with brain tumor specialist Toral Patel, M.D., a neurosurgeon and member of the Peter O'Donnell Jr. Brain Institute.
After Sturm had a second seizure, Dr. Patel recommended removing the tumor – a glioma – during pregnancy.
"Once the tumor is removed, the risk of seizure decreases substantially, which improves the overall health of both the mother and the babies," says Dr. Patel, a UTSW assistant professor of neurological surgery.
The surgery was performed at Zale Lipshy Pavilion – William P. Clements Jr. University Hospital during Sturm's second trimester – the safest point of the pregnancy for the babies. Neither Sturm nor her then-unborn sons experienced any complications.
Gliomas can occur in different parts of the brain and affect function based on their location. Different types of treatment may be required, based on the particular grade and type of tumor.
"Gliomas are intrinsic brain tumors that have a tendency to recur. However, early intervention has been proven to improve both quantity and quality of life," Dr. Patel says. "Of the various types of gliomas, Mrs. Sturm has a favorable subtype, and I remain optimistic about her future treatment options." Routine MRI tests will be required to monitor her condition moving forward.
Using the latest advancements in medical technology, experts at UT Southwestern are active in glioma research and treat a large number of patients with brain tumors each year. The institution's multidisciplinary approach includes collaborations among neurosurgery, oncology, neurology, radiation oncology, and basic science, with the ultimate goal of improving patient care.
About UT  Southwestern Medical Center
UT Southwestern, one of the premier academic medical centers in the nation, integrates pioneering biomedical research with exceptional clinical care and education. The institution's faculty has received six Nobel Prizes, and includes 23 members of the National Academy of Sciences, 16 members of the National Academy of Medicine, and 13 Howard Hughes Medical Institute Investigators. The full-time faculty of more than 2,500 is responsible for groundbreaking medical advances and is committed to translating science-driven research quickly to new clinical treatments. UT Southwestern physicians provide care in about 80 specialties to more than 105,000 hospitalized patients, nearly 370,000 emergency room cases, and oversee approximately 3 million outpatient visits a year.