Mother makes history at Clements by giving birth to quadruplets months after having brain surgery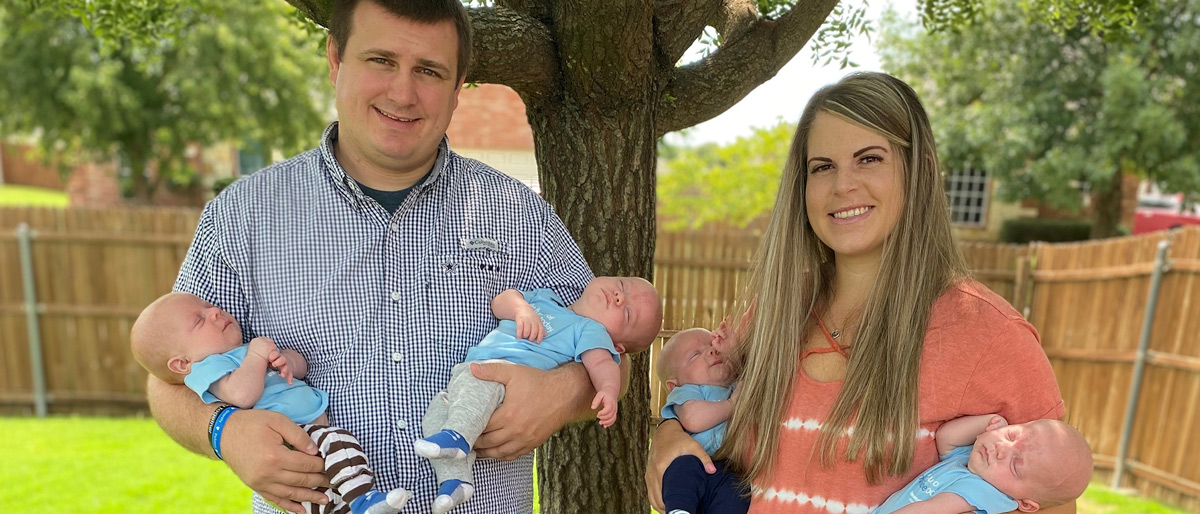 Katie Sturm had nearly gotten over the shock of learning she was pregnant with quadruplets when in February she suffered a seizure at work. Diagnosed with a brain tumor, she was referred to UT Southwestern where the tumor was removed in March.
Then 18 weeks later, on July 3 and in the midst of a COVID-19 pandemic surge in Texas, the 27-year-old mother gave birth to four boys – the first set of quadruplets ever delivered at UT Southwestern's William P. Clements Jr. University Hospital.
Watch: The Sturm quadruplets' historic birth story at Clements
The C-section delivery was performed 32 weeks into Mrs. Sturm's pregnancy and involved a team of about 21 physicians, nurses, and health care staff. Even prior to birth, each baby was assigned a team of three health care providers in the Neonatal Intensive Care Unit (NICU). Because the mother had tested negative for COVID-19, doctors said they did not have to make any major adjustments to carry out the delivery during the pandemic.
"The delivery could not have gone better. After all the routine preparation and other precautions, it all occurred without any hiccups," said Dr. Patricia Santiago-Muñoz, a high-risk pregnancy specialist and Professor of Obstetrics and Gynecology who has experience in high-order multiple-birth deliveries. "It takes a village to carry this out, and Labor and Delivery, Anesthesia, and the NICU were all ready and even able to roll the C-section back an hour earlier than planned."
The odds of a mother having quadruplets is about 1 in 700,000. The fraternal quadruplet newborns – Austin, Daniel, Jacob, and Hudson – ranged in weight from 3.5 pounds to 4.3 pounds at birth. They remained in the NICU between four and seven weeks each to gain weight, improve breathing ability, and learn to feed from a bottle.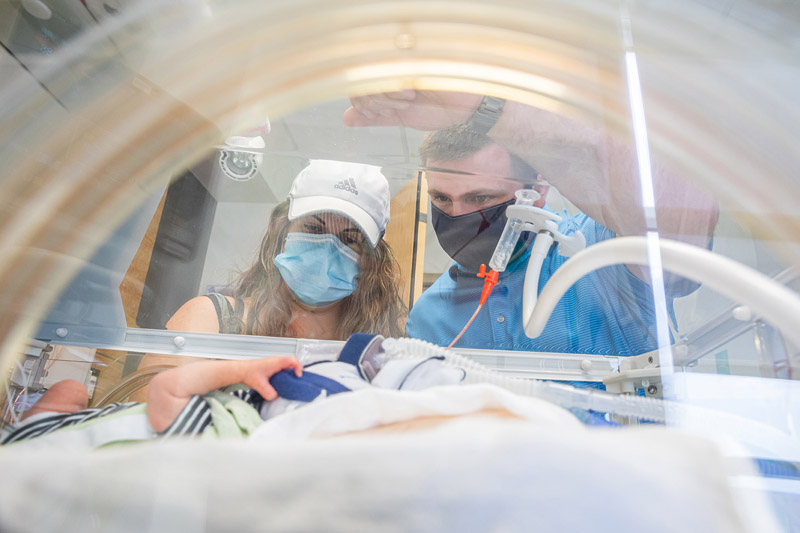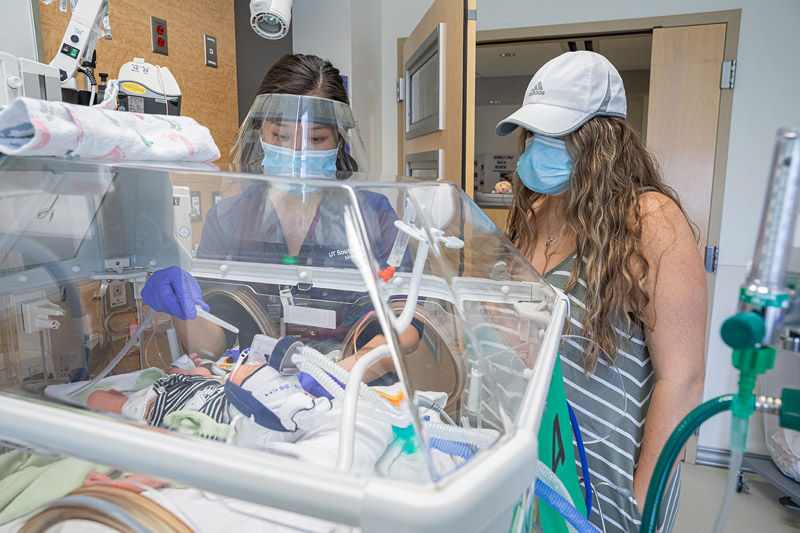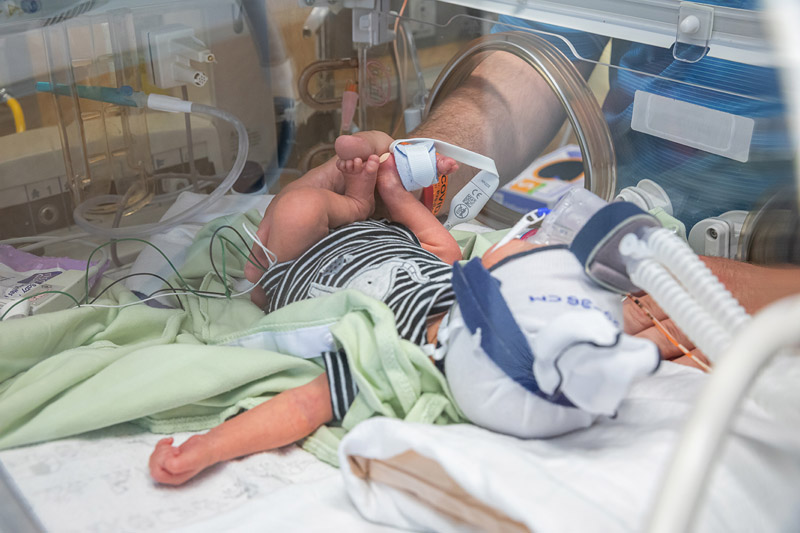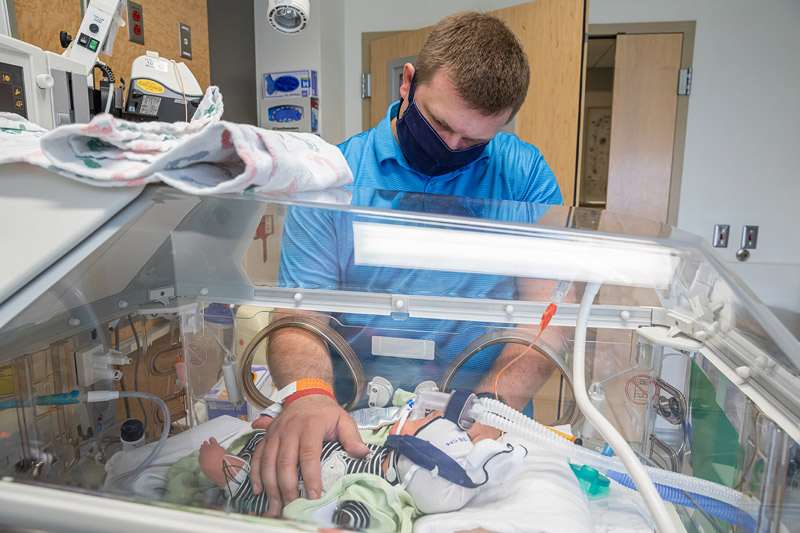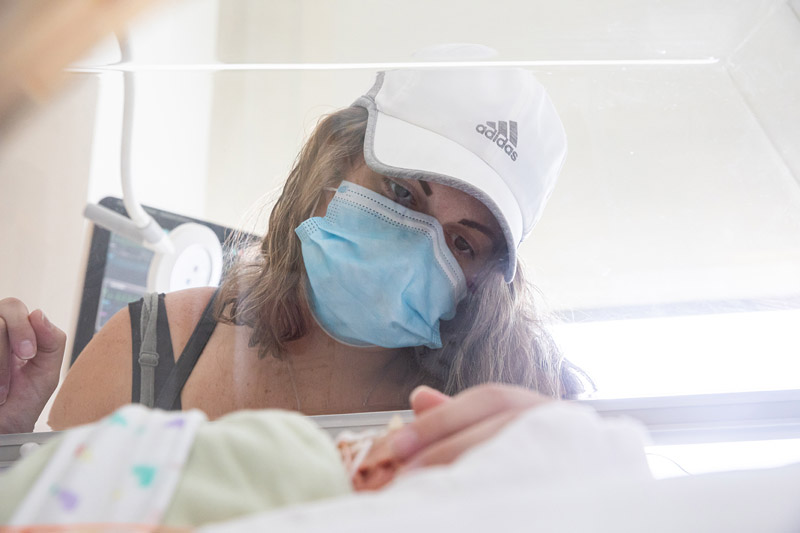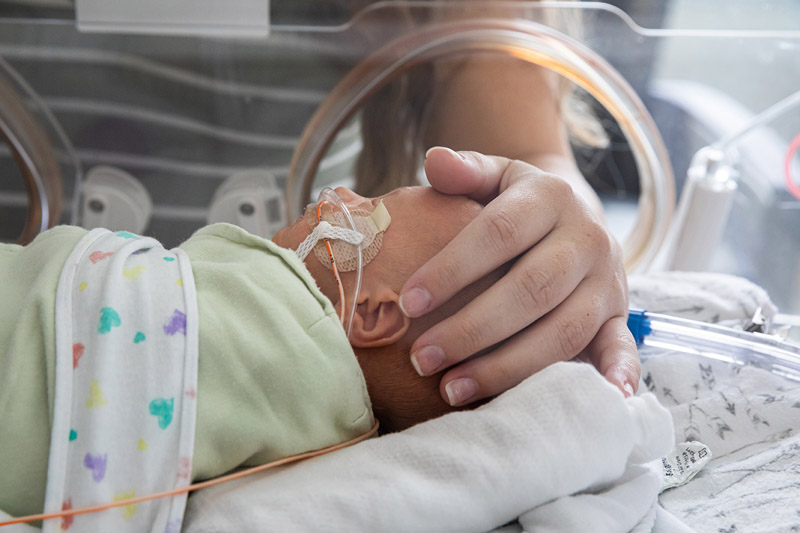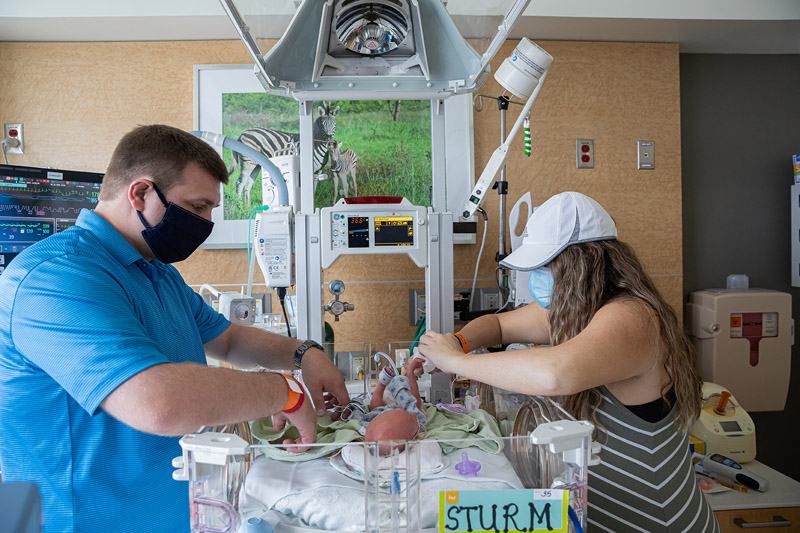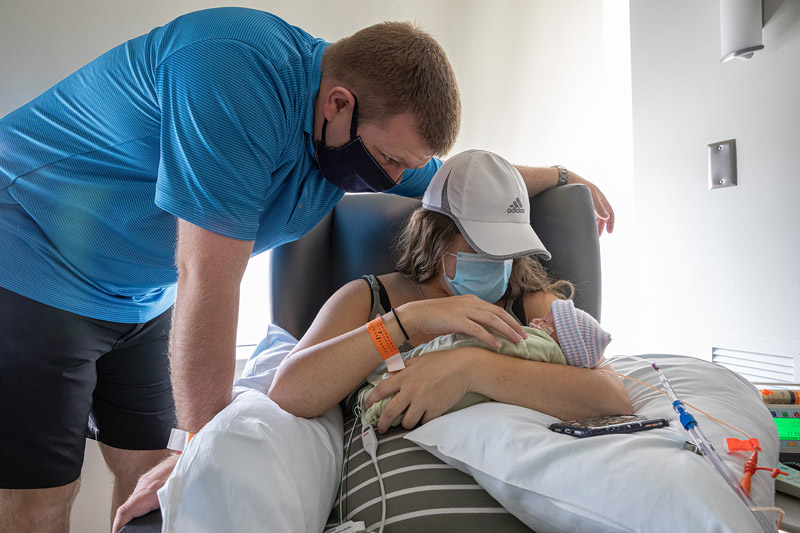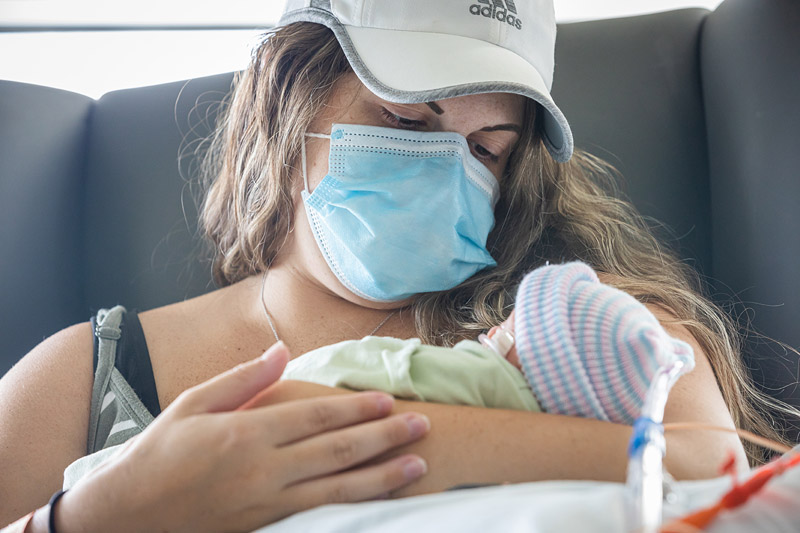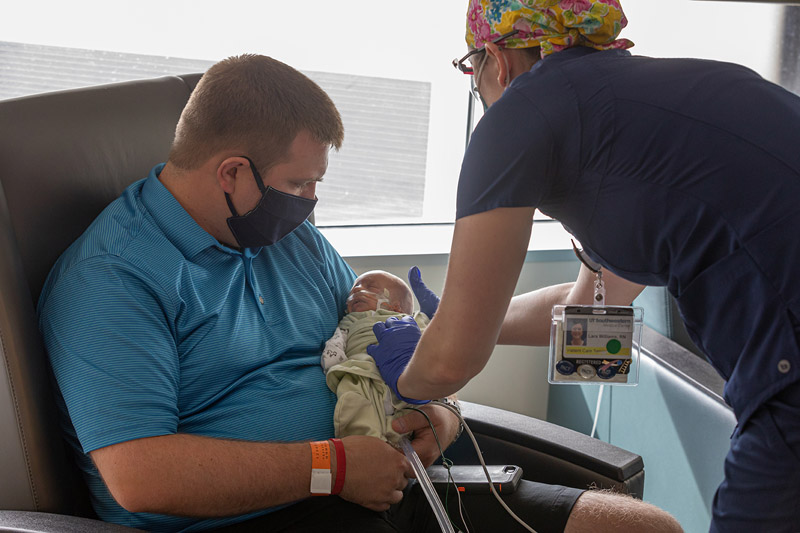 "The boys really did quite well and about what you'd expect for babies born at 32 weeks," said Dr. Becky Ennis, Medical Director at Clements University Hospital's NICU and Associate Professor of Pediatrics at UTSW. "Premature babies can have prolonged pauses in their breathing that will improve with time, and learning to feed from a bottle for a baby is like running a marathon. So they have to build up their stamina and they have to practice that skill."
Mrs. Sturm, who is a medical-surgical nurse at another hospital, and her husband, Chris, praised the skill and compassion of the UT Southwestern medical teams led by Dr. Santiago-Muñoz, Dr. Ennis, and Dr. Toral Patel, a brain tumor specialist in the Peter O'Donnell Jr. Brain Institute and Assistant Professor of Neurological Surgery, Neurology, and Radiation Oncology.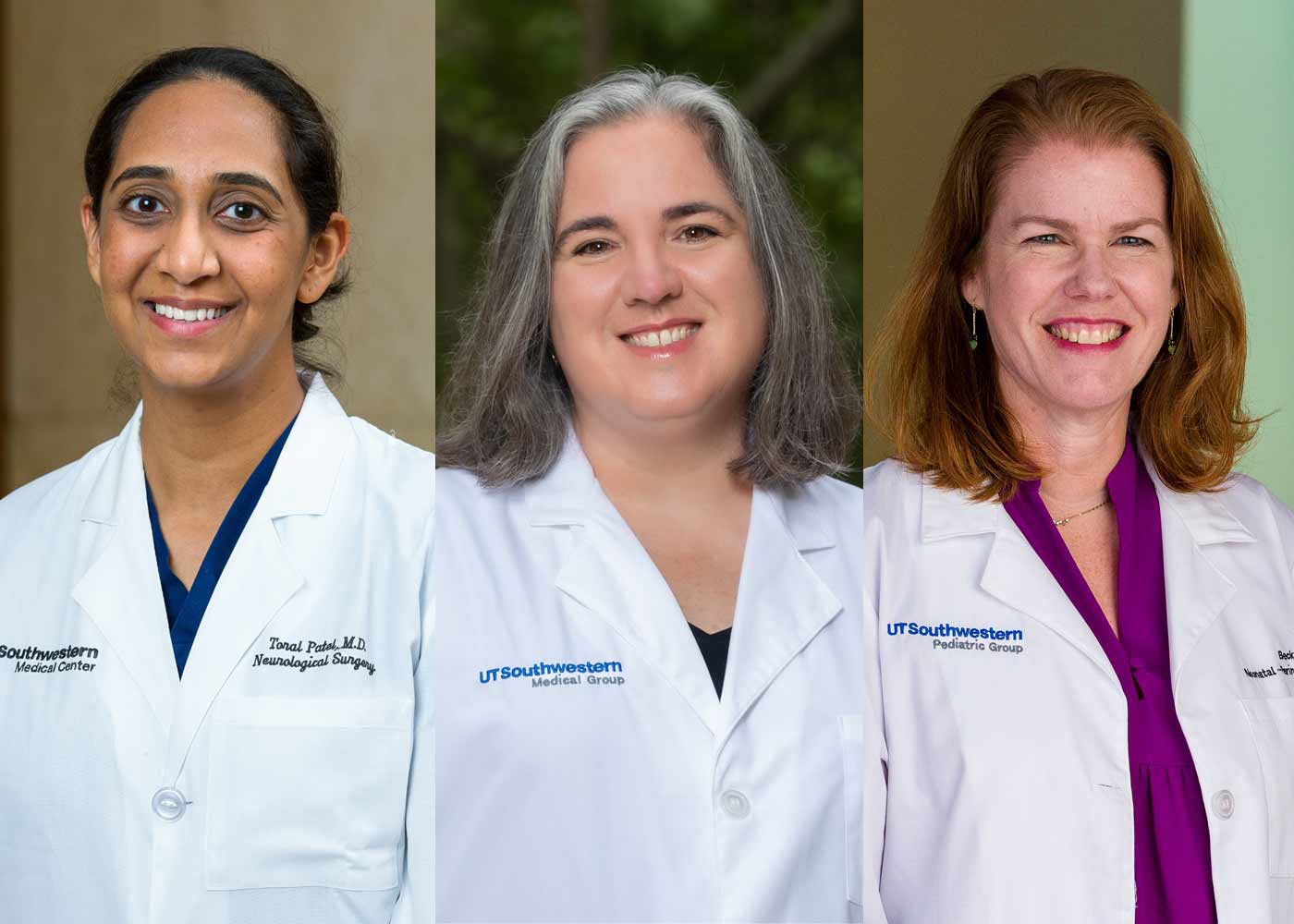 "I don't know what other way to describe it but to say it was something special – it was amazing," Mrs. Sturm said about seeing all four boys for the first time. "The word that comes to mind about care at UT Southwestern is impressive. The care and the doctors have been great."
Tumor diagnosis threatens rare pregnancy
The Sturms first learned they were pregnant with quadruplets in January – a completely spontaneous occurrence. Then, on Feb. 19, Mrs. Sturm suffered a seizure while sitting at a desk at work. She blacked out for about 15 minutes and woke up in an emergency room where she learned the seizure was caused by a brain tumor. She was just a little more than three months pregnant.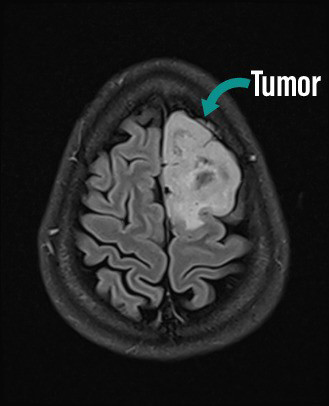 The couple said the shocking diagnosis overshadowed the rare pregnancy.
"Learning of the tumor was tough and hit really hard because of the idea that the tumor could cause potentially serious or fatal damage to Katie or that it could affect the pregnancy and we could go from being a pending family of seven to it just being me and our older son," Mr. Sturm said.
The next day, Mrs. Sturm was transferred to UT Southwestern where she met with Dr. Patel. The neurosurgeon diagnosed Mrs. Sturm with a large glioma – a rare brain tumor. The initial plan was to remove the tumor after Mrs. Sturm gave birth.
The thought of surgery was worrisome for Mrs. Sturm who was concerned for her older son, Ryan, who turned 3 years old in June.
"I didn't want to leave my son without a mom. And at the point when we were planning to do the surgery after I gave birth, I told my husband I didn't want to leave him with four newborn babies," she said.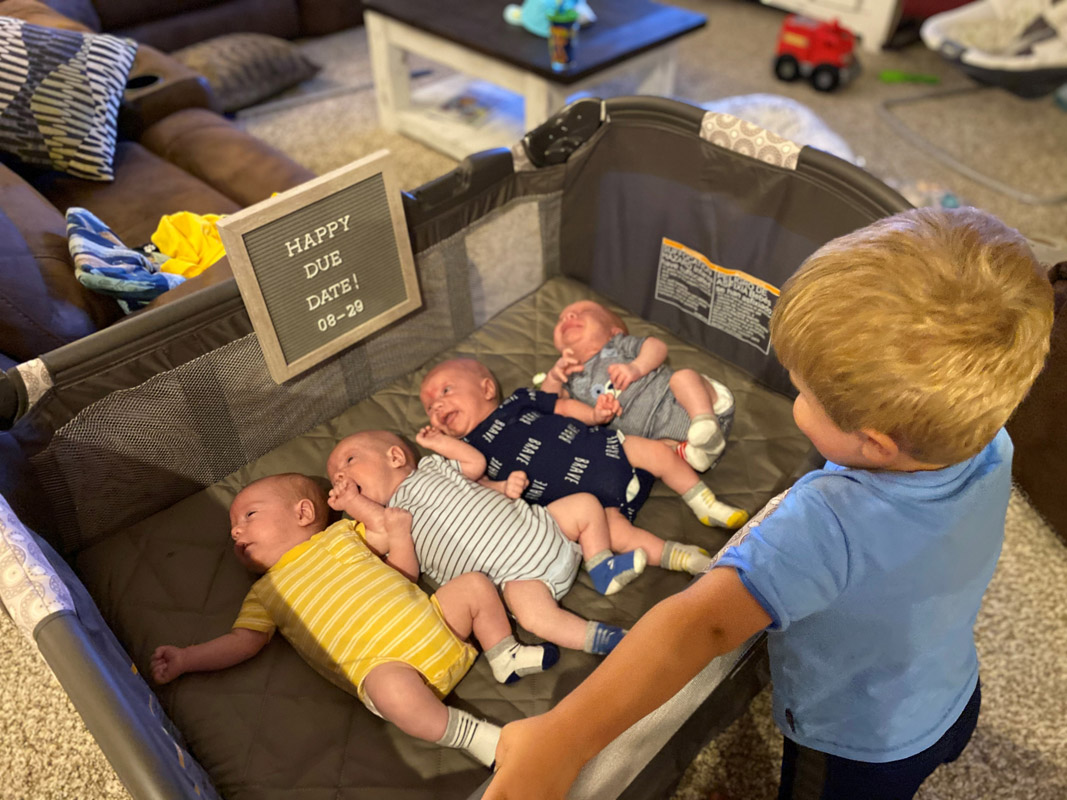 Then Mrs. Sturm suffered a second seizure while at home – approximately two weeks after her first seizure. Upon further discussion with Dr. Patel, the decision was made to remove the tumor while she was pregnant.
"Once the tumor is removed, the risk of seizures decreases substantially – which improves the overall health of both the mother and the babies," Dr. Patel said.
Dr. Patel removed Mrs. Sturm's tumor at Zale Lipshy Pavilion – Williams P. Clements Jr. University Hospital during Mrs. Sturm's second trimester – the safest point in the pregnancy for the babies. During the weeks following surgery, Mrs. Sturm experienced the expected temporary "flat affect," which is a reduction in emotional expression. This soon resolved and both Mrs. Sturm and her babies recovered well from surgery, with no complications.
Gliomas can occur in different parts of the brain and they affect function based on their location. Different types of treatment may be required, including surgery, chemotherapy, and radiation, based on the particular grade and type of tumor.
"Gliomas are intrinsic brain tumors that have a tendency to recur. However, early intervention has been proven to improve both quantity and quality of life," Dr. Patel said. "Of the various types of gliomas, Mrs. Sturm has a favorable subtype and I remain optimistic about her future treatment options." Routine MRIs will be required to monitor her condition moving forward.
'Resilient warriors'
With the surgery behind them, the Sturms were finally able to turn more attention to birth preparations. As she anxiously awaited their births, Mrs. Sturm recalled thinking: "I am just so pregnant! I just want to feel normal again."
Dr. Santiago-Muñoz planned to deliver the babies via a scheduled cesarean section once Mrs. Sturm made it to 32 weeks of pregnancy.
"We don't mess around with high-order multiples," Dr. Santiago-Muñoz said. "Every baby you add increases the risk of every complication of pregnancy – especially hypertension, preeclampsia, and preterm birth."
During her career, Dr. Santiago-Muñoz has participated in four high-order multiple births, including the 2012 birth of a set of quintuplets delivered at the former St. Paul University Hospital in a smaller medical space. So, on the day the Sturm quadruplets arrived, Dr. Santiago-Muñoz felt confident about the UTSW medical team carrying out successful deliveries.
The medical team in the NICU began to prepare for the arrival of the quadruplets when Mrs. Sturm reached 23 weeks of pregnancy in May. Lessons learned by some of the team members who were involved in the birth of the quintuplets helped inform the delivery and post-birth operating procedures. Logistics included organizing teams of physicians and nurse practitioners to be available around the clock in case Mrs. Sturm went into labor early and planning ahead for any complications related to premature infants.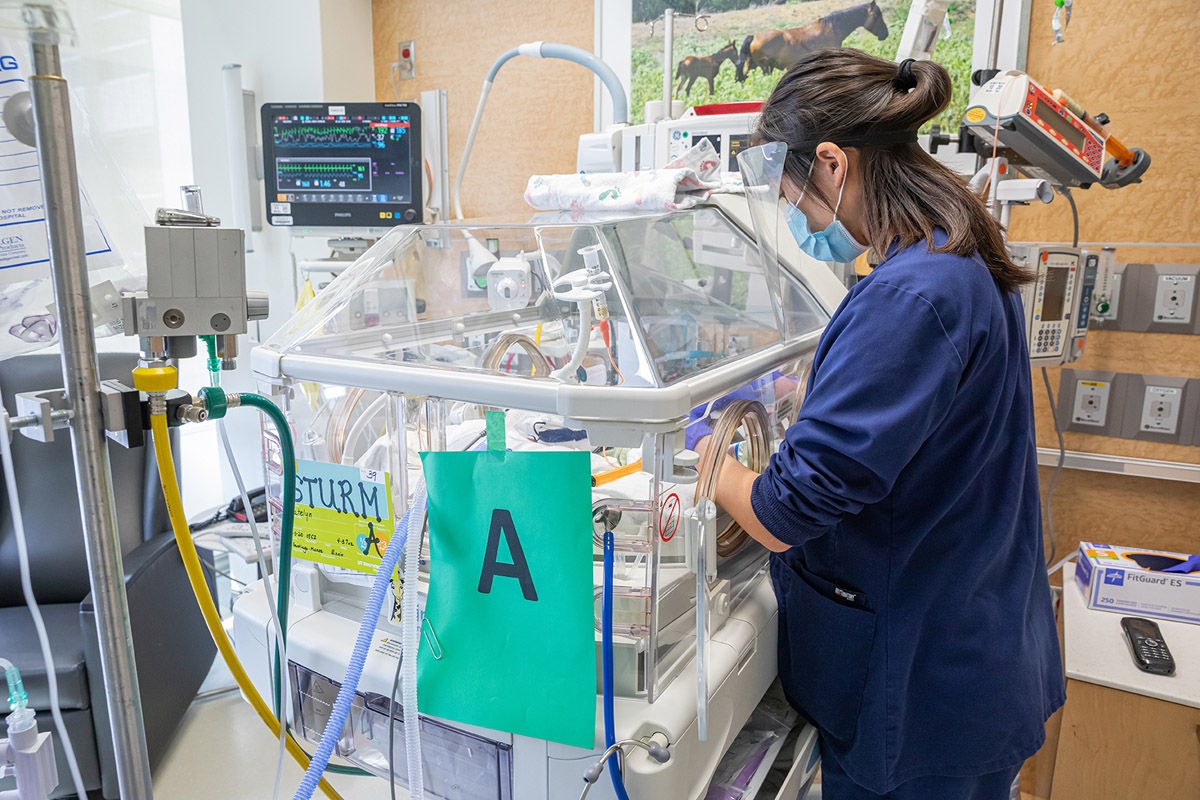 The lead neonatologist, Dr. Ennis, said the biggest concern was early delivery since very preterm birth increases the risks to the babies including lung issues and bleeding in the brain.
"I think I was more nervous early in the pregnancy just because of the potential of how sick they could be if delivered very premature, but by the time we got to 28 weeks, I felt like we had everything in order," she said.
When Mrs. Sturm reached 28 weeks of pregnancy, the babies were pre-admitted as patients, which allowed the NICU to track their status in the hospital system, Epic, and enabled physicians and pharmacists to have medications ordered prior to the delivery. Also, a NICU team was assigned to each baby for the day of delivery. Each baby's NICU health care team included a neonatologist, neonatal nurse, and respiratory therapist.
A few days before Mrs. Sturm's scheduled C-section, she was admitted to the hospital as an "extreme precaution" due to slightly elevated blood pressure. Four days later, Mrs. Sturm underwent her C-section as planned without any unforeseen complications to her or the quadruplets.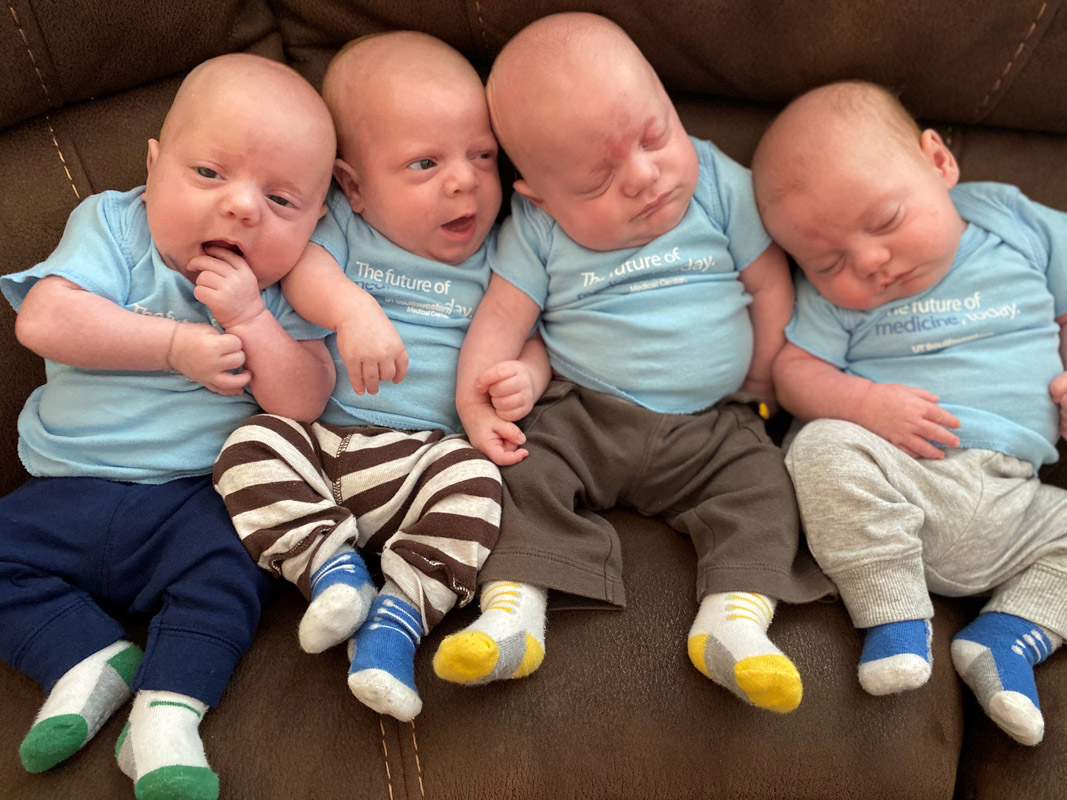 "In spite of everything that has gone on – from the seizures, and brain surgery, and a pandemic – every time that we have done a checkup on the kids, they have been peachy keen hunky-dory," Mr. Sturm said. "They are little resilient warriors. They endured a lot and even before seeing the outside world."
"This is a big life adjustment," said Mrs. Sturm. "But family told me God won't give you more than you can handle – which I believe."