In memoriam: Cell biologist Dr. Woodring Wright made seminal discoveries on aging and cancer development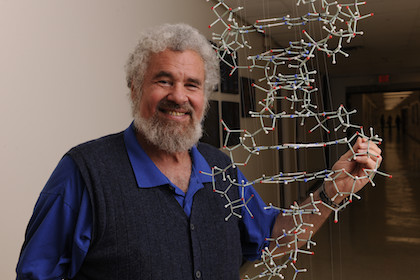 DALLAS – Aug. 5, 2019 – Dr. Woodring Erik Wright, Professor of Cell Biology, passionate educator, and scientific trailblazer in the fight against aging and cancer, died on Aug. 2. He was 70.
A faculty member since 1978, Dr. Wright dedicated decades of research to studying the relationships between aging and cancer and focused on the role of the end caps of chromosomal DNA, called telomeres, in these processes.
Together with longtime collaborator Dr. Jerry Shay, Dr. Wright explored molecular mechanisms that regulate telomere shortening and telomerase activity. The laboratory partners leveraged these mechanistic insights into studies on how telomere shortening contributes to human aging and pursued a variety of approaches to transform their insights to develop treatments for cancer and age-related diseases.
"Woody and I collaborated for over 30 years and published many highly cited papers together. His two most cited papers were both published in Science (1994 and 1998) and have been referred to by other authors 5,700 and 3,450 times, respectively," said Dr. Shay, Professor of Cell Biology, who holds The Southland Financial Corporation Distinguished Chair in Geriatrics. "Woody was exceptionally good at developing new methods and coming up with insightful ideas on how to advance a project. We worked well together and complemented each other's strengths. He will be missed by me and all his former students and postdoctoral trainees."
Dr. Wright received the Lyndon Baines Johnson Research Award from the American Heart Association, a Research Career Development award from the National Institutes of Health, a Method to Extend Research In Time (MERIT) Award from the National Institute on Aging, an AlliedSignal Award for Research on Aging, the Hayflick Award from the American Aging Association, and an Ellison Medical Foundation Senior Scholar Award in Aging. He also served on the Scientific Advisory Board of the Buck Institute for Research on Aging.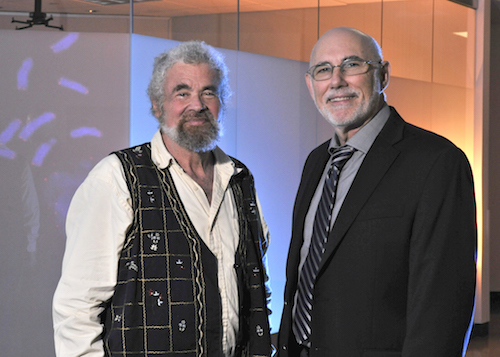 In addition to being a distinguished researcher with UT Southwestern's Harold C. Simmons Comprehensive Cancer Center, Dr. Wright had heroically waged a 13-year battle with multiple myeloma, a type of rare blood cancer, at the Cancer Center. In the midst of his success in illuminating the role of telomeres, Dr. Wright was diagnosed in 2006 with multiple myeloma and volunteered to take part in one of the nation's first clinical trials of CAR-T therapy. "I don't know if it's because of what I went through or if it's a normal part of aging, but I have a strong desire to give back," he had explained in a 2018 interview.
Born June 21, 1949, Dr. Wright received his Bachelor of Arts degree, summa cum laude, from Harvard College in 1970, a Ph.D. under the direction of Dr. Leonard Hayflick in 1974, and an M.D. from Stanford University School of Medicine in 1975. He joined the UT Southwestern faculty as an Assistant Professor following a postdoctoral fellowship at the Pasteur Institute in Paris with Dr. Francois Gros. Dr. Wright became an Associate Professor in 1985 and was promoted to Professor in 1992. At UTSW, he had previously held the Southland Financial Corporation Distinguished Chair in Geriatric Research.
Dr. Wright garnered national and international attention to his work through more than 140 seminars and lectures at major universities and meetings throughout the U.S. and the world, more than 320 published articles, reviews, and book chapters, and 27 patents related to methods for the diagnosis, treatment, and analysis of telomere length, telomerase activity, and other anti-cancer therapies.
Dr. Wright also was a committed and passionate educator. He mentored more than 35 graduate students and 70 postdoctoral fellows during his long and distinguished career. His excellence in the classroom was recognized by Outstanding Teacher Awards in 1993, 1994, 1999, 2008, and 2012. More than four decades of former medical students will remember the songs he wrote and performed to explain topics he was lecturing on in medical histology.
Funeral arrangements are being made with Wade Family Funeral Home in Arlington: 4140 W. Pioneer Parkway, Arlington, TX 76013. Visitation will be held 6 to 8 p.m. Wednesday, Aug. 7. A memorial service begins at 4 p.m. Thursday, Aug. 8.
About UT Southwestern Medical Center
UT Southwestern, one of the premier academic medical centers in the nation, integrates pioneering biomedical research with exceptional clinical care and education. The institution's faculty has received six Nobel Prizes, and includes 22 members of the National Academy of Sciences, 17 members of the National Academy of Medicine, and 15 Howard Hughes Medical Institute Investigators. The full-time faculty of more than 2,500 is responsible for groundbreaking medical advances and is committed to translating science-driven research quickly to new clinical treatments. UT Southwestern physicians provide care in about 80 specialties to more than 105,000 hospitalized patients, nearly 370,000 emergency room cases, and oversee approximately 3 million outpatient visits a year.