Simulation training improves interventional time, teamwork in trauma treatments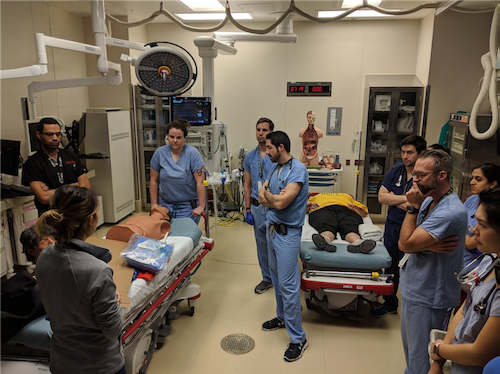 DALLAS – Dec. 31, 2019 – Complex simulated surgery training can help trainees and their care teams shave critical minutes off lifesaving trauma interventions in real care settings, a study at UT Southwestern Medical Center, home to one of the nation's largest medical simulation training centers, shows.
As instructors ramped up the complexity of the training at UT Southwestern's Simulation Center and Parkland Memorial Hospital to challenge time-sensitive decision-making and performance under pressure, these physicians were able to significantly shave response times during trauma bedside procedures, the study showed. For example, median response times for resuscitative thoracotomies, which call for "opening the chests" of pulseless patients, dropped from 14 to 3 minutes – a 467 percent improvement. Median response times for recognizing and performing tube thoracostomies, needed to immediately relieve pressure to patients whose chest cavities are filling with blood, dropped from 13 to 6 minutes, a 217 percent improvement.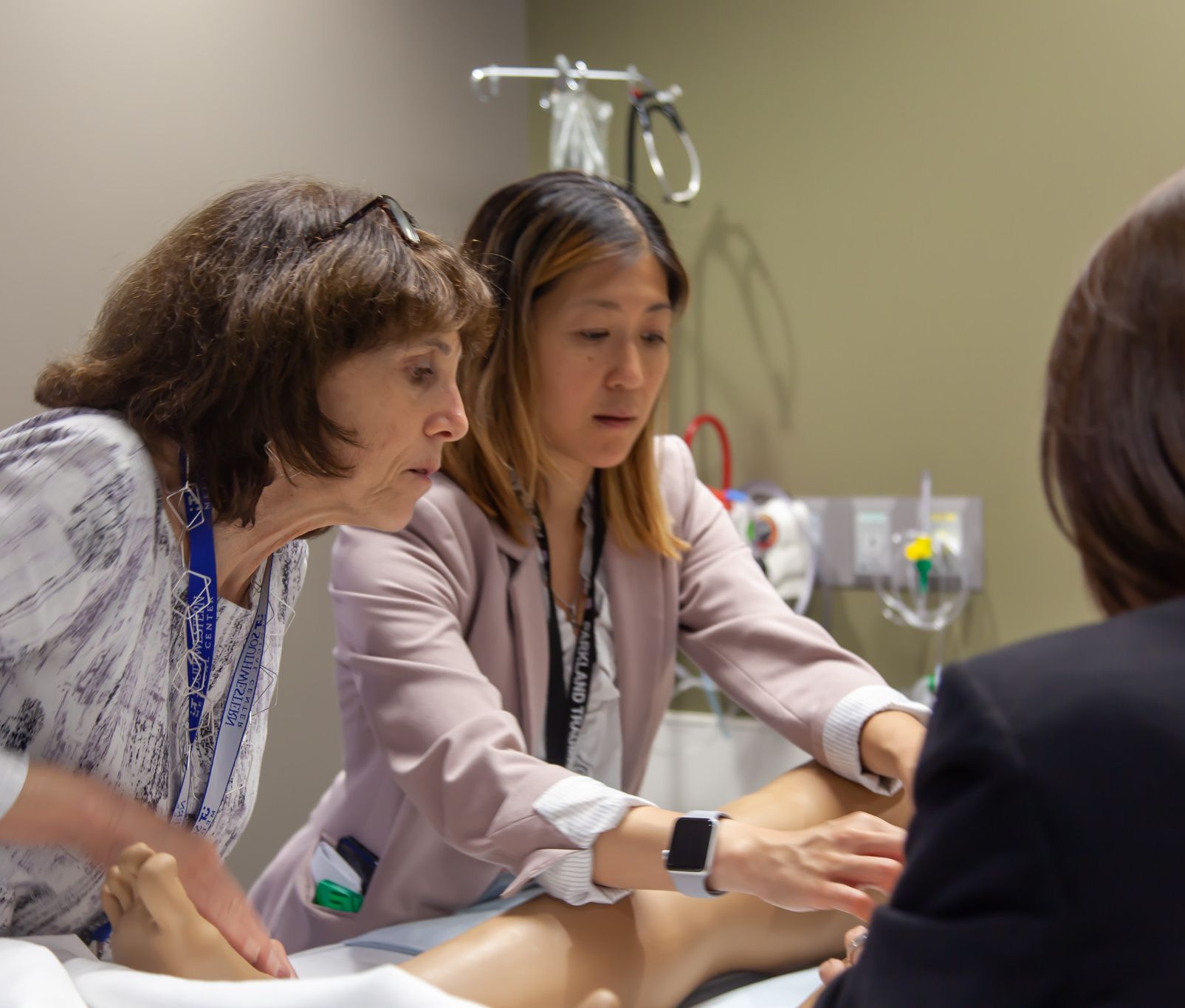 "What we found most powerful was the ability to recognize life-threatening injuries, to identify the need for and the location of equipment in the trauma bay, and to clearly communicate the plan of action to other members of the care team," says author Caroline Park, M.D., M.P.H., and assistant professor of surgery. "These are basic concepts that can shave off critical seconds, perhaps minutes during a trauma resuscitation."
A trauma team – consisting of a trauma chief resident, junior resident, intern, and trauma nurse coordinator – reacts in real time as the simulated trauma scenario unfolds. Heart rate and oxygen saturation monitors are displayed and beeping, changing continuously or accelerating as the simulated patient's condition worsens – increasing the stress level. Once the team stabilizes the simulated patient/manikin, they quickly advance the patient to a destination such as the operating room or interventional radiology suite, and the debriefing begins.
The prospective observational study reviewed 277 Level I trauma cases over eight months (July 2018-February 2019) before and after the training intervention at a Level I trauma center and is believed to be the first such study to exam whether standardized, repeated educational and simulation curriculum implemented in a trauma surgery rotation could affect clinical performance among surgical trainees. Their findings, presented at the 78th annual meeting of the American Association for the Surgery of Trauma and Clinical Congress of Acute Care Surgery, are published online this month ahead of print in The Journal of Trauma and Acute Care Surgery.
UT Southwestern Sim Center
UT Southwestern's Simulation Center, accredited by the American College of Surgeons Accredited Education Institute, supports:
1,400 residents and fellows for all departments annually
1,000 medical students for all training annually
150 learners from UT Southwestern School of Health Professions
Faculty training for 45 departments and other stakeholders
UT Southwestern Health Care System training
Interprofessional education
Simulation training – considered one of the most prominent advancements in medical education in the last 15 years, according to an Association of American Medical Colleges survey – is largely accepted as a keystone component in delivering effective medical education while improving patient safety.
"We know that repetition helps improve performance – the 'practice makes perfect' theme – but it can't be experienced in a bubble," Park says. "Medicine, specifically trauma surgery, is the ultimate team sport and solid leadership, clear communication, and familiarity of the environment are paramount."
The study involved residents at UT Southwestern, home to one of the largest surgical training programs in the country, using an interventional training program through its $40 million, 49,000-square-foot training center, one of the largest and most advanced in the country. The center includes simulation ORs, high-fidelity intervention suites, a multipurpose skills lab that can accommodate scores of learners, virtual reality and robotic suites, and numerous other high-tech components. Study authors – who received no additional funding for this investigation – included Daniel Scott, M.D., Assistant Dean, Simulation and Student Integration at UT Southwestern Medical School; Michael Cripps, M.D., MSCS, Trauma Medical Director at Parkland Hospital; Stephen Luk, M.D., MBA, Medical Director of Emergency General Surgery at Parkland Hospital; Kareem Abdelfattah, M.D.; Linda Dultz, M.D., M.P.H.; Ryan Dumas, M.D.; Jennifer Grant, M.D.; and Thomas Shoultz, M.D.
About UT Southwestern Medical Center
UT Southwestern, one of the premier academic medical centers in the nation, integrates pioneering biomedical research with exceptional clinical care and education. The institution's faculty has received six Nobel Prizes, and includes 22 members of the National Academy of Sciences, 17 members of the National Academy of Medicine, and 15 Howard Hughes Medical Institute Investigators. The full-time faculty of more than 2,500 is responsible for groundbreaking medical advances and is committed to translating science-driven research quickly to new clinical treatments. UT Southwestern physicians provide care in about 80 specialties to more than 105,000 hospitalized patients, nearly 370,000 emergency room cases, and oversee approximately 3 million outpatient visits a year.