One step closer to breaking the link between obesity and hypertension
DALLAS – Oct. 22, 2019 – Why do those with obesity so often develop high blood pressure? The answer could be as simple as loss of a sugar molecule, based on a recent UT Southwestern study.
More importantly, the study findings could lead to a way to break that unhealthy connection.
"Based on our results, it might be possible to take a supplement to prevent obesity from causing high blood pressure," said Dr. Philip Shaul, Professor and Vice Chair of Research in the Department of Pediatrics at UT Southwestern and co-senior author of a new Circulation study. "When we gave a compound used to make this sugar to mice, the mice were protected from developing hypertension – even though they were obese."
Dr. Shaul, also Director of the Center for Pulmonary and Vascular Biology, said he is seeking funding for a clinical trial to evaluate the compound's effectiveness at preventing or reducing hypertension in people. The compound is already being studied to treat a different, rare genetic condition.
Called ManNac, short for N-acetyl-D-mannosamine, this naturally occurring compound is made in the body during the production of a sugar called sialic acid. Sialic acid is an important component of a chain of sugars found on immunoglobulin (IgG), the structures from which antibodies are formed. The study showed that levels of sialic acid on the IgG sugar chain drop in both humans and mice as obesity increases.
In humans, as levels of IgG-linked sialic acid decline, blood pressure goes up in a teeter-totter fashion, according to findings in more than 3,400 trial participants, Dr. Shaul said.
In mice, adding ManNac to their drinking water replaced the sialic acid on the IgG sugar chain and prevented high blood pressure, the study reported.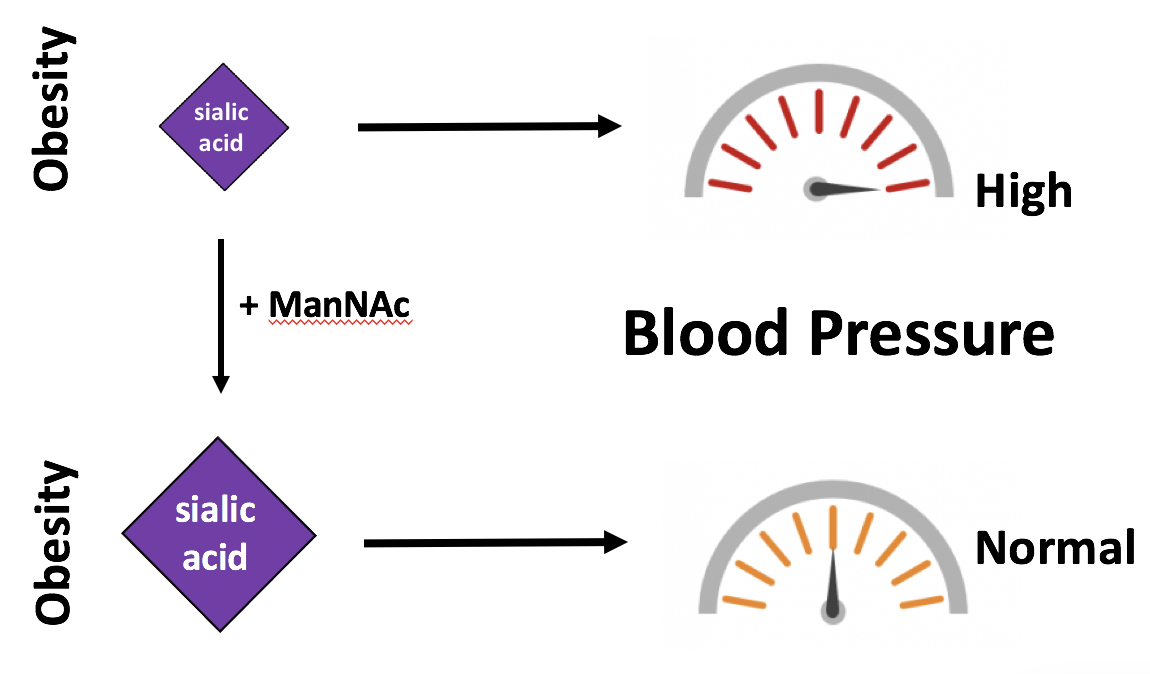 About a third of American adults ages 20 and over suffer from high blood pressure, according to the Centers for Disease Control and Prevention (CDC). Obesity is one of the main causes of high blood pressure, which increases the risk for heart disease and stroke, according to the CDC.
Meanwhile, obesity is a growing problem that now affects about 40 percent of the U.S. population and millions worldwide, according to the CDC and the World Health Organization (WHO). Hypertension is even more common, affecting 1.13 billion people worldwide, according to WHO.
"We're excited because there's an opportunity here to come up with ways to treat a disease that affects a large number of people," Dr. Shaul said. "These new findings offer the potential to break the link between obesity and hypertension with a dietary supplement."
Data from the new study showed that mice unable to produce IgG did not develop hypertension, even after becoming obese on a high-fat diet. However, if IgG from obese mice is transferred to them, they develop hypertension; IgG from lean mice does not produce that effect.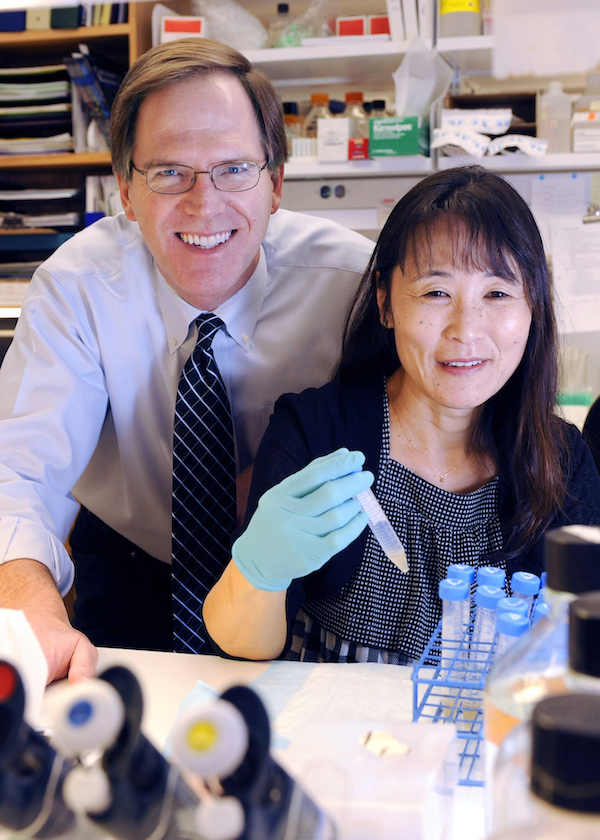 In an earlier study published in 2015, Dr. Shaul's group reported that mice lacking a receptor that binds IgG are also protected from obesity-related hypertension.
Blocking the IgG receptor on the endothelial cells that line blood vessels could be an alternate path to treatment, he said, since the IgG with reduced sialic acid partners with the receptor to cause hypertension. Dr. Shaul, who holds the Associates First Capital Corporation Distinguished Chair in Pediatrics, is investigating ways to inhibit that receptor, called FcyRIIB.
Co-senior author of the study is Dr. Chieko Mineo, Associate Professor of Pediatrics and Cell Biology, while the first author is Dr. Jun Peng, a postdoctoral researcher. Others from UT Southwestern who contributed include Dr. Wanpen Vongpatanasin, Professor of Internal Medicine; Dr. Anand Rohatgi, Associate Professor of Internal Medicine; and Dr. Anastasia Sacharidou, Assistant Instructor of Pediatrics. Dr. Vongpatanasin holds the Norman and Audrey Kaplan Chair in Hypertension and the Fredric L. Coe Professorship in Nephrolithiasis Research in Mineral Metabolism. Dr. Gordan Lauc, Professor of Biochemistry and Molecular Biology at the University of Zagreb in Croatia, collaborated on the human studies.
About UT Southwestern Medical Center
UT Southwestern, one of the premier academic medical centers in the nation, integrates pioneering biomedical research with exceptional clinical care and education. The institution's faculty has received six Nobel Prizes, and includes 22 members of the National Academy of Sciences, 17 members of the National Academy of Medicine, and 15 Howard Hughes Medical Institute Investigators. The full-time faculty of more than 2,500 is responsible for groundbreaking medical advances and is committed to translating science-driven research quickly to new clinical treatments. UT Southwestern physicians provide care in about 80 specialties to more than 105,000 hospitalized patients, nearly 370,000 emergency room cases, and oversee approximately 3 million outpatient visits a year.