Dr. William T. Dauer selected as inaugural director of UT Southwestern's Peter O'Donnell Jr. Brain Institute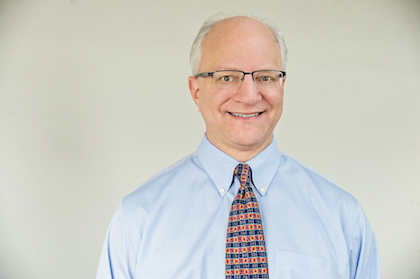 DALLAS – Feb. 26. 2019 – William T. Dauer, M.D., a neurologist acclaimed for his research into dystonia and Parkinson's disease, has been selected as the first Director of the Peter O'Donnell Jr. Brain Institute at UT Southwestern Medical Center. He will begin his new position July 1.
Dr. Dauer currently serves as Director of the Movement Disorders Group and Director of the Morris K. Udall Center of Excellence for Parkinson's Disease Research at the University of Michigan, where he is also the Elinor Levine Professor of Neurology and a Professor of Cell and Developmental Biology.
"Dr. Dauer's broad experience as a neurologist and a scientist positions him to provide strong leadership as the Peter O'Donnell Jr. Brain Institute works to accelerate the translation of fundamental discoveries into cutting-edge treatments for a broad spectrum of brain disorders," said Dr. W. P. Andrew Lee, Executive Vice President for Academic Affairs, Provost and Dean of UT Southwestern Medical School.
Established in 2015 with a gift from the O'Donnell Foundation, the Peter O'Donnell Jr. Brain Institute brings together doctors and researchers from various disciplines including neurology, neuroscience, neurological surgery, physical medicine and rehabilitation, and psychiatry to better understand the molecular workings of the brain and apply those discoveries to the prevention and treatment of brain, spine, nerve and muscle disorders.
"The personal and societal burden of neurological and psychiatric disease is great and increasing. The Peter O'Donnell Jr. Brain Institute represents the bold and visionary commitment of UT Southwestern President Dr. Daniel K. Podolsky and the medical center's leadership to tackle the challenge of improving the lives of individuals with brain disease," Dr. Dauer said. "The success of the Institute is uniquely possible at UT Southwestern because of its world-leading scientific culture and unprecedented institutional commitment to brain science and clinical care. I am extraordinarily honored and excited to direct the Institute and to join the remarkable UT Southwestern community."
At UT Southwestern, Dr. Dauer will hold the Lois C.A. and Darwin E. Smith Distinguished Chair in Neurological Mobility Research, and he will serve as Professor of Neurology and Neurotherapeutics.
An award-winning researcher
For nearly two decades, Dr. Dauer's groundbreaking research has been focused on the molecular basis of dystonia and the mechanisms of neurodegeneration in Parkinson's disease. His findings have elucidated the critical role of the torsinA protein in the progression of dystonia, which is marked by disabling, involuntary movements. Studies taking place under his direction at the Udall Center explaining the neurobiologic basis of falls in Parkinson's disease are being used to pioneer a novel therapy for this currently untreatable symptom.
Dr. Dauer is an elected member of the American Society for Clinical Investigation, and has been honored with the Dystonia Medical Research Foundation's Fahn Award and the Harold and Golden Lamport Award for excellence in clinical science research from Columbia University.
A native of Whittier, California, Dr. Dauer attended medical school at Washington University in St. Louis. After postdoctoral work at Massachusetts General Hospital and a medical internship at Beth Israel Deaconess Medical Center in Boston, he completed his residency in neurology at Columbia University in New York, where he established a laboratory in 2001. In 2009, he joined the faculty of the University of Michigan Medical School.
Advancing discoveries and treatments
With more than 500 faculty involved in research and patient care, the Peter O'Donnell Jr. Brain Institute includes many of the nation's top neurosurgeons, neurologists, psychiatrists, radiologists and specialists in rehabilitative medicine. By bringing multiple specialties together in a comprehensive center, the O'Donnell Brain Institute fosters collaboration to increase understanding of the brain and revolutionize how neurological and psychiatric disorders are diagnosed and treated.
The O'Donnell Brain Institute's doctors provide specialty care in more than 200 areas including autism, brain tumors, neurodegenerative brain disorders such as Alzheimer's disease, epilepsy, multiple sclerosis, psychiatric disease, sleep disorders, stroke and traumatic brain injuries including concussion.
A 12-story addition to the William P. Clements Jr. University Hospital, scheduled for completion in 2020, will serve as the new in-patient home of the O'Donnell Brain Institute. UT Southwestern will break ground later this spring on a nine-story tower to be located on its North Campus for expansion of Peter O'Donnell Jr. Brain Institute research programs.
About UT Southwestern Medical Center
UT Southwestern, one of the premier academic medical centers in the nation, integrates pioneering biomedical research with exceptional clinical care and education. The institution's faculty has received six Nobel Prizes, and includes 22 members of the National Academy of Sciences, 17 members of the National Academy of Medicine, and 15 Howard Hughes Medical Institute Investigators. The full-time faculty of more than 2,500 is responsible for groundbreaking medical advances and is committed to translating science-driven research quickly to new clinical treatments. UT Southwestern physicians provide care in about 80 specialties to more than 105,000 hospitalized patients, nearly 370,000 emergency room cases, and oversee approximately 3 million outpatient visits a year.