$18.4 million in state funding to enhance Simmons Cancer Center research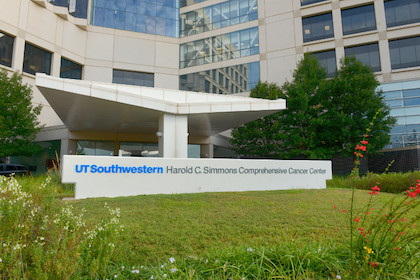 DALLAS – March 13, 2019 – The Cancer Prevention and Research Institute of Texas (CPRIT) has awarded UT Southwestern Medical Center faculty more than $18.4 million for cancer research and faculty recruitment.
The state funding will advance scientific understanding of breast, lung, prostate, and other types of cancer.
"We are enormously grateful for the support from CPRIT, which is essential for our mission to prevent cancer and treat patients with cancer in our catchment area in North Texas, as well as recruit some of the best talent in the country to UT Southwestern," said Dr. Carlos L. Arteaga, Director of the Harold C. Simmons Comprehensive Cancer Center and holder of The Lisa K. Simmons Distinguished Chair in Comprehensive Oncology.
UT Southwestern leaders will use $8 million to recruit new faculty, while $10 million will help UTSW researchers study cancer on the cellular, molecular, and genetic levels.
The amounts and focuses of the new CPRIT grants include:
About the Harold C. Simmons Comprehensive Cancer Center
UT Southwestern's Harold C. Simmons Comprehensive Cancer Center, the only NCI-designated Comprehensive Cancer Center in North Texas, includes 12 major cancer care programs with a focus on treating the whole patient with innovative therapies, while fostering groundbreaking basic and translational research that can improve patient care and prevent cancer worldwide. In addition, the Center's education and training programs support and develop the next generation of cancer researchers and clinicians. The Simmons Cancer Center is among only 30 U.S. cancer research centers to be named a National Clinical Trials Network Lead Academic Participating Site, a prestigious designation by the NCI, and the only cancer center in North Texas to be so designated. The designation and associated funding is designed to bolster the cancer center's clinical cancer research for adults and to provide patients access to cancer research trials sponsored by the NCI, where promising new drugs often are tested.
About Children's Medical Center Research Institute
Children's Medical Center Research Institute at UT Southwestern (CRI) is a joint venture of UT Southwestern Medical Center and Children's Medical Center Dallas, the flagship hospital of Children's Health. CRI's mission is to perform transformative biomedical research to better understand the biological basis of disease. Located in Dallas, Texas, CRI is home to interdisciplinary groups of scientists and physicians pursuing research at the interface of regenerative medicine, cancer biology, and metabolism. For more information, visit: cri.utsw.edu. To support CRI, visit: cri.utsw.edu/support/.
About UT Southwestern Medical Center
UT Southwestern, one of the premier academic medical centers in the nation, integrates pioneering biomedical research with exceptional clinical care and education. The institution's faculty has received six Nobel Prizes, and includes 22 members of the National Academy of Sciences, 17 members of the National Academy of Medicine, and 15 Howard Hughes Medical Institute Investigators. The full-time faculty of more than 2,500 is responsible for groundbreaking medical advances and is committed to translating science-driven research quickly to new clinical treatments. UT Southwestern physicians provide care in about 80 specialties to more than 105,000 hospitalized patients, nearly 370,000 emergency room cases, and oversee approximately 3 million outpatient visits a year.