Dr. Andrew Ziskind joins Southwestern Health Resources as Senior Executive Officer
DALLAS – April 10, 2019 – Dr. Andrew Ziskind, a nationally recognized leader of innovative health systems, has been selected as Senior Executive Officer (SEO) for the Southwestern Health Resources Clinically Integrated Network, which includes one of the top performing accountable care organizations (ACOs) in the United States.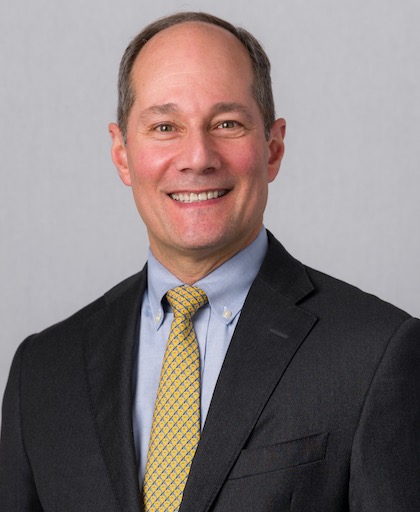 As SEO, he is responsible for the leadership of the Southwestern Health Resources Clinically Integrated Network (CIN). The organization serves the health care needs of more than 900,000 individuals across 16 counties in North Texas through its 4,000-member physician network, while conducting population health research to deliver efficient, top quality care. Additionally, the Southwestern Health Resources Accountable Care Network is listed No. 1 in the U.S. for Medicare savings of almost $30 million in 2017, with an overall quality score of 100 percent for the fiscal year.
"By focusing on innovative strategies that maximize efficient and effective use of resources, Southwestern Health Resources can drive better quality, value, and clinical outcomes to benefit patients, physicians, and payers. A focus on enhancing the physician-patient relationship serves as our foundation to becoming a national leader in value-based care," said Dr. Ziskind, who is board certified in internal medicine and cardiovascular disease and holds a master's degree in business administration.
In addition to overseeing the SWHR Physician Network and Population Health Services, Dr. Ziskind is responsible for network performance in risk-based contracts, patient-centered care, quality and performance improvement, provider and patient satisfaction within the network, and the Care N' Care health plan, which serves more than 13,000 Medicare beneficiaries.
"As a clinician and health care business innovator, Dr. Ziskind combines exceptional expertise and knowledge of opportunities to close gaps in health care that can improve the quality and value for delivering compassionate care to our patients," said Dr. Daniel K. Podolsky, President of UT Southwestern Medical Center, who co-chairs Southwestern Health Resources with Barclay Berdan, FACHE, CEO of Texas Health Resources.
"SWHR has already designed proven strategies that reveal substantive advantages, including millions of dollars in savings for Medicare and commercial payers. Dr. Ziskind's demonstrated leadership in health care change management significantly expands the potential to have an even greater impact, while supporting providers to meet the needs of their patients," said Mr. Berdan.
Dr. Ziskind's broad range of experience includes analytics-driven change management, hospital and health system physician alignment, and clinical transformation to achieve top cost and quality outcomes. He has been responsible for developing and leading innovative primary care and specialty delivery systems that span both academic medical centers and community hospitals. His diverse experience also includes devising accountable care solutions, implementing payment reform procedures, and creating population health management initiatives.
Before joining Southwestern Health Resources, he was Senior Vice President at Premier, a leading health care improvement company uniting an alliance of approximately 4,000 hospitals and health systems in the United States, along with approximately 165,000 other providers and organizations. As a member of the senior leadership team, he was responsible for its academic health system alliance. Dr. Ziskind also held senior executive roles at Huron Consulting Group and Accenture. In 2013, he was recognized as one of the top 25 most influential consultants by Consulting magazine.
Prior experience includes serving as Group President of BJC HealthCare, one of the largest nonprofit health care integrated delivery organizations in the nation, President of Barnes-Jewish Hospital in St. Louis, and Associate Dean for Clinical Affairs at the University of Washington. Additionally, his background includes establishing the University of Maryland's Cardiac Network. It was the first capitated network of its kind in the United States and provided comprehensive professional and facility care for 200,000 CareFirst members.
Dr. Ziskind completed a fellowship in cardiovascular disease and a residency in internal medicine at Massachusetts General Hospital. He earned his medical degree from the University of Pennsylvania Perelman School of Medicine, an MBA from Loyola University Maryland, and a bachelor's degree from Bowdoin College.
About Southwestern Health Resources
Southwestern Health Resources, which was formed by Texas Health Resources and UT Southwestern in 2015 and commenced operations in 2016, blends the strengths of both Texas Health and UT Southwestern from preventive care to the most advanced interventions to better serve North Texas residents. The integrated network builds on more than 50 years of collaboration between the two institutions to improve the health of North Texans.
SWHR includes 29 hospital locations and more than 4,000 physicians located throughout North Texas in its network. With over 650 points of access to care, this provides for higher value and allows patients to access services across a full continuum of medical needs. The network serves people across 16 counties in North Texas. The Southwestern Health Resources Population Health Services provides clinical and quality data along with analytic services necessary to support the physician-driven clinical decisions. SWHR coordinates care for more than 900,000 patients, aligned with commercial health care plans and Medicare programs, along with more than 13,000 Medicare beneficiaries enrolled in its Care N' Care health plan.
For more information about Southwestern Health Resources, visit www.southwesternhealth.com
Contacts
Debra Richards
(214) 924-1101
Remekca Owens
(214) 648-3404
Steve O'Brien
(682) 236-6390