Game-changing findings elevate UTSW's reputation in cancer research
More than two decades ago, UT Southwestern's Dr. David Russell, Vice Provost and Dean of Basic Research and Professor of Molecular Genetics, and Dr. Steven McKnight, Chair of Biochemistry, identified a protein called HIF-2 important to cancer cell growth. HIF-2 coordinates a series of signals that tell cells to grow, divide, and stimulate the production of new blood vessels to feed the tumor. Inhibiting a master regulator like HIF-2 could interrupt several pathways all at once.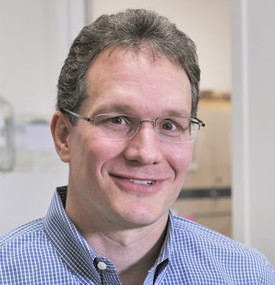 Dr. Richard Bruick, Professor of Biochemistry, and Dr. Kevin Gardner, Adjunct Professor of Biophysics now at CUNY Advanced Science Research Center, later characterized important features of this protein that could be targeted by drugs. Dr. Bruick and Dr. Gardner looked for molecules that would bind to a small "pocket" or cavity they found in the HIF-2 protein in order to block the function of HIF-2 and stop tumor growth. The team was successful in finding molecules that inhibited HIF-2, and they licensed these findings to Peloton Therapeutics, a biotech company founded by Dr. McKnight.
Peloton built upon this work to discover novel inhibitors with enhanced drug-like properties. Peloton then conducted preclinical and drug development activities to identify a lead candidate, PT2385, which they carried forward into clinical trials. Peloton opened a phase one clinical trial to select kidney cancer patients in 2014 at seven locations around the country, including UT Southwestern.
"Translating the discovery made by Drs. McKnight and Russell to a potential clinical application, particularly when working with what many presumed to be an 'undruggable' target, is a remarkable achievement," said Dr. Kevin Courtney, Assistant Professor of Internal Medicine and site principal investigator for a clinical trial on a new treatment originating from basic research done at UT Southwestern.
Since its founding in 1989, the Harold C. Simmons Comprehensive Cancer Center has tripled the number of patients enrolled in clinical trials, with cancer drugs developed at UT Southwestern being tested in patients. The PT2385 trial is one of numerous multi-investigator cancer research trials taking place at UT Southwestern, in this case a study that falls under the Kidney Cancer Program led by Dr. James Brugarolas, Associate Professor of Internal Medicine and Developmental Biology. More than 60 physicians and scientists are part of this Program, just one example of how multidisciplinary teams work together to advance both science and cancer patient care.
The work of UT Southwestern cancer researchers has had worldwide impact. Dr. John Minna, Director of the Nancy B. and Jake L. Hamon Center for Therapeutic Oncology Research and Professor of Internal Medicine and Pharmacology, with his longtime collaborator Dr. Adi Gazdar, Professor in the Hamon Center for Therapeutic Oncology Research and of Pathology, have carefully developed and curated lung cancer cell lines – a collection of about 300 that is now the world's largest, used to develop and test new therapies by thousands of researchers across the globe.
This work laid the foundation for receipt of a highly competitive Specialized Program of Research Excellence (SPORE) grant from the National Cancer Institute (NCI), in collaboration with MD Anderson Cancer Center. Dr. Minna oversees UT Southwestern's SPORE program in lung cancer, which is now in its 17th year and the largest thoracic oncology effort in the United States.
These decades-long efforts underscore the importance of the Simmons Cancer Center's "matrix" approach, which fosters routine interaction across scientific disciplines. This ensures research discoveries are broadly leveraged to promote progress in the fight against cancer. To that end, the Simmons Cancer Center organized trans-disciplinary teams around five scientific programs:
Development and Cancer, which brings together investigators in cancer biology, stem cell biology, and developmental biology to uncover how developmental processes contribute to the initiation and progression of cancer. Led by Dr. Steven Skapek, Chief of the Division of Pediatric Hematology-Oncology, and Professor of Pediatrics.
Cancer Cell Networks, which studies mechanisms in aberrant cell regulatory networks that support cancer initiation and growth. Led by Dr. Melanie Cobb, Professor of Pharmacology, and Dr. Pier Paolo Scaglioni, Associate Professor of Internal Medicine.
Chemistry and Cancer, which focuses on discovery of drug-like small molecules that affect biological processes related to the development or inhibition of cancer. Led by Dr. McKnight and Dr. Jef De Brabander, Professor of Biochemistry.
Experimental Therapeutics of Cancer, which advances personalized medicine by understanding how gene-related processes lead to cancer, and how genetic variations among individuals affect tumor growth and response to treatment. Led by Dr. Minna, Dr. David Boothman, Professor of Pharmacology and Radiation Oncology, and Dr. David Gerber, Associate Professor of Internal Medicine.
Population Science and Cancer Control, which develops strategies to improve cancer prevention and screening, especially in populations that lack access to health care. Led by Dr. Ethan Halm, Chief of the William T. and Gay F. Solomon Division of General Internal Medicine, Professor of Clinical Sciences, and Director of the Center for Patient-Centered Outcomes Research, and Dr. Jasmin Tiro, Associate Professor of Clinical Sciences.
UT Southwestern investigators are blazing new trails in cancer research, including in these areas: the molecular biology of lung cancer, angiogenesis (the formation of blood vessels that fuel tumors), cancer metabolism, blood-forming stem cell action, DNA repair, nuclear hormone receptor activity, stereotactic ablative radiotherapy, colon cancer screening, the genetics of renal cell carcinomas and Wilms tumors, inhibition of the gene KRAS, noninvasive detection of gliomas, the origin of plexiform neurofibromas, novel therapeutic targets for prostate cancer, and liver cancer surveillance.
The Simmons Cancer Center has a centralized clinical research infrastructure, including a Phase I Clinical Trials Unit. This unit facilitates the many steps involved between initial drug discovery and a clinical trial, including animal studies, medicinal chemistry and drug scale-up, protocol development, identification of target patient populations, and collaboration with industry.
UT Southwestern has a long history of involvement in game-changing clinical trials related to cancer. The Gynecologic Oncology Group, for example, conducted three large NCI-sponsored trials that showed a significant survival advantage for patients treated with intraperitoneal chemotherapy compared to similar chemotherapy agents given intravenously. Based on these impressive results, in 2006 the NCI took the unusual step of issuing a "Clinical Alert" encouraging oncologists to offer intraperitoneal chemotherapy to patients with advanced ovarian cancer. Then when the drug regorafenib was being evaluated in clinical trials for colon cancer treatment, UT Southwestern was the only site in Texas where this drug was available for a long time. Regorafenib is now approved for some patients with colon cancer and advanced gastrointestinal stromal tumors that cannot be surgically removed and no longer respond to other FDA-approved treatments.
In addition, the Cancer Prevention and Research Institute of Texas (CPRIT) has accelerated cancer research progress at UT Southwestern through vital funding for new shared resources, graduate school training, multi-investigator research projects, and recruitment of cancer-focused investigators.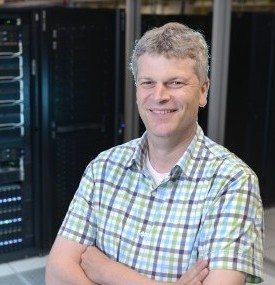 One CPRIT grant awarded last year provided $5.59 million to develop a Bioinformatics Core Facility, led by Dr. Gaudenz Danuser, Chair of the Lyda Hill Department of Bioinformatics. The Bioinformatics Department, which was established last year, manages huge data sets to identify complex patterns in the organization and regulation of molecules, cells, tissues, and organs. Finding these patterns can help pinpoint the defects that cause disease, including cancer, as well as aid in developing new diagnostic and therapeutic strategies.
Collaborations among different UTSW departments, such as the Bioinformatics initiative, are key to the Simmons Cancer Center's research successes. Autonomous and departmentally based centers or facilities from across the Medical Center are contributing in a variety of ways, including the following:
Center for the Genetics of Host Defense
Center Director Dr. Bruce Beutler shared the 2011 Nobel Prize in Physiology or Medicine for his discovery of an important family of Toll-like receptors that recognize disease-causing agents and trigger a powerful inflammatory response. He also isolated the protein mouse tumor necrosis factor (TNF) and was the first to recognize it as a key mediator of the inflammatory response, findings that are fundamental to our understanding of innate immunity and also significant to research in cancer development.
Children's Medical Center Research Institute at UT Southwestern
Center Director Dr. Sean Morrison, Professor of Pediatrics, and his researchers last year made a discovery that suggests cancer cells benefit more from antioxidants than do normal cells, raising concerns about the use of dietary antioxidants by cancer patients. In a separate study, scientists at the Center found that a microRNA normally responsible for preventing liver cancer can also compromise liver regeneration and, if present at high levels, conversely damage the liver and cause cancer. In addition, CRI researchers pinpointed an important gene that may contribute to several types of childhood cancer.
Center for Autophagy Research
Center Director Dr. Beth Levine, a Howard Hughes Medical Institute Investigator, and colleagues identified a strong link between the most aggressive type of breast cancer and a gene that regulates the body's natural cellular recycling process, called autophagy. Based on analysis of two large breast cancer databases, Dr. Levine found that reduced activity of an autophagy gene, beclin 1, was related to both a higher incidence of triple negative breast cancer and a poorer prognosis for breast cancer patients. The study was the first to document a correlation between beclin 1 and triple negative breast cancer. As a result, therapies that increase beclin 1 activity in breast cancer patients may be beneficial.
Nancy B. and Jake L. Hamon Center for Therapeutic Oncology Research
Center Director Dr. Minna has overseen the SPORE grant program at UT Southwestern for nearly two decades, which includes $2.5 million in annual funding for lung cancer research. He also directs the W.A. "Tex" and Deborah Moncrief Jr. Center for Cancer Genetics and co-directs the Experimental Therapeutics Program at the Simmons Cancer Center. Other areas of research include breast cancer, gynecologic malignancies, pediatric tumors, family cancer genetics, molecular early detection of cancer, cancer gene analysis, new drug testing, tumor vaccines, and gene therapy, among others.
Hamon Center for Regenerative Science and Medicine
Center Director Dr. Eric Olson, Chair of Molecular Biology, leads the Center that was established in 2014 to promote discoveries of new approaches to healing and regeneration. Cancer-related research includes that of Dr. Joshua Mendell, Professor of Molecular Biology and a Howard Hughes Medical Institute Investigator, who received an NCI Outstanding Investigator Award last year for his lab's investigation into how a class of genes that produce noncoding RNAs contributes to cancer. These noncoding RNAs are often present at abnormal levels in cancer cells, researchers found. A better understanding of noncoding RNAs and the cellular mechanisms could lead to the development of new anti-cancer therapies. In January, in honor of related research on microRNA regulation and function, Dr. Mendell received the 2016 Edith and Peter O'Donnell Award in Medicine from The Academy of Medicine, Engineering and Science of Texas.
Cecil H. and Ida Green Center for Reproductive Biology Sciences
Center Director Dr. W. Lee Kraus, Professor of Obstetrics and Gynecology, and of Pharmacology, uncovered how the body's inflammatory response can alter estrogen's promotion of breast cancer cell growth. A combination of signaling molecules inhibits the growth of breast cancer cells, improving clinical outcomes for some cancer types. The newly identified gene set can be used as a biomarker to help physicians determine who is at risk and how they might react to certain therapies.
Advanced Imaging Research Center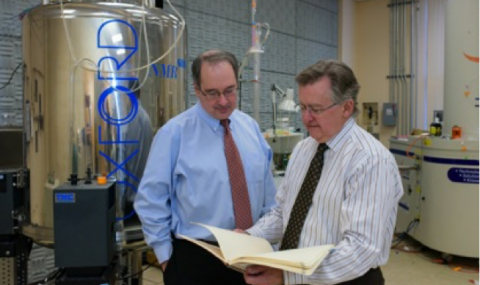 AIRC Center Director Dr. Dean Sherry, Professor of Radiology, and Medical Director Dr. Craig Malloy, Professor of Internal Medicine and Radiology, oversee research to develop new magnetic resonance imaging tracers and techniques revealing the aberrant machinery of numerous diseases, including cancer. AIRC researchers also are helping realize the dream of cancer patients and their doctors for treatments that target only the cancer and spare healthy tissues, reducing or eliminating the potential adverse side effects of surgery, chemotherapy, and radiation.
Annette G. Strauss Center for Neuro-Oncology
Center Director Dr. Bruce Mickey, Professor and Vice Chair of Neurological Surgery, leads research efforts focused on tumors of the central nervous system. In one significant discovery from the Center, Dr. Elizabeth Maher and Dr. Robert Bachoo, both Associate Professors of Neurology and Neurotherapeutics, and of Internal Medicine, found that brain tumors are capable of burning acetate for fuel. The researchers reported that all the cancers studied had the same ability to burn acetate, not just glucose as previously thought, positioning acetate metabolism as a potentially exploitable vulnerability in cancer metabolism.
High Throughput Screening Core
HTS Core Director Dr. Bruce Posner, Associate Professor of Biochemistry, leads this group that focuses on the discovery and preclinical development of new small-molecule therapeutics for treating cancer and other diseases. The Core, founded in 2002 by Dr. McKnight, also helps identify compounds that are used to understand the complex molecular relationships that cause or prevent cancer. Genes identified in HTS experiments may become eventual targets for compound screens leading to novel therapeutics.
Beyond the important cancer research taking place in UT Southwestern's dedicated centers or specialized departmental units, scientists and physicians in multiple other departments have contributed to scientific discoveries aimed at better cancer treatments or preventive strategies. They include the following notable research efforts by these investigators, among others:
Dr. Sandra Schmid, Chair of Cell Biology, is studying apoptosis, or programmed cell death, which can be triggered by so-called death receptors that kill target cells upon activation by their corresponding ligands. One of these ligands, called TRAIL, selectively kills cancer cells and is being developed as a potential anti-cancer therapeutic.
Dr. Jerry Shay, Professor and Vice Chairman of Cell Biology, and Dr. Woodring Wright, Professors of Cell Biology and Internal Medicine, have targeted the DNA structures telomeres with a small molecule called 6-thiodG that takes advantage of the cell's "biological clock" to kill cancer cells and shrink tumor growth. They found that this molecule could stop the growth of cancer cells in culture and decrease tumor growth in mice.
Dr. Michael White, Professor of Cell Biology, received an Outstanding Investigator Award from the NCI last year for work to help personalize therapy. Dr. White's lab is searching for biomarkers that identify patients who may respond particularly well to a given chemotherapy. With this new research support, he plans to identify effective intervention targets that are required for tumor formation in diverse genetic backgrounds, develop lead compounds that inactivate these targets, and determine features that allow detection of the presence of these targets in patients.
Dr. Cobb's pharmacology research focuses on signal transduction mechanisms, specifically a class of enzymes called mitogen-activated protein kinases, or MAP kinases. Her research team identified and then cloned the first mammalian MAP kinases and continues to study their roles in cancer.
Dr. Michael Roth, Vice Chair and Professor of Biochemistry, is using high-throughput screening to search for compounds that affect cancer cells as a way to identify the unique cellular pathways that are active in these cells as opposed to normal cells.
Dr. Bruick's work in biochemistry researches cellular responses to maintain oxygen and iron levels that have helped lay the foundation for the development of small-molecule therapeutics. Findings help validate the therapeutic potential of small-molecule antagonists, which hold potential to provide improved treatments for anemia, renal cancers, and iron overload disorders.
Dr. De Brabander's work in biochemistry focuses on the synthesis of complex molecular architectures, including anti-tumor agents that selectively target tumor-derived neuronal stem cells and colon cancers, and certain inhibitors and their role in cancer and as anti-viral agents.
Dr. Joseph Ready, Professor of Biochemistry, investigates the synthesis of biologically active small molecules, especially complex anti-cancer agents, from marine and bacterial sources and of synthetic compounds discovered through unbiased high-throughput screening.

###
Dr. Bachoo holds the Miller Family Professorship in Neuro-Oncology.
Nobel Laureate Dr. Beutler, a Regental Professor, holds the Raymond and Ellen Willie Distinguished Chair in Cancer Research, in Honor of Laverne and Raymond Willie, Sr.
Dr. Boothman holds the Robert B. and Virginia Payne Professorship in Oncology.
Dr. Cobb holds the Jane and Bill Browning, Jr. Chair in Medical Science.
Dr. Danuser holds the Patrick E. Haggerty Distinguished Chair in Basic Biomedical Science.
Dr. De Brabander holds the Julie and Louis Beecherl, Jr. Chair in Medical Science.
Dr. Gazdar holds the W. Ray Wallace Distinguished Chair in Molecular Oncology Research.
Dr. Halm holds the Walter Family Distinguished Chair in Internal Medicine in Honor of Albert D. Roberts, M.D.
Dr. Kraus holds the Cecil H. and Ida Green Distinguished Chair in Reproductive Biology Sciences.
Dr. Levine holds the Charles Cameron Sprague Distinguished Chair in Biomedical Science.
Dr. Maher holds the Theodore H. Strauss Professorship in Neuro-Oncology.
Dr. Malloy holds the Richard A. Lange, M.D. Chair in Cardiology.
Dr. McKnight holds The Sam G. Winstead and F. Andrew Bell Distinguished Chair in Biochemistry.
Dr. Mickey holds the William Kemp Clark Chair of Neurological Surgery.
Dr. Minna holds the Max L. Thomas Distinguished Chair in Molecular Pulmonary Oncology, and the Sarah M. and Charles E. Seay Distinguished Chair in Cancer Research.
Dr. Morrison holds the Mary McDermott Cook Chair in Pediatric Genetics.
Dr. Olson holds the Pogue Distinguished Chair in Research on Cardiac Birth Defects, the Robert A. Welch Distinguished Chair in Science, and the Annie and Willie Nelson Professorship in Stem Cell Research.
Dr. Roth holds the Diane and Hal Brierley Distinguished Chair in Biomedical Research.
Dr. Russell holds the Eugene McDermott Distinguished Chair in Molecular Genetics.
Dr. Schmid holds the Cecil H. Green Distinguished Chair in Cellular and Molecular Biology.
Dr. Shay holds The Southland Financial Corporation Distinguished Chair in Geriatrics.
Dr. Skapek holds the Distinguished Chair in Pediatric Oncology Research.
Dr. White holds the Grant A. Dove Distinguished Chair for Research in Oncology, and the Sherry Wigley Crow Cancer Research Endowed Chair in Honor of Robert Lewis Kirby, M.D.
Dr. Wright holds The Southland Financial Corporation Distinguished Chair in Geriatrics.