Nephrology Program Training Sites
Clinical training is centered about four main teaching sites: Parkland Memorial Hospital, University Hospitals, Dallas VA Medical Center, and Davita/UTSW Joint Venture Dialysis Unit. Each offers a different patient population with a different face of nephrology practice. This diverse clinical exposure ensures that the spectrum of renal pathology that a trainee will experience is unparalleled.
Parkland Memorial Hospital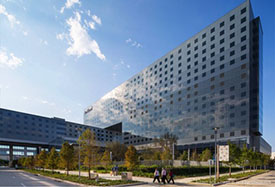 Parkland Health & Hospital System is our primary teaching hospital. It first opened its doors in 1894 and has always served the indigent population of Dallas County. It is now one of the largest public hospital systems in the country. Since the initial affiliation of the Medical School with Parkland in 1940s, the county hospital has provided an amazing spectrum of pathology in which to serve those in need and to learn. Regardless of one's discipline, the clinical experience at Parkland is simply tremendous. The new hospital, which was completed in 2015, has 862 beds and is equipped with the latest in medical technologies. Services include a Level I Trauma Center and the second-largest civilian burn center in the U.S.
Common clinical problems at this training site:
Electrolyte disorders and poisonings
Critical care nephrology: 35 MICU/CCU beds, 24 SICU beds, 12 Burn ICU beds, and 12 Neuro-ICU beds
Procedures

Renal biopsies
Temporary dialysis catheters

Glomerulonephritis – The population of patients in the Parkland system with non-diabetic glomerular disease is so large that they are cared for in a dedicated Parkland Glomerulonephritis Clinic
Nephrolithiasis – Focused learning in the management of nephrolithiasis occurs in the Parkland Mineral Metabolism Clinic
University Hospitals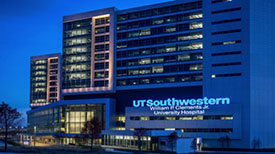 William P. Clements Jr. and Zale Lipshy University Hospitals make up our university practice, with the bulk of our clinical activity occurring in the former hospital. Clements was newly constructed in 2014 and carries 460 beds. It serves as a tertiary referral center for complex cases and is recognized as a leading center in North Texas for heart, lung, liver, kidney, and bone marrow transplantation.
Common clinical problems at this training site:
Critical care nephrology
ECMO and advanced heart failure therapies
Organ transplantation and its complications
Inpatient peritoneal dialysis care–Our large peritoneal dialysis patient population primarily uses Clements for care requiring inpatient admission
Dallas Veterans Affairs Medical Center

The Dallas Veterans Affairs Medical Center is the central piece of the VA North Texas Health Care System, the VA's second largest health care system. The hospital has 289 acute care beds and one of the largest VA dialysis units in the country.
Common clinical problems at this site:
Critical care nephrology
Chronic ambulatory hemodialysis
Nephrolithiasis–Focused learning in the management of nephrolithiasis occurs in the Dallas VAMC Stone Clinic
Davita/UTSW Joint Venture Dialysis Unit
Our division operates an outpatient dialysis unit as a Joint Venture with Davita. Our fellows' ambulatory, in-center hemodialysis experience is conducted at this site. Additionally, it is here that our fellows gain immense experience with ambulatory peritoneal dialysis that is second to none. Our PD practice remains one of the largest in the country, with a total census of 163 patients (the U.S. median is 15 patients per unit). The fellow's education in dialysis is further enriched with a continuity experience in home hemodialysis in the second year. With these training experiences, our fellows achieve a level of proficiency with home dialysis therapies that far exceeds that of typical fellowship graduates.