History of the Fellowship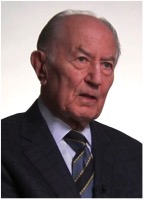 The UT Southwestern Renal Division owes its strength to its founder, Dr. Donald Seldin, one of the greatest renal physiologists of the 20th century and original co-editor of Seldin and Giebisch's The Kidney. Dr. Seldin built the medical school up from its humble beginnings when he became the Chairman of the Department of Medicine in 1952. In 1955-56, he established the Division of Metabolism and its training program. It would later become the Division of Nephrology as the discipline matured. Dr. Seldin was able to recruit some of the best minds into the fellowship, many of whom went on to become leaders in the world of nephrology. Our catalog below of Distinguished Alumni attests to this heritage. Find a more detailed account of the career of this giant in the field of medicine in this video.
Distinguished Nephrology Alumni
Past UT Southwestern nephrology fellows have gone on to lead renal divisions, chair medicine departments, and become deans of medical schools. What follows is a catalogue of some of the professional achievements of our alumni.
The 1950s
Robert J. Cade | Professor, University of Florida School of Medicine Division of Nephrology, Inventor of Gatorade | 1956
Jean Wilson | Professor, UTSW, Member of Institute of Medicine of the National Academy of Sciences | 1957
Norman W. Carter Professor, UTSW Division of Nephrology | 1957
James R. Clapp | Professor, Founding Faculty Member in the Division of Nephrology, Duke School of Medicine | 1959
Albert D. Roberts | Professor, Associate Dean for Clinical Affairs, UTSW | 1959
The 1960s
Carl M. Goldsmith | Professor, Chief of Clinical Nephrology, Jackson Memorial Hospital, University of Miami School of Medicine | 1960
EPM Bhattathiri | Professor, Medical Biochemistry Department Head, University of Nigeria College of Medicine | 1960
Hiroshi Sakakida | Professor, Chairman of Medicine, Kyoto Medical School | 1961
Herbert A. Bloomer | Professor, Associate Chief of Staff for Research, Section Chief, Division of Kidney Disease VA Hospital, University of Utah College of Medicine | 1961
J. Manuel Arias | Professor, Associate Dean, University of Guatemala School of Medicine | 1961
Felix Brunner | Professor, Division Chief, University of Basel Division of Nephrology | 1963
Wadi Suki | Professor, Chief of Nephrology, Baylor College of Medicine, President of ASN | 1963
Murray L. Levin | Professor, Northwestern University Feinberg School of Medicine | 1964
Garabed Eknoyan | Professor, Baylor College of Medicine Division of Nephrology, President of NKF | 1964
William Falls | Professor, Chief of Renal Section, Naval Medical Center Portsmouth | 1964
Anslem Frick | Professor, Department of Physiology, University of Munich | 1965
Anders Jonsson | Professor, Department of Internal Medicine, Ryhov Hospital | 1965
Robert Kunau | Professor, Division of Nephrology, UTHSC San Antonio | 1965
David Campion | Associate Professor of Medicine and Neurology, UCLA | 1965
Manuel Martinez-Maldanado | Professor, Member of Institute of Medicine of the National Academy of Sciences, President of the Ponce School of Medicine, Executive Vice President for Research at the University of Louisville, Published Poet | 1966
Fredric Coe | Professor, Division Chief, University of Chicago School of Medicine Nephrology Division, Founder of U of C Kidney Stone Evaluation and Treatment Program | 1967
Neil A. Kutzman | Professor, Chairman of Medicine, Texas Tech University School of Medicine, President of NKF | 1967
Jose L. Rodicio | Professor, Nephrology Division Chief, University of Madrid, President of the Spanish Society of Nephrology | 1967
Jay Stein | Professor, Vice President and Vice Provost for Health Affairs, University of Rochester | 1967
Murray Katz | Professor, Director of Research Southern Arizona VA, University of Arizona College of Medicine | 1968
Henry Mandin | Professor, Associate Dean of Undergraduate Medical Education, University of Calgary Faculty of Medicine | 1968
Gerard E. Plante | Professor, Chief of Nephrology, Centre Hospitalier Universitaire de Sherbrooke, Canada | 1968
Michael Bailie | Professor, Vice-Dean and Chairman of Pediatrics, University of Illinois School of Medicine, President of American Society of Pediatric Nephrology | 1968
Roland C. Blantz | Professor, Chief of Nephrology, University of California San Diego, President of ASN | 1969
Jaime Herrera-Acosta | Department of Nephrology, Instituto Nacional de Cardiología, Mexico | 1969
Vittorio Andreucci | Professor, Naples University, President, European Renal Association–European Dialysis and Transplantation Association (ERA–EDTA), President, Italian Society of Nephrology | 1969
The 1970s
Donald A. Leeber | Professor, Nephrology Division Chief, Main Medical Center | 1970
Jose Antonio Rocha Gontijo | Professor, Director of the School of Medical Sciences, State University of Campinas, Brazil | 1970
Masashi Imai | Professor, Department of Pharmacology, Jichi Medical School | 1970
Satoshi Kawamura | Professor, Nihon University School of Medicine | 1972
Thomas F. Parker, III | Chief Medical Officer, Renal Ventures Management | 1972
Antonio Tzamaloukas | Professor, University of New Mexico School of Medicine | 1973
Owen Holland | Professor, Director of Hypertension Service, University of Texas Medical Branch | 1973
John R. Higgins | Professor, Chairman of Medicine, Texas Tech Amarillo, Regional Chief of Staff of the Southern Region of Veterans Affairs | 1973
Harry Jacobson | Professor, Vice Chancellor for Health Affairs at Vanderbilt University and CEO of Vanderbilt Medical Center | 1974
Ronald Hogg | Professor, Chief of Pediatric Nephrology, Texas A & M Health Science Center | 1974
Thomas Dubose | Professor, Chairman of Medicine, Wake Forest University Health Sciences, President of ASN | 1975
John Stokes | Professor, Executive Vice Chair of Medicine, University of Iowa Carver College of Medicine | 1975
Eiji Higashihara | Professor, Department of Urology, Kyorin University School of Medicine | 1976
Khashyar Sakhaee | Professor, Division Chief of Mineral Metabolism, Clinical Director, Center for Mineral Metabolism and Clinical Research, UTSW | 1977
Charles Wingo | Professor, Chief of Staff for Research, Gainesville VAMC, University of Florida College of Medicine | 1978
Christer Holberg | Professor, Chief of Pediatrics, Nephrology, and Transplantation Children's Hospital University Helsinki | 1978
L. Lee Hamm, III | Professor, Senior Vice President & Dean, School of Medicine, Tulane School of Medicine | 1979
The 1980s
David Ludwin | Professor, Associate Dean of Research, Faculty of Health Sciences McMaster University | 1980
Dennis Stone | Professor of Physiology and Biochemistry, Vice President for Technology Development, UTSW | 1980
Thomas O. Daniel | Professor of Medicine and Cell Biology, Vanderbilt University Medical Center, President of Global Research and Early Development, Celgene Corporation | 1981
Donald Maloney | Professor, Center for Clinical Research and Evidence-Based Medicine, UT Health Science Center Houston | 1981
Robert Toto | Professor, Associate Dean of Clinical and Translational Research, UTSW | 1982
Matthew Breyer | Professor, Vanderbilt University Medical Center, Chief Scientific Officer for Biotherapeutics Discovery Research, Eli Lilly | 1982
Victor L. Schuster | Professor, Senior Vice-Dean, Albert Einstein College of Medicine | 1982
Julia Breyer Lewis | Professor, Vanderbilt University Medical Center | 1983
Hector Cordova | Chief, Renal Section at Department of Veterans Affairs Caribbean Healthcare System | 1984
Sharma Prabhakar | Professor of Medicine and Physiology, Vice Chair, Texas Tech University Health Science Center | 1985
Orson Moe | Professor, Nephrology Division Chief, UTSW | 1987
Alberto Tejedor | Professor, Department of Medicine at the Complutense University of Madrid | 1987
Miguel A. Vazquez | Professor, Clinical Director of Nephology Division, UTSW | 1988
Biff Palmer | Professor, Kenneth I. Shine Academy of Health Science Education Member, UTSW | 1988
Horie Shigeo | Professor, Chairman of Urology, Juntendo University School of Medicine | 1988
1990
David Tovbin | Professor, Head of the Department of Nephrology, Ha-Emek Medical Center, Israel | 1990
Mohanram Narayanan | Associate Professor, Director, Division of Nephrology, Texas A&M Health Science Center | 1990
Rajiv Agarwal | Professor, Indiana University School of Medicine | 1991
Harold A. Franch | Professor, Director, Emory Kidney Stone Prevention Clinic, Atlanta VA Medical Center, Emory School of Medicine | 1991
Joel Melnick | Vice President, Clinical Research and Development, OPKO Health (Pharma) | 1991
Yasuyoshi Yamaji | Professor, Chief of Nephrology, Saitama Social Insurance Hospital, Japan| 1991
Luis Limchiu | Training Officer, National Kidney & Transplant Institute, Philippines | 1991
Kazutomo Ujiie | Department of Internal Medicine, Nakano General Hospital | 1991
Morimasa Amemiya | Professor, Jichi Medical School, Tochigi, Japan | 1992
Nasimul Ahsan | Professor, Chief of Medicine, Fayetteville VA Medical Center | 1992
Kenichiro Kitamura | Professor, Chairman, Third Department of Internal Medicine, University of Yamanashi, Japan | 1993
Tzong-Shinn Chu | Professor, National Taiwan University Hospital | 1993
Osamu Nakashima | Professor, Second Department of Internal Medicine, Tokyo Medical and Dental University | 1994
Jeffrey Penfield | Associate Professor, Division of Nephrology, Dallas VA Medical Center, UTSW | 1994
Hirohiko Tsuganezawa | Professor, Keio University School of Medicine, Japan | 1994
Patrice Max Ambuehl | Professor, Head of the Department of Nephrology, Waid City Hospital, University of Zurich | 1995
Yan Peng | Associate Professor, Pathology, UTSW | 1995
Yukimasa Kohda | Department of Nephrology, Graduate School of Faculty of Life Science, Kumamoto University, Japan | 1996
Huamin Wang | Professor, Department of Pathology, University of Texas MD Anderson Cancer Center | 1996
Kamel Laghmani | Scientist, French Institute of Health and Medical Research | 1997
Seiji Aruga | Department of Urology, University of Tokyo | 1997
Henry Quinones | Professor, Division of Nephrology, UTSW | 1998
Ming Chang Hu | Associate Professor, Internal Medicine and Pediatrics, UTSW | 1999
Christopher Licht | Associate Professor, Department of Pediatrics, Faculty of Medicine, University of Toronto | 1999
The 2000s
Nilum Rajora | Professor, Division of Nephrology, UTSW | 2003
Vishal D. Patel | Associate Professor, Division of Nephrology, UTSW | 2004
Olivier Bonny | Associate Professor, Department of Pharmacology and Toxicology, University of Lausanne | 2005
Aylin Rodan | Associate Professor, University of Utah | 2008
Daniel Fuster | Associate Professor, University Hospital of Bern | 2006
Valeriu Cebotaru | Assistant Professor, Division of Nephrology, University of Maryland | 2009
Joseph Berger | Associate Professor, Division of Nephrology, UTSW | 2009
The 2010s
Nishank Jain | Assistant Professor, University of Kansas Medical Center | 2011
Lama Noureddine | Assistant Professor, University of Iowa Carver College of Medicine | 2011
Michael Concepcion | Assistant Professor, Division of Nephrology, UTSW | 2012
Peter Van Buren | Associate Professor, Division of Nephrology, UTSW | 2012
Jiten Patel | Assistant Professor, Division of Nephrology, UTSW | 2014
Javier Neyra | Assistant Professor, Division of Nephrology, University of Kentucky Medical Center | 2016
Ronak Lakhia | Assistant Professor, Division of Nephrology, UTSW | 2016
Payaswini Vasanth | Assistant Professor, Emory University | 2016
L. Parker Gregg | Assistant Professor, Baylor College of Medicine | 2017
Lee Anderson | Assistant Professor, UTSW | 2019
Rula Abdulrahman | Assistant Professor, Stony Brook University Hospital | 2019
Kiran Khan | Assistant Professor, Division of Nephrology, UTSW | 2019
Gerard Martins | Assistant Professor, Division of Nephrology, UTSW | 2019