Biophysics Core Facilities
Modern biophysical research requires access to state-of-the-art technologies for determining the structure of macromolecules and their complexes, and for dissecting the thermodynamics and kinetics of their interactions. To make a number of these techniques routinely available to researchers at UT Southwestern Medical Center and other local institutions, the Department of Biophysics supports two core facilities.
The Structural Biology Lab specializes in structure determination by X-ray crystallography, while the Macromolecular Biophysics Resource focuses on solution assays including analytical ultracentrifugation, isothermal titration calorimetry, and light scattering. In addition to providing access to the latest instrumentation, these cores provide expert training in data acquisition and analysis.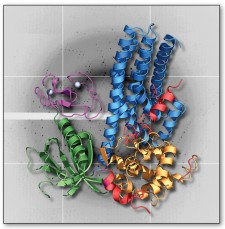 The Structural Biology Laboratory provides campus-wide access to equipment and expertise in macromolecular structure determination via X-ray crystallography. We assist collaborators in all steps of the process of structure determination from crystallization to publication, as well as provide technical expertise for structural analysis and interpretation, grant applications, and graduate student education.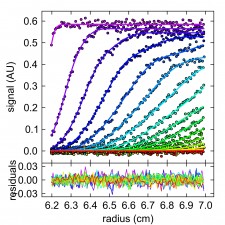 The purpose of the MBR is to provide ready access to state-of-the-art instrumentation for the biophysical characterization of macromolecules and their interactions. We also provide training for the use of the equipment and for the analysis of the resulting data.