The Tower Garage, located at Medical District Drive and Tex Oak Drive, is a Parkland Memorial Hospital parking facility available to UT Southwestern Medical Center patients and visitors.
For patients visiting the James W. Aston Ambulatory Care Center or the Charles C. Sprague Clinical Science Building, the Tower Garage is the designated self-parking location. Complimentary campus shuttle buses are available to and from these buildings, running four to five times an hour from the Tower Garage.
Zale Lipshy Pavilion – William P. Clements Jr. University Hospital patients and visitors are encouraged to valet park at the main entrance to the hospital at 5151 Harry Hines Blvd.
Self-Parking for Aston Building Patrons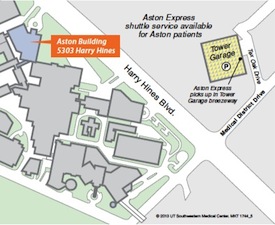 Aston Center patrons are encouraged to self-park at the Tower Garage, which is located at the corner of Medical District Drive and Tex Oak Drive. Clinic staff will give patients who park in the Tower Garage a voucher for free parking.
In addition, free shuttle service on the Aston Express is available for Aston Center patrons. Please note that the Aston Building shuttle stop is now located in the rear of the building to reduce congestion at the circular drive entrance. Assistance for patients with questions or needing help – including wheelchairs and ambulatory support – continues to be provided by Guest & Patient Services at the shuttle stop.
7 to 10-minute trip each way
Continuous service from 7 a.m. to 6 p.m. weekdays (no weekend service)
At Tower Garage, stops in the 1st floor breezeway near the back
Drops off and picks up at the rear entrance to the Aston Building
Self-Parking for Sprague Building Patrons
Sprague Building patrons may self-park at the Tower Garage, which is located at the corner of Medical District Drive and Tex Oak Drive. Free shuttle service is available on the Aston shuttle:
7-minute trip each way
Continuous service from 7 a.m. to 6 p.m. weekdays
At Tower Garage, stops in the 1st floor breezeway near the back
Drops off and picks up at the rear entrance to the Aston Building