Office of Financial Aid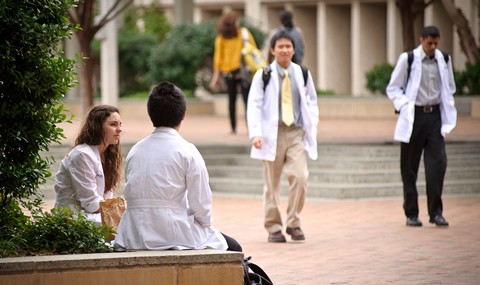 The Office of Financial Aid at UT Southwestern Medical Center is part of the Office of Student & Alumni Affairs, and administers federal and institutional student loans and gift aid for the Medical School, Graduate School of Biomedical Sciences and the School of Health Professions. To be eligible for financial assistance, students must be accepted for admission or enrolled in good standing and making satisfactory academic progress.
See Financial Aid FAQs for list of frequently asked questions.
The Financial Aid office is open 8 a.m. – 5 p.m. Monday through Friday.
The Office is located in M2.200, and can be contacted at:
Office of Student Financial Aid
UT Southwestern Medical Center
5323 Harry Hines Blvd.
Dallas, TX 75390-9064
Please visit Student and Alumni Affairs for more information.
UT Southwestern's Financial Aid website is your source of information when applying for financial assistance. We recommend that you review the information carefully. If you do not find what you are looking for, please feel free to contact us directly at 214-648-3611.
Forms
2016 – 2017
2017 – 2018
Recommended Links
UT Southwestern does not have a preferred lender list. We cannot limit students to recommended lenders. The Office of Financial Aid will process loans from any eligible lender, and will seek the maximum federal student aid available.