Texas Institute for Brain Injury and Repair
The Texas Institute for Brain Injury and Repair at UT Southwestern Medical Center (TIBIR) is a comprehensive and transformative approach to how brain injuries are prevented and treated. We will draw on our depth of technology advances, innovative research, and exemplary patient care to create a unique collaboration that will enhance the treatment and diagnosis of brain injuries.
Latest News

The CON-TEX study is designed to capture comprehensive, longitudinal data on sports-related concussion and mild TBI subjects. The data will give a "snapshot" of the current state of concussion assessment and treatment in youth athletes in the Dallas-Fort Worth area, a highly relevant, understudied population. The information gathered will be the foundation on which the design of rigorous clinical research and valuation of treatments will be built. Individuals enrolled in the registry will have the opportunity to participate in future clinical trials testing innovative therapies and diagnostic approaches.
---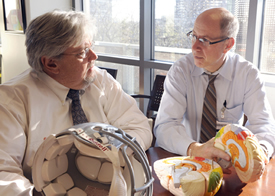 In the first study of its kind, former National Football League (NFL) players who lost consciousness due to concussion during their playing days showed key differences in brain structure later in life. The findings were reported in JAMA Neurology, and they represent the first study to compare the relationship between hippocampal volume, memory performance, and concussion severity.
---
The microscopes are the latest generation in serial two-photon laser imaging, and are the centerpiece of TIBIR's new Whole Brain Microscopy Facility. The facility will be a major resource for scientists researching traumatic brain injury and neurodegenerative diseases.