Biomedical Innovation is in Our DNA
UT Southwestern's Office for Technology Development is a respected and insightful resource in taking scientific visions and turning them into tangible realities. The Office creates collaborative relationships with the public and private sectors to develop, protect, transfer, and commercialize results.
The Office offers more than 100 years of cumulative experience, covering more than 800 licenses in business development, research, and technology management in the pharmaceutical, biomedical, IT, and engineering industries.
"Every day, UT Southwestern faculty members, researchers, and clinicians are working on groundbreaking discoveries and inventions. We want to use the commercialization process to translate those discoveries into therapies that can benefit patients worldwide."
Frank Grassler, J.D.
Vice President for Technology Development
---
Event Announcement: eAgreements is almost here!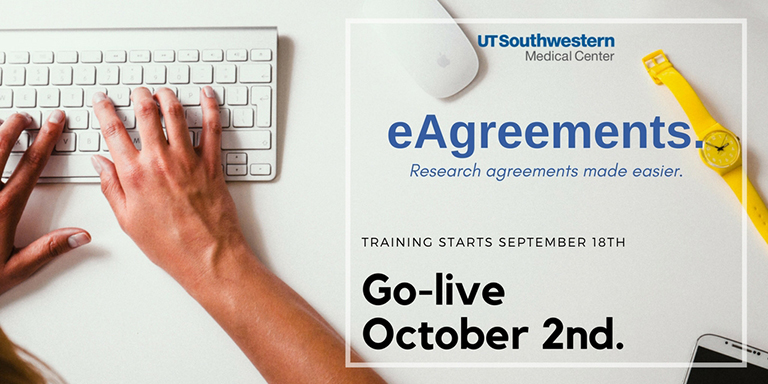 Have you heard? eAgreements is almost here! This new tool will allow you to access your Clinical Trial and Research Agreements with a single log-in. eAgreements is slated to go live on October 2nd. Campus-wide training sessions will begin the week of September 18th and are available in Taleo. We look forward to hearing from you, and please direct any questions to SPA Outreach or Cooperative Research.