Biomedical Innovation is in Our DNA
UT Southwestern's Office for Technology Development is a respected and insightful resource in taking scientific visions and turning them into tangible realities. The Office creates collaborative relationships with the public and private sectors to develop, protect, transfer, and commercialize results.
The Office offers more than 100 years of cumulative experience, covering more than 800 licenses in business development, research, and technology management in the pharmaceutical, biomedical, IT, and engineering industries.
"Every day, UT Southwestern faculty members, researchers, and clinicians are working on groundbreaking discoveries and inventions. We want to use the commercialization process to translate those discoveries into therapies that can benefit patients worldwide."
Frank Grassler, J.D.
Vice President for Technology Development
---
Event Announcement: May 2017 Biomedical Commercialization Seminars
The Office for Technology Development (OTD) is presenting two seminars in May on biomedical technology commercialization. The introductory seminar topics will include information on patents and licensing. All UT Southwestern faculty, staff, and students are welcome to attend.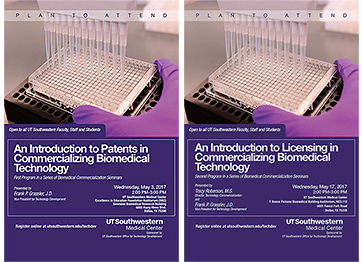 Wednesday, May 3, 2017, 2 – 3 p.m.
Topic: "An Introduction to Patents in Commercializing Biomedical Technology"
Presenter: Frank Grassler, J.D., Vice President for Technology Development, UT Southwestern.
Place: Excellence in Education Foundation Auditorium, NB2
Wednesday, May 17, 2017, 2 – 3 p.m.
Topic: "An Introduction to Licensing in Commercializing Biomedical Technology"
Presenter: Tracy Roberson, M.S., Director, Technology Commercialization, UT Southwestern
Place: T. Boone Pickens Auditorium, NG3.112
You may contact Melanie Holt via email to register.
melanie.holt@utsouthwestern.edu