Catherine Spong, M.D., elected to the National Academy of Medicine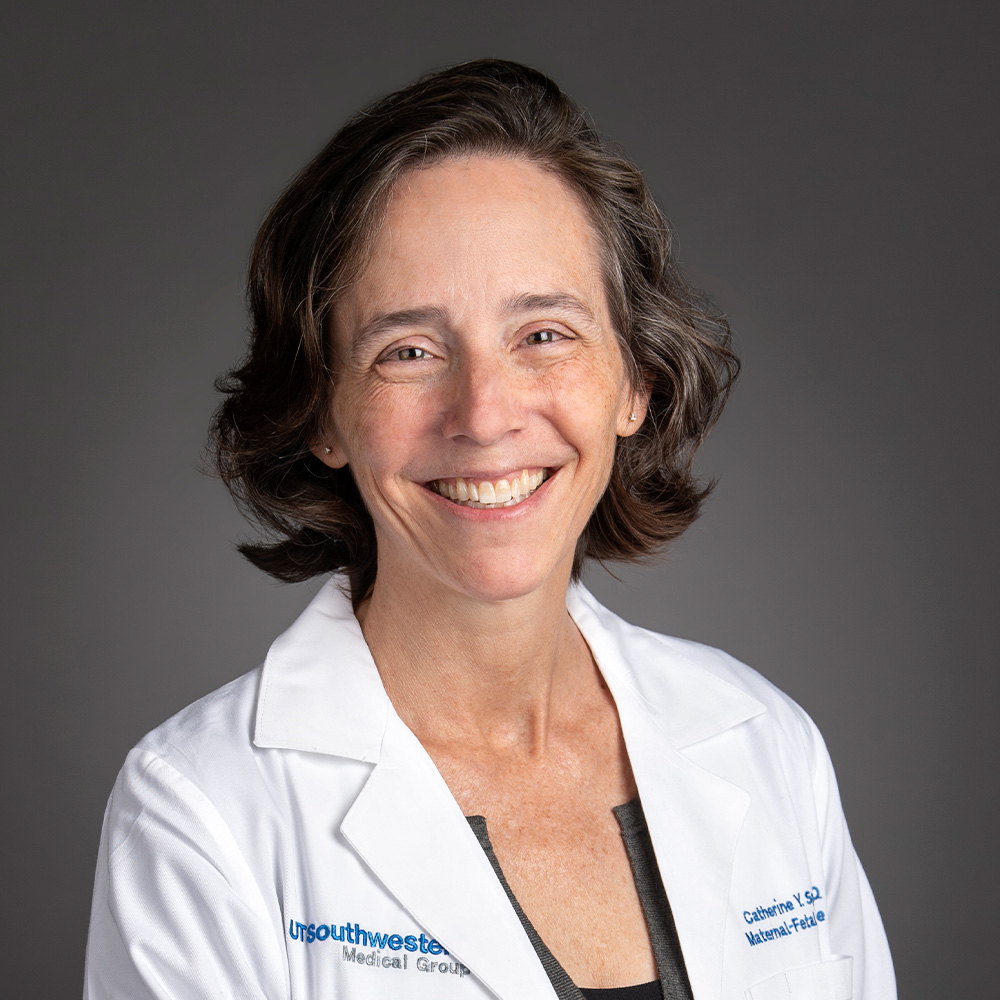 DALLAS – Oct. 09, 2023 – Catherine Spong, M.D., Chair and Professor of Obstetrics and Gynecology at UT Southwestern Medical Center, has been elected to the National Academy of Medicine (NAM) in recognition of her contributions to the field of maternal-fetal medicine, her leadership in women's health research, and her dedication to advancing health care for mothers and babies.
Dr. Spong, the Paul C. MacDonald Distinguished Chair in Obstetrics and Gynecology, joined UT Southwestern in 2018 after more than two decades with the National Institutes of Health's Eunice Kennedy Shriver National Institute of Child Health and Human Development (NICHD). She has contributed to multiple landmark clinical trials in obstetrics, gynecology, and fetal surgery that have defined the standard of care in the fields of maternal and fetal medicine and best practices in obstetrics and gynecology. She also has served as a staunch advocate for improving inclusion of pregnant and lactating women in vital clinical research.
"Dr. Spong's scientific contributions have advanced our understanding of the physiology of the human placenta, the genomics of preterm birth and stillbirth, and adverse pregnancy and neonatal outcomes. Her investigations into obstetric complications have influenced guidelines for managing high-risk pregnancies and prioritizing patient outcomes," said Daniel K. Podolsky, M.D., President of UT Southwestern and also a member of the NAM. "As a researcher, mentor, physician, leader, and passionate advocate in obstetrics and gynecology, Dr. Spong will bring valuable insight and a wealth of experience to the National Academy of Medicine's mission – providing objective advice on matters of science, technology, and health to policymakers and other stakeholders."
With Dr. Spong's election, UT Southwestern has 20 members of the National Academy of Medicine – more than any other institution in Texas – along with 26 members of the National Academy of Sciences and 14 members of the Howard Hughes Medical Institute.
Dr. Spong spent 23 years at the NICHD, where her roles included Deputy Director, Acting Director, Associate Director, and Director for Extramural Research. She also served as Chief of its Pregnancy and Perinatology Branch and as a maternal-fetal medicine specialist for the NIH Clinical Center and for Inova Alexandria Hospital. Additionally, she was Chair of the Department of Health and Human Services' Task Force on Research Specific to Pregnant Women and Lactating Women.
She was appointed Chair of the Department of Obstetrics and Gynecology at UT Southwestern in 2021. Under her leadership, Parkland Memorial Hospital (UTSW's primary teaching hospital) and William P. Clements Jr. University Hospital achieved Level IV maternal care, the highest possible designation in the state. UTSW is now recognized for having the most comprehensive medical and surgical subspecialists available for the most complicated and critical pregnancy cases. Dr. Spong is a five-time recipient of the NIH Director's Award: in 2004 for advancing research in maternal-fetal medicine; in 2012 for the NICHD-sponsored Management of Myelomeningocele Study (MOMS), of which Dr. Spong is a co-author; in 2013 for exceptional vision and performance creating the first funding opportunity to support research between NIH Extramural Investigators, Intramural Investigators, and the Clinical Center; in 2014 for her participation in NIH efforts on developing clear guidance for human subject protection in research studies; and in 2018 for exceptional planning, rollout, and guidance of the Optimize NIH Phase I implementation of Ethics, Freedom of Information Act (FOIA), and Committee Management.
A prolific scientist, Dr. Spong has published roughly 550 research works with about 32,500 citations. She is co-author and Editor for Williams Obstetrics, the world's premier obstetrics guide that has defined the discipline for generations of obstetrician-gynecologists, Management of High-Risk Pregnancy, Protocols for High-Risk Pregnancies, and Stillbirth: Prediction, Prevention and Management. She has served as Editor-in-Chief of Contemporary OB/GYN since 2020.
Among her major research interests has been the developing fetus. Dr. Spong holds several patents for neuroprotective agents that help prevent fetal injury. Additional research interests include improving the understanding of stillbirth, fetal surgery for myelomeningocele, Zika in pregnancy, and the human placenta. During her tenure at NICHD, she launched the Human Placenta Project, a collaborative research effort to understand the role of the placenta in health and disease that supports the development of new tools to study the organ in real time to learn how it develops and functions throughout pregnancy. Dr. Spong also has been a tireless advocate for women's health issues, emphasizing the importance of equity in health care access and research. Her efforts have led to increased awareness and support for women's health research, with a focus on addressing disparities in care and outcomes.
Board certified in Ob/Gyn and maternal-fetal medicine, Dr. Spong received her M.D. from the University of Missouri-Kansas City in 1991, was Chief Resident in obstetrics and gynecology at the Harbor-UCLA Medical Center, and completed a fellowship at the National Institutes of Health and MedStar Georgetown University Hospital prior to joining the NICHD full time.
Since 1970, UT Southwestern has had 28 NAM members. Current NAM members at UTSW and the year of their induction are: Zhijian "James" Chen, Ph.D. (2022); Lora V. Hooper, Ph.D. (2022); Saad B. Omer, M.B.B.S., Ph.D. (2022); Samuel Achilefu, Ph.D. (2021); Ralph DeBerardinis, M.D., Ph.D. (2020); Sean Morrison, Ph.D. (2018); Joseph Takahashi, Ph.D. (2014); Daniel K. Podolsky, M.D. (2009); Bruce Beutler, M.D. (2008); Ellen Vitetta, Ph.D. (2006); Steven McKnight, Ph.D. (2005); Helen Hobbs, M.D. (2004); Eric Olson, Ph.D. (2001); Norman Gant, M.D. (2001); Kern Wildenthal, M.D., Ph.D. (1999); Carol Tamminga, M.D. (1998); Scott Grundy, M.D., Ph.D. (1995); Michael Brown, M.D. (1987); and Joseph Goldstein, M.D. (1987).
Founded in 1970 as the Institute of Medicine (IOM), the NAM is one of three Academies that make up the National Academies of Sciences, Engineering, and Medicine in the United States. Operating under the 1863 Congressional charter of the National Academy of Sciences, the National Academies are private, nonprofit institutions that work outside of government to provide objective advice on matters of science, technology, and health.
About UT Southwestern Medical Center
UT Southwestern, one of the nation's premier academic medical centers, integrates pioneering biomedical research with exceptional clinical care and education. The institution's faculty members have received six Nobel Prizes and include 26 members of the National Academy of Sciences, 20 members of the National Academy of Medicine, and 14 Howard Hughes Medical Institute Investigators. The full-time faculty of more than 3,100 is responsible for groundbreaking medical advances and is committed to translating science-driven research quickly to new clinical treatments. UT Southwestern physicians provide care in more than 80 specialties to more than 120,000 hospitalized patients, more than 360,000 emergency room cases, and oversee nearly 5 million outpatient visits a year.