UT Southwestern's Peter O'Donnell Jr. School of Public Health aspires to 'excellence for impact'
Founding Dean Dr. Saad Omer says new school will influence policy and practice through evidence-based research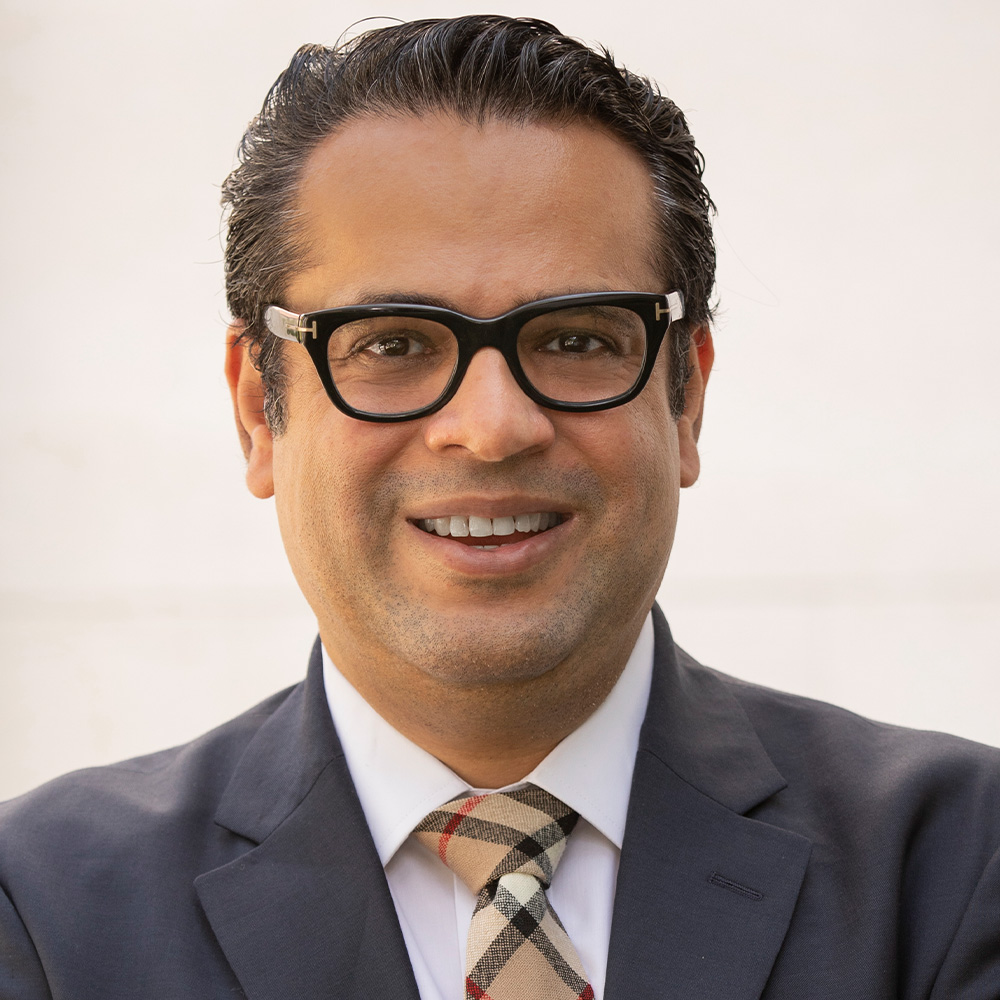 DALLAS – June 20, 2023 – The Peter O'Donnell Jr. School of Public Health will strive to address the nation's and the world's most pressing public health problems through creative cross-disciplinary research and a focus on effecting change, said Saad B. Omer, M.B.B.S., M.P.H., Ph.D., who joined UT Southwestern Medical Center on June 1 as the school's Founding Dean.
"Our guiding principle will be consequentialism, meaning that we define the value of our work by its impact," said Dr. Omer, who holds the Lyda Hill Deanship for the School of Public Health. "Our ultimate goal is to influence public health policy and clinical practice."
The O'Donnell School of Public Health, UT Southwestern's first new school in 50 years, is preparing to welcome the first students to its Master of Public Health program this fall. Supported by a transformative $100 million gift from the O'Donnell Foundation, the school plans to launch doctoral degree programs in 2024.
To achieve its goals, the school is recruiting additional faculty members who are committed both to rigorous research and improving human health – a concept Dr. Omer calls "excellence for impact" – including both senior researchers and emerging scholars. They will be expected to collaborate with colleagues outside their disciplines and to mentor students.
"We will make sure that the Peter O'Donnell Jr. School of Public Health is one of the best places to work in public health, and we get to do that because we are starting new," Dr. Omer said. "We can learn from the positives and negatives of other workplaces and provide the right environment for our faculty and teachers, researchers, and students to thrive and be the best they can be."
Dr. Omer comes to UT Southwestern from Yale University, where he was the inaugural Director of the Yale Institute for Global Health. An internationally recognized epidemiologist, Dr. Omer has published more than 430 peer-reviewed papers, has served on boards of trustees of Gavi, the Vaccine Alliance and Sabin Vaccine Institute, and on advisory panels including the U.S. National Vaccine Advisory Committee, the Presidential Advisory Council on Combating Antibiotic-Resistant Bacteria – Vaccine Innovation Working Group, several high-level World Health Organization advisory committees, and multiple National Academy of Medicine panels.
Located in Dallas-Fort Worth, one of the most diverse regions in the U.S., the O'Donnell School of Public Health is uniquely situated to study problems that plague not only the nation but the globe. These include noncommunicable diseases, such as cancer, cardiovascular disease, and diabetes, that affect an aging population; the threat from infectious disease outbreaks, such as COVID-19, and future pandemics; and the growing influence of social determinants of health that result in outcome disparities based on race and income.
"The studies we do will be representative of what America is and will look like in the future," said Dr. Omer. "What we discover here is generalizable to the whole country."
Besides research aimed at impacting policy and practice, excellence in teaching will be another important goal for the school. Dr. Omer said the best way to make long-term strides in solving public health issues is through generations of top-performing alumni who have received exceptional academic training.
The school's research will be buttressed by UTSW's robust investments in information technology and other research tools, and the potential to collaborate with and learn from a faculty that has received six Nobel Prizes and has 26 members of the National Academy of Sciences, 19 members of the National Academy of Medicine, and 14 Howard Hughes Medical Institute Investigators.
"Everything we do at the new O'Donnell School of Public Health will be driven by our faculty and students to have the biggest impact they can in the field," Dr. Omer said.
About UT Southwestern Medical Center
UT Southwestern, one of the nation's premier academic medical centers, integrates pioneering biomedical research with exceptional clinical care and education. The institution's faculty has received six Nobel Prizes, and includes 26 members of the National Academy of Sciences, 19 members of the National Academy of Medicine, and 14 Howard Hughes Medical Institute Investigators. The full-time faculty of more than 2,900 is responsible for groundbreaking medical advances and is committed to translating science-driven research quickly to new clinical treatments. UT Southwestern physicians provide care in more than 80 specialties to more than 100,000 hospitalized patients, more than 360,000 emergency room cases, and oversee nearly 4 million outpatient visits a year.