UT Southwestern Medical School ranked among nation's best in research, primary care by U.S. News & World Report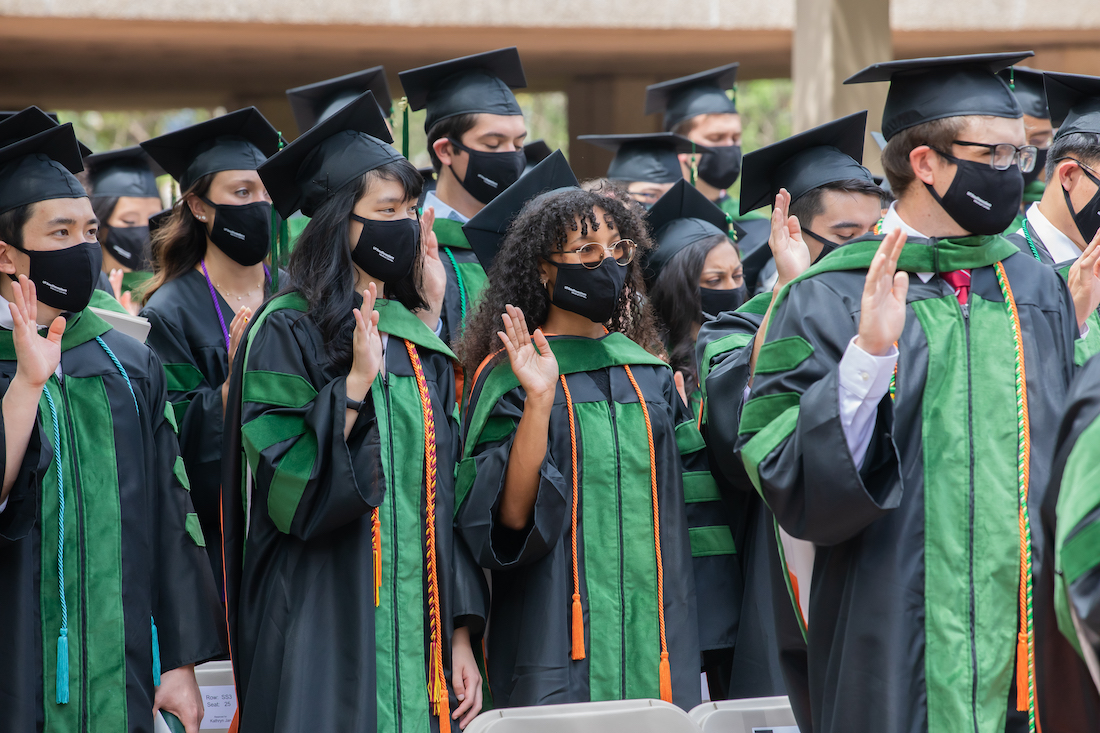 DALLAS – March 30, 2022 – UT Southwestern is ranked among the top 25 for research and in the top 20 for primary care among 192 medical schools nationwide, according to U.S. News & World Report's 2023 Best Graduate Schools rankings.
UT Southwestern Medical School ranked 16th for primary care and 25th for research. Only six institutions in the country rated above UTSW in both categories. Among biomedical specialties, UT Southwestern ranked 25th nationally in Biology.
"These latest rankings, as well as other recent recognitions, continue to illustrate the dynamic education UT Southwestern offers to train our medical students and residents to become physicians who provide exceptional care as well as research scientists who are well equipped to make discoveries that lead to better treatments," said
W. P. Andrew Lee, M.D., Executive Vice President for Academic Affairs, Provost, and Dean, UT Southwestern Medical School.
Primary care rankings are based on several components including peer assessment, assessment by residency directors, selectivity, undergraduate GPA and MCAT scores, percentage of graduates entering primary care residencies, and faculty/student ratios. Research rankings weighed many of the same components while also factoring in federal research grants and contracts. This year, more than 97% of UTSW students matched to residency programs – above the national average (94%).
U.S. News ranks UT Southwestern among the top 25 hospitals nationally in eight specialties – Cardiology and Heart Surgery (11th), Rehabilitation (17th), Urology (17th), Neurology and Neurosurgery (19th), Pulmonary and Lung Surgery (22nd), Geriatrics (23rd), Diabetes and Endocrinology (24th), Cancer (24th), and Gastroenterology and GI Surgery (35th) – in its annual Best Hospitals report. UT Southwestern also ranks as the No. 1 hospital in Dallas-Fort Worth – the nation's fourth-largest metro area – with the top-ranked programs for cardiology and heart surgery, and neurology and neurosurgery in Texas.
UT Southwestern was recently rated No. 3 in the nation on Forbes' list of America's Best Employers For New Graduates, placing it in the top 1 percent, and highest among academic medical centers. In addition, UT Southwestern has been recognized by The Scientist among the best places to work for post docs and holds Magnet designation in nursing, which recognizes health-care organizations for quality patient care, nursing excellence and innovations in professional nursing practice. In other institutional measures, UT Southwestern is ranked among Newsweek's World's Best Hospitals 2022 list and was rated No. 1 among global health care institutions in the 2021 Nature Index for its published research.
About UT Southwestern Medical Center
UT Southwestern, one of the nation's premier academic medical centers, integrates pioneering biomedical research with exceptional clinical care and education. The institution's faculty has received six Nobel Prizes and includes 25 members of the National Academy of Sciences, 16 members of the National Academy of Medicine, and 14 Howard Hughes Medical Institute Investigators. The full-time faculty of more than 2,800 is responsible for groundbreaking medical advances and is committed to translating science-driven research quickly to new clinical treatments. UT Southwestern physicians provide care in more than 80 specialties to more than 117,000 hospitalized patients, more than 360,000 emergency room cases, and oversee nearly 3 million outpatient visits a year.