Lifetime Achievement award tops decades of work with patients and cancer groups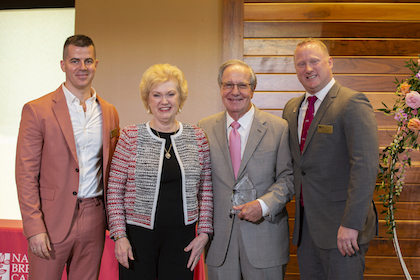 DALLAS – July 16, 2019 – Dr. Phil Evans is so deeply involved in nonprofit cancer groups that a luncheon with the National Breast Cancer Foundation was a routine item on his calendar. But the event turned out to be anything but ordinary. Dr. Evans was stunned with a Lifetime Achievement Award.
"I was just floored. I couldn't believe it. It was just such a surprise," said Dr. Evans, a Professor of Radiology who serves as Chief of the Breast Imaging Division.
The Frisco-based breast cancer charity honored him in May for his decades of work with and on behalf of breast cancer patients, including his recent efforts to help raise $40 million for a new breast center at Parkland Memorial Hospital. Scheduled to open in 2021, the center will more than double the number of breast cancer patients visits from 40,000 to 100,000.
National Breast Cancer Foundation founder and CEO Janelle Hail said Dr. Evans' work on the fundraising campaign coupled with his reputation as a compassionate and attentive doctor made him ideal for the award.
"For 40-plus years, Dr. Evans has devoted his career to improving the health of women. As a diagnostic radiologist, he has fought tirelessly to screen and diagnose women early while serving on the medical staff and also as a leader at one of our most prestigious partner hospitals, Parkland," she said.
The National Breast Cancer Foundation is just one of many organizations that Dr. Evans has worked with to advance cancer care. He served as President of the Society of Breast Imaging and of the American Cancer Society. He also joined several committees of Susan G. Komen, the prominent breast cancer foundation based in Dallas.
"That's the way you get things done," he said.
When Dr. Evans talks about the nonprofit groups, he quickly gets into the details of their organizational structure, history and goals. It's a testament to how heavily involved he is. He cites nonprofit work and patient groups as medicine's major partners in cutting the breast cancer mortality rate in recent decades. Breast cancer deaths dropped 39 percent from 1989 to 2015, according to the American Cancer Society.
His affable demeanor, well known among the nonprofit groups, extends into patient care.
Frisco resident Linda Neal, a patient of his for more than two decades, said she trusted him so much she followed him from one hospital to the next and later had her own daughter become one of his patients.
"I just have absolute trust in him and his knowledge," she said explaining that patients appreciate his warm smile and calming voice. "His bedside manner is probably the best I've ever had in any physician – ever."
Dr. Evans also works closely with other physicians and within institutions to advance breast cancer care. In 2013, D Magazine named him one of "The Dallas Dozen," the magazine's annual list of 12 influential people in Dallas. The magazine described that year's distinguished group as people who "would rather be in the trenches getting things done."
Dr. Evans currently serves on the Planning Committee for the Wendy and Emery Reves International Breast Cancer Symposium. The premier event, hosted by UT Southwestern Simmons Cancer Center, will spotlight the most recent progress in breast cancer research and clinical care. Dr. Evans recruited two speakers for the September symposium: Dr. Debra Monticciolo, President of the American College of Radiology, and Dr. Robert Nishikawa, an artificial intelligence expert at the University of Pittsburgh.
"It's a world-class group of people coming for this symposium," Dr. Evans said. "It's the real cutting-edge people in breast cancer."
About UT Southwestern Medical Center
UT Southwestern, one of the premier academic medical centers in the nation, integrates pioneering biomedical research with exceptional clinical care and education. The institution's faculty has received six Nobel Prizes, and includes 22 members of the National Academy of Sciences, 17 members of the National Academy of Medicine, and 15 Howard Hughes Medical Institute Investigators. The full-time faculty of more than 2,500 is responsible for groundbreaking medical advances and is committed to translating science-driven research quickly to new clinical treatments. UT Southwestern physicians provide care in about 80 specialties to more than 105,000 hospitalized patients, nearly 370,000 emergency room cases, and oversee approximately 3 million outpatient visits a year.