More clinical studies needed for lactating women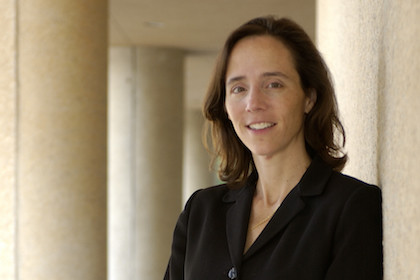 DALLAS – April 3, 2019 – While an estimated 83 percent of new mothers in the United States breastfeed at some time during the postpartum period, and more than half of women breastfeeding take one or more medications, most clinical studies exclude lactating women so the effects of those medications on mom and baby aren't directly known.
That dynamic should change to include more clinical trials on the effects of medications in lactating women and babies and to include lactating women in clinical trials for medications, Dr. Catherine Spong, Chief of Fetal and Maternal Medicine at UT Southwestern Medical Center, said in a commentary published in the New England Journal of Medicine this week.
"It is actually a bit of a paradox. While there is a desire to protect women and their babies from harm, that gets translated to a reluctance to include them in research. By excluding them, the evidence for their care is limited," said Dr. Spong, Professor of Obstetrics and Gynecology at UT Southwestern. "We must recognize that inclusion is better than absence of data on treatment."
Just as there is growing acknowledgment that pregnant women need to be included in clinical research to better inform clinical advice and ensure safety, it is important to recognize the significance of also including nursing women who are breastfeeding babies while taking medications, she said.
"The way to provide an evidence base on the safety and efficacy of medications in pregnancy and afterward while breastfeeding is to do the research," she said.
While the National Library of Medicine launched an online database called LactMed, the information available to guide its recommendations is limited:
As of November 2018, 54 percent of the 1,408 products in the LactMed database had accompanying recommendations that were based on no lactation-specific data.
Only 2 percent had recommendations that were based on strong data.
The Food and Drug Administration (FDA) looked at 575 prescription drug and biologic products with labeling approved between 2015 and 2017 and found:
Only 15 percent of products included data on human lactation.
Lactation-related postmarketing studies were performed for only 11 products, and these studies enrolled a combined total of 27 lactating women.
Globally, more than half of women take one or more medications in the months after delivery — and the figure may be much higher in the United States, the commentary notes, meaning up to 1.5 million lactating women who gave birth in the United States in 2017 and their infants were exposed to medications and their potential effects.
In 2017, the 21st Century Cures Act established the Task Force on Research Specific to Pregnant Women and Lactating Women, which Dr. Spong chaired. In its review of original research-based articles published between 2006 and 2017, the Task Force identified roughly 7,000 articles related to pregnancy and only 340 addressing lactation. The Task Force provided 15 recommendations. This past week the Secretary of Health and Human Services renewed the Task Force on Research Specific to Pregnant Women and Lactating Women (PRGLAC) for an additional two years. The recommendations include the importance of designing research studies to include pregnant women and nursing mothers, unless a scientific justification exists not to, and removing regulatory barriers that make it difficult for pregnant and lactating women from participating in research.
Since many women take both prescription and nonprescription medications while breastfeeding, studies could easily be conducted to evaluate dosing, efficacy, and safety of medications, and lactating women could be included in phase one and two clinical trials that could provide information regarding dosing and efficacy. Studies can be performed on fairly small cohorts of patients while still providing data regarding drug dosing and safety, which could then be followed by larger-scale phase three and four clinical trials for indicated therapies, she said.
"For example, blood draws are already happening for both baby and mother, so using a portion of these samples to examine the effects of the drug would not be an added difficulty but could be used to provide valuable information," Dr. Spong noted. "Right now, we base our recommendations on expert opinion, but we need evidence-based answers to inform the clinical care."
About UT Southwestern Medical Center
UT Southwestern, one of the premier academic medical centers in the nation, integrates pioneering biomedical research with exceptional clinical care and education. The institution's faculty has received six Nobel Prizes, and includes 22 members of the National Academy of Sciences, 17 members of the National Academy of Medicine, and 15 Howard Hughes Medical Institute Investigators. The full-time faculty of more than 2,500 is responsible for groundbreaking medical advances and is committed to translating science-driven research quickly to new clinical treatments. UT Southwestern physicians provide care in about 80 specialties to more than 105,000 hospitalized patients, nearly 370,000 emergency room cases, and oversee approximately 3 million outpatient visits a year.