Study shows hunger-blocking hormone levels change with eating, obesity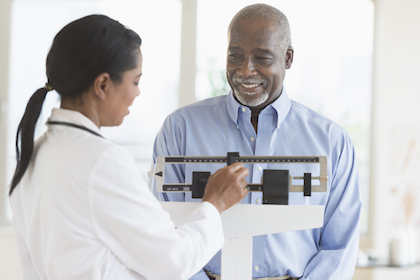 DALLAS – Aug. 19, 2019 – The hormone LEAP2, which naturally blocks the "hunger" hormone ghrelin, is elevated in people with obesity, especially after eating – raising hopes for a treatment that could one day more effectively reduce appetite and, hence, obesity.
Scientists have been interested in the potential of LEAP2 (short for liver enriched antimicrobial peptide 2) for weight loss and appetite control since a 2018 study in mice and cell lines found the hormone attaches to the same brain receptors used by ghrelin, which stimulates hunger and increases food intake, weight gain, and blood glucose levels. By binding to those receptors, LEAP2 blocks the action of ghrelin.
Researchers at UT Southwestern and the Imperial College London evaluated how LEAP2 levels in the blood change in response to metabolic challenges. The new study, involving people enrolled in weight loss studies, showed that LEAP2 levels increase proportionately to body mass index and other markers of obesity.
The research points to LEAP2, a hormone produced in the liver and small intestine, as a natural brake on obesity and overeating, said Dr. Jeffrey Zigman, Professor of Internal Medicine at UT Southwestern and co-senior author of the paper. As LEAP2 levels go up with obesity, ghrelin levels go down. On the other hand, LEAP2 drops after weight loss from dieting or weight loss surgery.
According to the paper, published in the Journal of Clinical Investigation, "The human studies suggest that blood LEAP2 is highest in individuals with severe obesity after meals, possibly functioning as a nutritional 'sufficiency hormone' … contributing to the feelings of satiety and satiation."
Since LEAP2 levels are not as elevated in people with milder forms of obesity, those individuals "in particular might benefit from potential weight loss therapies that increase blood levels of LEAP2," Dr. Zigman said.
"Those who struggle to keep off lost weight might also benefit if a treatment can be found to counteract the naturally occurring fall in LEAP2 that otherwise may contribute to rebound weight gain," Dr. Zigman added.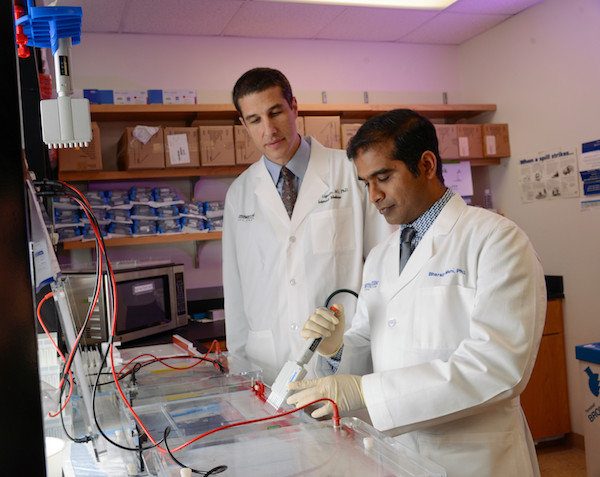 While research into LEAP2 is in its infancy, Dr. Zigman said he hopes the new paper will stimulate more research related to the hormone's involvement in metabolism.
Ghrelin, first identified in 1999, was seen as a promising target for controlling overeating and obesity. But the effect of selectively neutralizing ghrelin has not yet lived up to expectations, at least when studied in rodent models, Dr. Zigman said.
The findings of this latest study on LEAP2 suggest it is the interplay, or ratio, of the two hormones that is important, Dr. Zigman said.
The study involved nearly 160 human subjects and the use of mouse models to evaluate the effects of obesity, weight loss, feeding, and diabetes on LEAP2 and ghrelin. LEAP2 also increased as blood glucose rose.
The researchers will now look for possible ways to manipulate LEAP2 levels to help treat people with obesity, said Dr. Zigman, who holds The Diana and Richard C. Strauss Professorship in Biomedical Research, the Mr. and Mrs. Bruce G. Brookshire Professorship in Medicine, and the Kent and Jodi Foster Distinguished Chair in Endocrinology, in Honor of Daniel Foster, M.D.
Dr. Bharath K. Mani, Instructor in Internal Medicine, was first author of the study and Dr. Anthony P. Goldstone, Senior Clinical Research Fellow at Imperial College London, was co-senior author of the study. Researchers at the University of Westminster, London, as well as at the University of Virginia also participated.
About UT Southwestern Medical Center
UT Southwestern, one of the premier academic medical centers in the nation, integrates pioneering biomedical research with exceptional clinical care and education. The institution's faculty has received six Nobel Prizes, and includes 22 members of the National Academy of Sciences, 17 members of the National Academy of Medicine, and 15 Howard Hughes Medical Institute Investigators. The full-time faculty of more than 2,500 is responsible for groundbreaking medical advances and is committed to translating science-driven research quickly to new clinical treatments. UT Southwestern physicians provide care in about 80 specialties to more than 105,000 hospitalized patients, nearly 370,000 emergency room cases, and oversee approximately 3 million outpatient visits a year.