UT Southwestern joins Dallas, Texas, and the nation in mourning the loss of H. Ross Perot Sr., an inspiring leader and loyal benefactor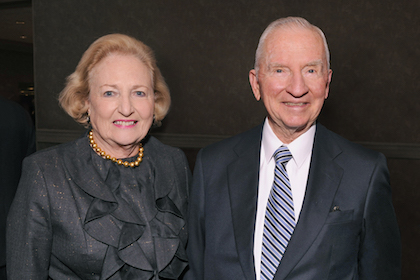 DALLAS – July 9, 2019 – One of UT Southwestern Medical Center's most steadfast benefactors for more than three decades, legendary Texan H. Ross Perot Sr., passed away July 9 at the age of 89, leaving an enduring legacy.
An enormously successful businessman, political leader, and philanthropist, Mr. Perot was known for his loyalty and commitment to his country, community, and family – typifying the great American citizen. He was a man possessed of tremendous drive, enviable business acumen, and keen intellect, with a clear sense of when and how he might improve the human condition.
UT Southwestern benefited immensely from his generosity and leadership. Mr. Perot and his wife, Margot, and the Perot Foundation have contributed more than $90 million to UT Southwestern, including more than $50 million to the Innovations in Medicine campaign.
"Mr. Perot's extraordinary support for UT Southwestern enabled us to establish and provide exceptional educational opportunities for generations of future physician scientists and deliver impactful research and care that has left a lasting impact on Texas and the nation," said Dr. Daniel K. Podolsky, President of UT Southwestern, who holds the Philip O'Bryan Montgomery, Jr., M.D. Distinguished Presidential Chair in Academic Administration, and the Doris and Bryan Wildenthal Distinguished Chair in Medical Science. "On behalf of the entire UT Southwestern community, our heartfelt sympathy is with his wife, Margot, and his entire family."
Born in Texarkana, Texas, on June 27, 1930, Mr. Perot began his service to his country in 1949, when he enrolled in the U.S. Naval Academy at Annapolis, Maryland. He thrived at the Naval Academy, becoming class president in his junior and senior years. While there, he met his future wife, Margot Birmingham. The pair married in 1956 and later had five children: Ross Jr., Nancy, Suzanne, Carolyn, and Katherine.
After serving in the U.S. Navy, Mr. Perot worked for IBM before forming his own company, Electronic Data Systems (EDS) in 1962. Mr. Perot sold EDS to General Motors in 1984 and four years later founded Perot Systems, purchased by Dell for $3.9 billion in 2009.
Mr. Perot may be best known as one of the most successful independent candidates for the U.S. presidency, winning nearly 19 percent of the popular vote in 1992. He ran for President again in 1996 as a Reform Party candidate. Mr. Perot also authored several books, including Ross Perot: My Life & the Principles for Success and United We Stand: How We Can Take Back Our Country.
Mr. Perot had philanthropic goals in addition to his entrepreneurial and political ambitions, and he set his sights on supporting "world-class" institutions. Mr. Perot was impressed with UT Southwestern's advancement from its humble beginnings in the 1940s and was aware of the increasing number of faculty members gaining admission to the esteemed National Academy of Sciences.
That prestige reached a new level on Oct. 14, 1985, when Dr. Michael Brown and Dr. Joseph Goldstein won the Nobel Prize in Physiology or Medicine for their discoveries concerning the regulation of cholesterol metabolism. Never before had a Nobel Prize for Physiology or Medicine been awarded for research conducted exclusively within the state of Texas. It was a pioneering discovery that would lead to the development of statin drugs, which help regulate cholesterol, improve the quality of life for millions of people, and save lives. With this achievement, UT Southwestern captured Mr. Perot's attention. He honored the two Nobel Prize winners with a dinner that drew 300 community leaders. The celebration marked the beginning of significant local support for UT Southwestern's biomedical education and research.
"One of the great blessings to befall Mike Brown and me after we won the Nobel Prize in 1985 was getting to know Ross Perot," said Dr. Goldstein, a Regental Professor and Chairman of Molecular Genetics, who holds the Julie and Louis A. Beecherl, Jr. Distinguished Chair in Biomedical Research and the Paul J. Thomas Chair in Medicine. "Prior to the Nobel Prize, the then-President of UT Southwestern, Dr. Charles Sprague, approached Mr. Perot for a donation to the Medical School. Mr. Perot's response was that he didn't know much about the Medical School since he had never read about it on the front page of the New York Times. Fortunately, the Times reported our Nobel Prize on its front page with our pictures. Mr. Perot did not waste a minute in placing a congratulatory call to Dr. Sprague, which was the beginning of 30 years of generous philanthropic support for the M.D./Ph.D. program and many other research endeavors on our campus."
Over the next few years, Mr. Perot became more involved with the Medical Center. The Perots and their Foundation provided generous support of UT Southwestern's Medical Scientist Training Program (MSTP) and the research of Nobel Laureates Dr. Brown and Dr. Goldstein and their protégés. The MSTP, which trains the next generation of leaders in academic medicine by offering a combined M.D./Ph.D. degree, is an important part of Mr. Perot's legacy at UT Southwestern.

Recognizing the special niche that the M.D./Ph.D. scientist occupies, Mr. Perot enabled a rigorous but supportive program of clinical and research training for outstanding students who demonstrate substantive experience in laboratory research and a strong desire to pursue a research career related to medicine. UT Southwestern's program became the largest and most competitive MSTP in the country and enabled students to gain the dual degrees without taking on significant debt.

Mr. Perot's support of the program was more than financial. He personally attended MSTP functions and spoke to potential candidates. In 1996, the Perots provided additional funding to strengthen training for these medical scientists and to enhance biomedical research. When Mr. Perot made his initial contribution in 1987 to support the program, he said, "This is an investment in people and intellect that will bring enormous rewards in the years to come. These funds will help train young scientists who might well make important medical breakthroughs in the future."
"Ross Perot's support made it possible for hundreds of bright young people to train to be scientists as well as physicians, earning Ph.D. degrees as well as M.D. degrees," said Dr. Brown, a Regental Professor and Director of the Erik Jonsson Center for Research in Molecular Genetics and Human Disease, who holds The W.A. (Monty) Moncrief Distinguished Chair in Cholesterol and Arteriosclerosis Research and the Paul J. Thomas Chair in Medicine. "Some of our brightest faculty got their start in the Perot program. Mr. Perot insisted on only one thing: We had to recruit the 'best and the brightest.' To make certain that we met this requirement, he attended our final recruiting dinner each year. He navigated the room, shook hands with the applicants, and engaged them in deep discussions. Then he gave a stirring motivational speech, telling the applicants that they had a sacred duty to use their gift of intelligence to benefit humanity. His words touched the hearts of even the most jaded college seniors."
As a man deeply committed to those who served in our Armed Forces, Mr. Perot often reached out to seek help for those who had been wounded or otherwise in need. He vigorously supported the Medical Center's Gulf War Syndrome research efforts, after hearing stories of soldiers who returned from the Gulf War becoming sick or disabled for unknown reasons. In recognition of his contributions to "liberty and national security," Mr. Perot received the coveted Eisenhower Award from the Business Executives for National Security organization.
"We would never have redirected our ongoing research priorities to Gulf War illness had Ross Perot not called our attention to the problem and urged us to provide an independent scientific opinion," said Dr. Robert Haley, a Distinguished Teaching Professor and Chief of the Division of Epidemiology, who holds the U.S. Armed Forces Veterans Distinguished Chair for Medical Research, Honoring Robert Haley, M.D., and America's Gulf War Veterans. "It had been widely accepted that over 100,000 members of the all-volunteer army had returned home from the brief war disabled by 'deployment stress,' and only the publication of strong counter-current scientific evidence of brain effects from toxic chemicals could have rekindled broad research toward what is now the leading theory."
Most recently, the Perot Foundation established the Perot Foundation Neuroscience Translational Research Center at UT Southwestern. This latest expression of the Perot family's generosity is supporting translational research at the Peter O'Donnell Jr. Brain Institute to move science more quickly from the laboratory to the patient's bedside and transform research discoveries into improved and innovative drugs, devices, and treatments.
"Mr. Perot was a true friend to the Medical Center and a remarkable man whose inspirational leadership touched all who knew him," Dr. Podolsky said. "He will be deeply missed."
About UT Southwestern Medical Center
UT Southwestern, one of the premier academic medical centers in the nation, integrates pioneering biomedical research with exceptional clinical care and education. The institution's faculty has received six Nobel Prizes, and includes 22 members of the National Academy of Sciences, 17 members of the National Academy of Medicine, and 15 Howard Hughes Medical Institute Investigators. The full-time faculty of more than 2,500 is responsible for groundbreaking medical advances and is committed to translating science-driven research quickly to new clinical treatments. UT Southwestern physicians provide care in about 80 specialties to more than 105,000 hospitalized patients, nearly 370,000 emergency room cases, and oversee approximately 3 million outpatient visits a year.