UT Southwestern cancer experts catalog, map kidney cancer tumors and progression
Results of new study could help physicians better predict disease progression, drug response.
DALLAS – Dec. 17, 2019 – Researchers at the Kidney Cancer Program at UT Southwestern Medical Center's Harold C. Simmons Comprehensive Cancer Center have developed what could be the most complete catalog of clear cell renal cell carcinoma, the most common type of kidney cancer. Known as ccRCC, this cancer is marked by a high variability in tumors, which makes it challenging to guess how aggressive the disease might be. These latest findings, appearing online today at EBioMedicine, will enable clinicians to better predict an individual patient's prognosis, including whether and how the cancer may evolve and spread.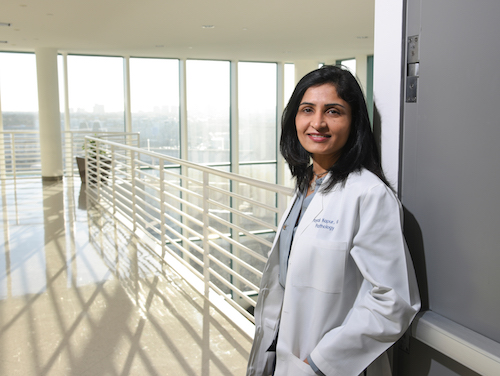 "Clear cell renal cell carcinoma is the poster child of tumor heterogeneity as multiple, different populations of cells with different methods of behavior can be found in any particular tumor," says Payal Kapur, M.D., a professor of pathology and urology at UT Southwestern, co-leader of pathology for the Kidney Cancer Program, and a co-author of the study. "Some of these cells develop aggressive traits and spread whereas others do not really progress, and it can be quite different from patient to patient."
In the years since the Human Genome Project, technologies for deciphering the genetic code have vastly improved, enabling scientists to decode the genetic sequence of individual patients and their tumors. While much knowledge has been gleaned from this type of research, this approach has not reached clinical practice as it is expensive and requires specific expertise, says Qi Cai, M.D., Ph.D., an assistant professor of pathology and first author of the study.
Using tissue staining techniques that have been widely used for more than a century, Kapur and her team analyzed tumor samples from 549 patients. Specifically, they characterized how the cells are arranged within the tumor, what each individual cell looks like and how the tumor interacts with the surrounding tissue. They measured 33 parameters that they defined within these three categories. Then, to see if these tumors were able to grow in a foreign site, the team implanted tiny tumor samples into the kidneys of mice.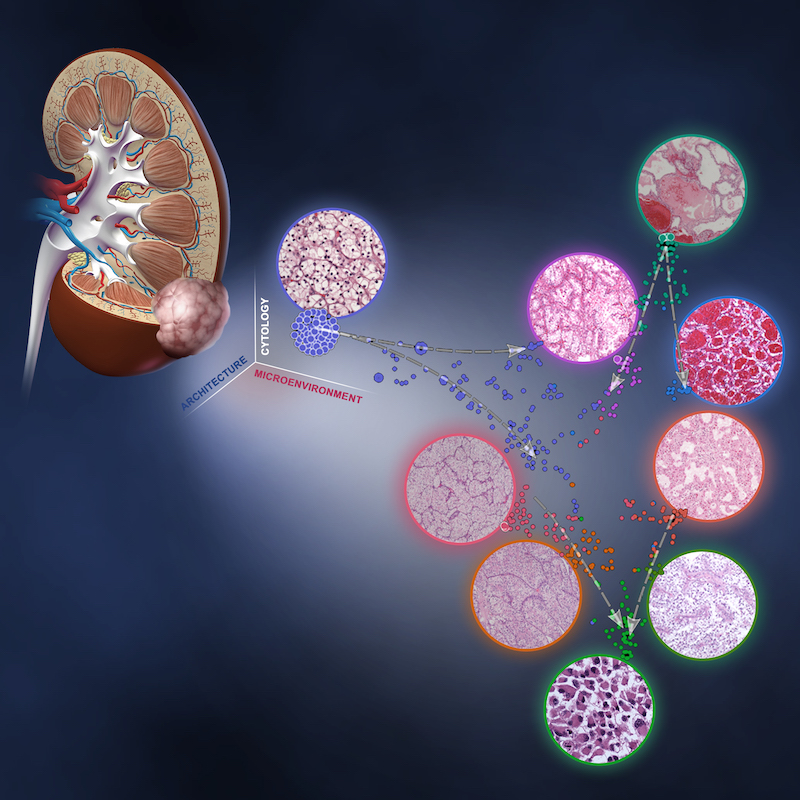 Analyzing information about drug treatments the patients had received and how well they worked, the researchers were able to associate specific tumor characteristics with the drugs that worked best against those types of cells. "Most medicines for metastatic kidney cancer today do not directly act on tumor cells," explained James Brugarolas, M.D., Ph.D., a professor of internal medicine, Director of the Kidney Cancer Program, and a co-author of the study. "Thus, it is not surprising that information about the tumor neighborhood could inform treatment response."
Kapur and her team of experts in artificial intelligence, data analytics, oncology, and radiology have developed the first comprehensive catalog of ccRCC and an evolutionary model. By analyzing tumor composition (how the different subtypes occur together in individual patient tumors) across tumors of different size and grade, the team was able to develop an evolution trajectory of ccRCC progression, says Satwik Rajaram, Ph.D., an assistant professor of bioinformatics and pathology in the Lyda Hill Department of Bioinformatics, the Center for Alzheimer's and Neurodegenerative Diseases, and a co-author of the study.
"This remarkable team with expertise across a broad array of fields has provided unique insight into ccRCC," says Brugarolas. "This type of innovative approach illustrates how we continue to learn more about, tailor treatments to, and improve patient outcomes for kidney cancer here at UTSW."
Payal Kapur holds the Jan and Bob Pickens Distinguished Professorship in Medical Science, in Memory of Jerry Knight Rymer and Annette Brannon Rymer and Mr. and Mrs. W.L. Pickens
James Brugarolas holds The Sherry Wigley Crow Cancer Research Endowed Chair in Honor of Robert Lewis Kirby, M.D.
Additional study authors are Alana Christie, Qinbo Zhou, Ellen Araj, Suneetha Chintalapati, Jeffrey Cadeddu, Vitaly Margulis, Ivan Pedrosa, Dinesh Rakheja, Renee McKay, all of UT Southwestern.
This research was funded by Cancer Prevention and Research Institute of Texas (CPRIT) grant RP130603, National Institutes of Health (NIH) grant P50CA196516, and an endowment from Brock Fund for Medical Science Chair in Pathology and the Jan and Bob Pickens Distinguished Professorship in Medical Science. The UT Southwestern Kidney Cancer Program is supported by the National Cancer Institute (NCI) through a Specialized Program of Research Excellence (SPORE) award and by CPRIT.
About UT Southwestern Medical Center
UT Southwestern, one of the premier academic medical centers in the nation, integrates pioneering biomedical research with exceptional clinical care and education. The institution's faculty has received six Nobel Prizes, and includes 22 members of the National Academy of Sciences, 17 members of the National Academy of Medicine, and 15 Howard Hughes Medical Institute Investigators. The full-time faculty of more than 2,500 is responsible for groundbreaking medical advances and is committed to translating science-driven research quickly to new clinical treatments. UT Southwestern physicians provide care in about 80 specialties to more than 105,000 hospitalized patients, nearly 370,000 emergency room cases, and oversee approximately 3 million outpatient visits a year.