Endovascular Surgical Neuroradiology/Neuroendovascular
Why UT Southwestern
The Texas Medical Board (TMB) approved Endovascular Surgical Neuroradiology/Neuroendovascular Surgery fellowship program at UT Southwestern provides a broad clinical and academic educational experience in neurointerventional techniques of treating cerebrovascular disease. The program has an extensive history of fellowship training within a dynamic multispecialty cerebrovascular referral practice. Our goal is exceptional neurointerventional training leading to future private or academic practice.
Faculty

Professor
Interventional Neuroradiology

Associate Professor
Interventional Neurology

Professor
Interventional Neuroradiology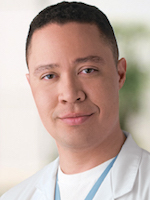 Associate Professor
Endovascular Neurosurgery

Professor
Endovascular Neurosurgery
Program Highlights
The formal fellowship is structured according to accreditation pathways endorsed by the ACGME and the committee of advanced specialty training (CAST) of the Society of Neurological Surgeons, providing 12 months of continuous training in neurointerventional techniques
Depending upon the specialty background of the trainee, formal rotation on neurocritical care services, angiography/imaging, and neurosurgical services may be incorporated as additional training to fulfill appropriate prerequisite requirements. Most trainees spend two years with us in training.
The faculty have backgrounds in Neuroradiology, Neurosurgery, and Neurology, bringing differing areas of expertise to a truly multispecialty practice
UTSW Hospitals and Parkland Memorial Hospital represent two of the few comprehensive stroke centers in the Dallas-Fort Worth metroplex
Extensive clinical participation in cases performed Parkland Memorial Hospital (870 beds), Clements University Hospital (460 beds), Zale Lipshy Pavilion (148 beds), and Children's Health℠ (487 beds)
Develop clinical competence in the care of neurovascular patients with technical competence in the performance of neurovascular interventional procedures, to include: aneurysm embolization, aneurysm flow-diversion, embolization of tumors, vascular malformations and trauma-related vascular injury, and acute/preventative interventions for the treatment of stroke
Participation in research projects with Endovascular Surgical Neuroradiology/Neuroendovascular Surgery
Beyond the clinical experience
Fellows' responsibilities also include assisting in resident education and training.
Benefits
Pay commensurate with PGY level
Fellows have three vacation weeks and one meeting week
Call Duty
Call duties are fulfilled approximately every second to third week with a beeper call from home. Most call responsibility involves the performance of after-hours neurovascular interventional procedures in conjunction with faculty at one of our two comprehensive stroke centers.
Facilities and Equipment
Clinical facilities consist of
Four dual-energy CT scanners, including a Philips IQON spectral CT device
One 320-row CT scanner
Three 256-row CT scanners
Twelve 64-row CT scanners
Seven 3T magnets
Seven 1.5T magnets
Fourteen Philips iu22 (including elastography software) ultrasound units
Nineteen EPIQ7 ultrasound units
Angiographic facilities include
Three biplane Toshiba Infinix angiography rooms with 3D angiography, low contrast imaging, and 3D roadmap capability
Two biplane Philips angiography suites with 3D angiography, cone beam CT imaging, and dose reduction strategies
Additional research equipment includes
Conferences
Informative, multidisciplinary clinical conferences in combination with neurology, neurosurgery, neuropathology, and otorhinolaryngology services are available and routinely attended by neuroradiology faculty and fellows. Weekly multidisciplinary neurovascular conferences are also offered as well as monthly neurointerventional morbidity and mortality conferences.
Research Opportunities
Intellectual vibrancy and technological innovation are core values of the Department, which are developed through research and collaborative efforts of the clinical faculty and Department Ph.D.s.
Salaries and Benefits
Hospital stipends are set annually and are competitive nationally with those of other teaching programs. The amount, shown in the chart below, depends on the year of residency training.
Low-cost hospitalization and dental insurance is available to contracted house staff, as well as a group life insurance plan.
Medical malpractice insurance is provided for Radiology house staff by the Department through the University of Texas System group plan.
The Fellow's assignments and vacation usage will be determined and/or approved by the Program Director. Fellow will accrue vacation and sick leave on a monthly basis and may utilize such leaves consistent with State law and the Policies and Procedures adopted by UTSW to implement the State law.
| Year | Annual Salary |
| --- | --- |
| PGY 6 | $77,646.40 |
| PGY 7 | $80,558.40 |
| PGY 8 | $84,572.80 |
Application Process
The program provides two one-year fellowship positions annually. Information regarding the application process can be found under How to Apply on the main Fellowships page.
International Medical Graduates
For questions regarding International Medical Graduates, please visit our fellowships page.