History of the Division of Infectious Diseases and Geographic Medicine
The Division of Infectious Diseases and Geographic Medicine at UT Southwestern has a rich history as home to many of the leading experts in Infectious Disease. There is probably no other specialty in Medicine that has experienced greater changes in terms of events and pathogens. An abbreviated history of the division is outlined here. Please see the PDF document for a more comprehensive history of the division written by Dr. James Luby.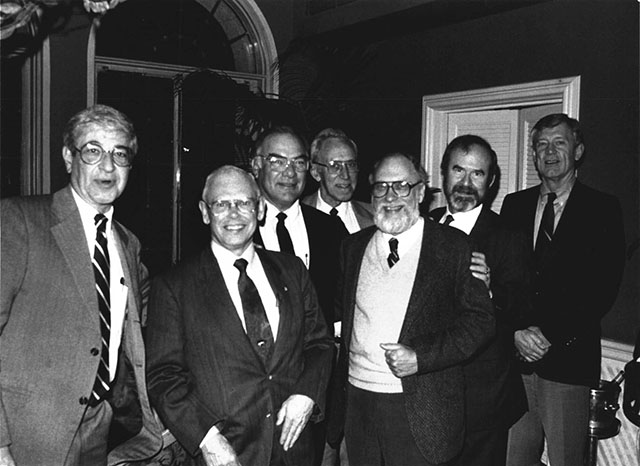 1953

Dr. Abraham Braude becomes the first Chief of Infectious Diseases. Dr. Braude later becomes president of the Infectious Diseases Society of America (IDSA).

1957

Dr. Jay Sanford becomes the second Chief of Infectious Diseases. With Dr. A.K. Pierce in Pulmonary and others, he documents the important role of mainstream reservoir nebulizers as a source of gram-negative bacteria causing pneumonia in patients receiving ventilator therapy. He goes on to become president of the IDSA. He is best known for his authorship of the Sanford Guide to Antimicrobial Therapy.

1966

A major outbreak of St. Louis encephalitis occurs in Dallas. The epidemic is discovered early and its extent predicted, allowing investigations of the disease which involve 16 faculty members and fellows and resulted in a three-paper series appearing in the Annals of Internal Medicine.
Gram-negative bacterial colonization of the nasopharynx is first described at Parkland Hospital as a common occurrence in hospitalized patients with underlying illness. Psychiatric patients and normal controls are not colonized.

1970

A resurgence of measles occurs in Dallas County due to low rates of immunization of children.

1975

Dr. James P. Luby becomes the third Chief of Infectious Diseases. Dr. Luby goes on to become head of the Virology Laboratory at Parkland Hospital and Parkland's Chief of Infection Control. He later becomes medical director of a Centers for Disease Control-sponsored STD (sexually transmitted disease) prevention and training program.

1978

Parkland Memorial Hospital has its first outbreak of MRSA infections in the Burn Intensive Care Unit (BICU).

1983

A clinic for managing patients with HIV/AIDS is established at Parkland Hospital. Eventually, as many as 7,000 patients with HIV infections are seen annually.

1986

Dr. Robert Munford discovers AOAH, a human and animal enzyme which detoxifies endotoxin in vivo.

1988

A second resurgence of measles occurs in Dallas County. This outbreak involves 2,300 cases with six deaths. More than 30 Parkland workers are infected.

1989

A campus-wide epidemic of histoplasmosis is shown to be related to construction activities and inadequate filtration of intake air in modern air-conditioned buildings. An estimated 600 infections are documented, leading to 29 clinical cases.

1997

Dr. Richard (Rick) Koup becomes Chief of the Division of Infectious Diseases. He served as division chief until 2001, leaving for the NIH where he became Chief of the Immunology Laboratory, Vaccine Research Center.

2004

Dr. Beth Levine is recruited from Columbia University to become the fifth Chief of Infectious Diseases. She becomes the Director of the Center for Autophagy Research, and is elected into the National Academy of Sciences in 2013.

2010

The UT Southwestern Transplant Infectious Diseases Unit is established at St. Paul Hospital.

2010

Dr. Kavita Bhavan becomes the Medical Director of the Outpatient Parenteral Antimicrobial Clinic/Infectious Diseases Clinic at Parkland Hospital and begins an innovative, award-winning program of self-administered outpatient antibiotic therapy (S-OPAT).

2012

One of the largest West Nile Virus (WNV) outbreaks occurs in Dallas County, with 400 clinical cases and 20 deaths. Aerial spraying of insecticide is necessary for control.

2016

Dr. Trish M. Perl becomes Chief of the Infectious Diseases Division. She was recruited from Johns Hopkins Health System where she served as Senior Epidemiologist.

2017

To better reflect the activities and reach of the Division, the name is changed to Division of Infectious Diseases and Geographic Medicine.

2023

Dr. John David Beckham becomes the seventh Chief of the Division of Infectious Diseases and Geographic Medicine, bringing expertise in the interaction of CNS infections, inflammation, and neurological manifestations.