UT Southwestern's Transplant ID Fellowship is a fully-funded one year training program that provides advanced subspecialty training in the management of infections in Solid Organ Transplant, Bone Marrow Transplant, Lymphoma/Myeloma and Hematologic Malignancy patients. The curriculum provides a strong foundation in the management of these unique infections as well as in the core knowledge necessary to provide programmatic support for consulting services.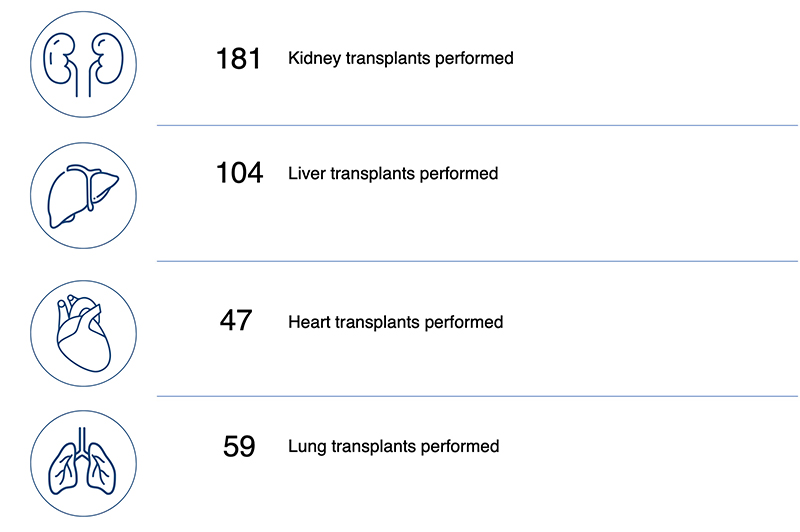 Mission Statement:
Provide state-of-the-art clinical training in the management of infections in patients with solid organ transplants, hematopoietic stem cell transplants, lymphoma/ myeloma, and CAR T cell recipients.
Educate all trainees in the practical skills required to support collaborating medical and surgical teams.
Perform clinical and translational research that will further the care of infections in all immunocompromised patients.
Application Process
Application Requirements
Successful completion of two years of General Infectious Diseases training through an accredited US-based fellowship program prior to start date though consideration will made for exceptional candidates
A brief, 500-word statement of interest
Three letters of recommendation
An updated CV
Materials should be submitted by October 1 of the year prior to intended start date and sent to ricardo.lahoz@utsouthwestern.edu.
International Applicants
Recognizing that some of our most talented applicants are not permanent residents, we are committed to recruiting qualified international trainees. UT Southwestern accepts permanent residents or J-1 ECFMG sponsored visas. Unfortunately, the medical school does not sponsor H-1B visas.
Salaries
Salaries
| Fellowship Year | Program Year | Salary |
| --- | --- | --- |
| Fellowship Year 1 | PGY4 | $71,552 |
| Fellowship Year 2 | PGY5 | $74,256 |
| Fellowship Year 3 or more | PGY6 | $77,646 |
| Fellowship Year 4* | PGY 7 | $80,558 |
*Restricted to programs that offer advanced training certification that can only be accomplished with a fourth year of clinical training.
Training
Clinical Training
Inpatient Care:
The bulk of training occurs on the Transplant Infectious Diseases inpatient consulting service at Clements University Hospital. By training at the largest transplant center in North Texas, fellows encounter a range of pathology on the Solid Organ, Lymphoma/Myeloma, and BMT services. On-service learning focuses on graded autonomy and allows for opportunities to participate in donor calls.

Fellows join an inpatient consulting team that includes Transplant ID faculty, a physician assistant, a pharmacist, and a General ID fellow.

Outpatient Training:
While on the consulting service, fellows have clinic onw half-day per week working with the Oncology Infectious Diseases Clinic or in Abdominal or Thoracic Transplant ID clinics.

Collaborating Services:
The program emphasizes learning in core areas of transplant medicine/surgery as well as oncology. To this end, fellows may spend time working in the outpatient setting in UT Southwestern Bone Marrow Transplant; Lymphoma/Myeloma; and Kidney, Liver, Heart and Lung Transplant clinics.

Elective Tx Rotation:
Transplant ID fellows are expected to complete three months of elective rotations. They can choose to spend from one week to one month in any of these rotations. Example rotations include inpatient or outpatient time with collaborating medical or surgical services, the Southwest Transplant Alliance, and the Microbiology Lab.
Didactics
Fellows participate in weekly didactics and monthly conferences designed to provide reenforced learning of core topics in the field of Transplant ID. Opportunities may be tailored to the interests of incoming fellows. Additionally, fellows are allotted time to attend regional and national conferences related to the field.
Weekly Sessions:
Core Transplant ID Curriculum
Transplant ID Journal Club
Research
Fellows are permitted up to three blocks of time to dedicate to research. Our Transplant ID faculty represent a range of expertise in clinical and translational research. Our faculty are internationally recognized for their work on Donor Derived Infections, Norovirus and Multidrug Resistant Organisms. Opportunities for research include access to the UT Southwestern Transplant Infectious Diseases Database as well as through a genomic database of MDR organisms.
Training Opportunities
Rotation Distribution
Rotation

1st Clinical Year
(4-week blocks)

University Hospital Consults*

6

Research**

3

Electives

3
*One half-day per week will be dedicated to Transplant ID clinic
**Includes allotted vacation time
Training Site
Clements University Hospital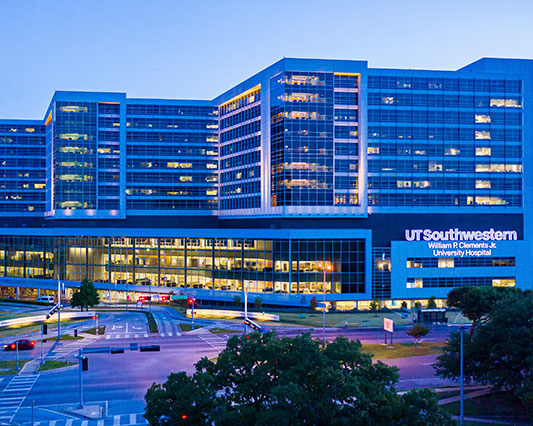 William P. Clements Jr. University Hospital, a tertiary referral center for patients with complex disorders, opened in December 2014 in a newly constructed state-of-the-art facility. The building housed 460 single-patient rooms, and contained more than 35,000 square feet of space dedicated to research and learning, including the Education and Conference Center, a high-tech space for conferences, symposiums, and demonstrations. In 2020, a third tower was added to CUH, increasing the total number of beds to 750.
Curriculum and Conferences
Weekly Sessions
Core Transplant ID Curriculum
Transplant ID Journal Club
Contact Us
Division of Infectious Diseases and Geographic Medicine
UT Southwestern Medical Center
5323 Harry Hines Blvd.
Dallas, TX 75390-9113
Phone:
214-648-0234
Fax: 214-648-9478
Dallas is a growing and thriving city.
Find more information about Life in Dallas.