Parkland Health & Hospital System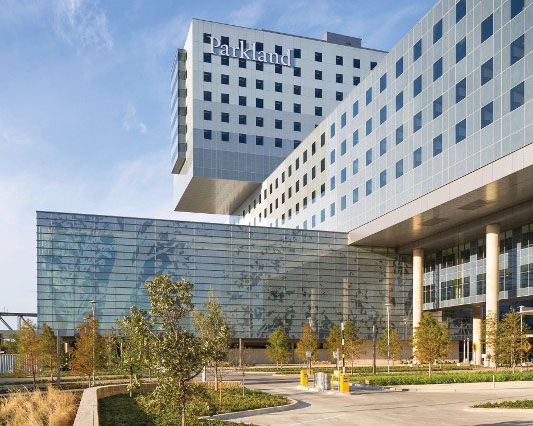 U.S. News & World Report: America's Best Hospitals 2010-2011
The iconic Parkland Memorial Hospital  is an exemplary, nationally recognized county hospital where our faculty and fellows have the privilege of caring for Dallas County's most vulnerable patients. The new Parkland Hospital, opened in August 2015, is a 2.8 million-square-foot facility with 862 beds, and is one of the largest and most modern county hospitals in the nation.
Parkland allows our fellows the valuable experience of serving as the primary cardiologist for many of these patients, who often present with previously undiagnosed complex cardiovascular disease. For example, patients with complex valvular and adult congenital heart disease commonly arrive at Parkland for their initial diagnosis and management. Cardiovascular fellows see an unusual range of cardiovascular diseases, while drawing on state-of-the-art equipment and facilities to care for their patients.
William P. Clements Jr. University Hospital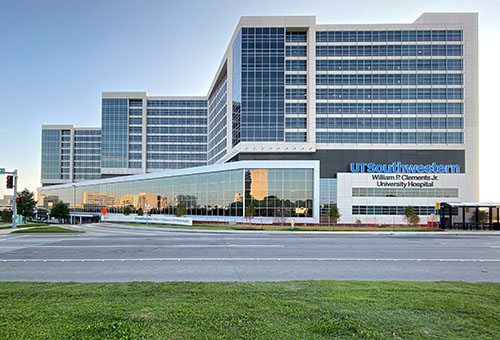 U.S. News & World Report: Best Hospital in Dallas-Fort Worth 2017-2018, 2018-2019, 2019-2020, 2020-2021; Nationally ranked for Cardiology and Heart Surgery
Clements University Hospital, which opened December 2014, is largest single building project in the history of the University of Texas system. Recently expanded to a 750-bed state-of-the-art facility, Clements uses innovative design, advanced technology, and best practices to provide excellence in care. It includes 120 ICU beds, six cath/EP labs with cutting-edge technology, and other facilities of a modern, academic teaching center: conference rooms on each floor with whiteboard and videoconferencing technology, a simulation room in the ICU for medical training, and "touch down" areas for informal case and data review. Each patient room is equipped with teleconferencing capabilities, and each floor has space to support clinical research.
Fellows care for patients with a range of cardiovascular conditions, including tertiary and quaternary referrals, advanced heart failure, transplantation and mechanical support, and adult congenital heart disease. Fellows also manage patients with patients advanced coronary and structural procedures.
Dallas Veterans Affairs Medical Center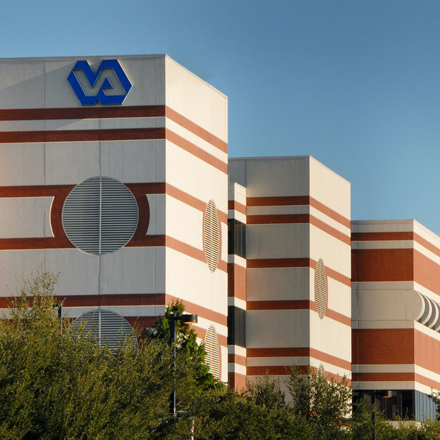 The Dallas Veterans Affairs Medical Center is located 20 minutes (13 miles) from Parkland. It operates 853 beds, including a 16-bed coronary care unit. The hospital serves the populous North Texas area, including Dallas and Fort Worth, as well as outlying VA centers and community hospitals who refer patients with complex cardiac disease for advanced care.
The Dallas VA has one of the VA system's busiest cardiac catheterization laboratories and is a leader in VA-sponsored multicenter clinical trials. It also has one of the VA's largest electrophysiology referral bases, with high volumes of complex ablations as well as standard EP procedures. It also serves as a key continuity clinic for our fellows.