Infectious Disease and Geographic Medicine
The Division of Infectious Diseases and Geographic Medicine at UT Southwestern Medical Center is dedicated to achieving the highest quality patient care, clinical and basic science research, and postdoctoral fellowship training in infectious disease.
Mission Statement
Patient Care
We provide innovative and outstanding patient-centered care to individuals from diverse backgrounds who have a range of medical conditions.
Research
We conduct cutting-edge research in basic, clinical, translational, and population health sciences.
Education
We provide students, residents, and postdoctoral trainees a strong foundation in the principles and practice of infectious diseases clinical care and research.
Diversity, Equity, and Inclusion
We embody the values of diversity, equity, and inclusion in education, research, and the delivery of high-quality, accessible patient care. And we recruit, retain, and promote diverse faculty, staff, and trainees who reflect the communities we serve.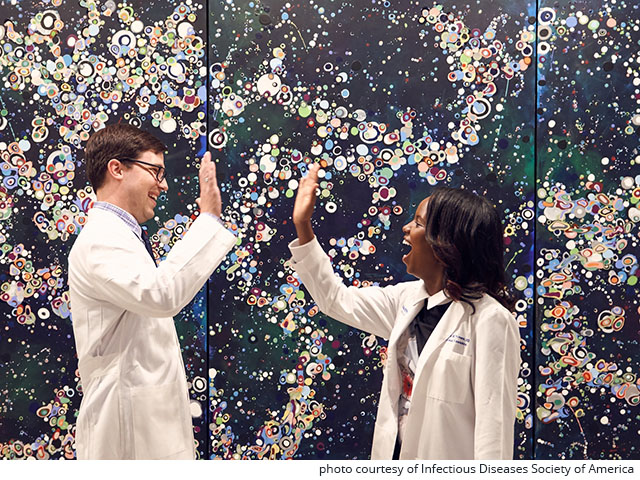 Patient Care and Clinical Innovation
Our faculty are recognized authorities in the diagnosis and treatment of infections with resistant organisms, HIV/AIDS, hepatitis, meningitis, osteomyelitis, emerging infections, tropical diseases, and other infectious conditions. We also offer experienced subspecialty care for patients in Parkland Hospital's burn recovery unit, the UT Southwestern transplant programs and the North Texas VA Medical Center spinal cord unit. We are home to one of the largest Ryan White clinics in the country, and we have a specialized HIV inpatient service at Parkland Hospital to care for people with HIV and opportunistic infections, malignancies, and other conditions. Our Division also aims to develop and implement innovative practice models, such as our self-administered Outpatient Parenteral Antimicrobial Therapy Program, designed to fit the changing needs of patients and physicians in the field.
Research in Basic and Clinical Sciences
Our faculty perform cutting-edge clinical, translational, and basic science research in an outstanding research environment. Research within the Division of Infectious Diseases and Geographic Medicine has emphasized the pathogenesis and treatment of HIV, hepatitis C, and TB. We also offer research expertise in infectious disease epidemiology, correctional health, infection prevention and control, antimicrobial stewardship, central nervous system infections, respiratory tract infections, and musculoskeletal infections.
Postdoctoral Training and Education
We offer a rigorous fellowship training program dedicated to producing academic physicians of exceptional caliber that combines extensive training in the management of a wide variety of infectious diseases with in-depth, mentored research training in the clinical or basic sciences. Our award-winning faculty also oversee an Ambulatory Infectious Diseases and Inpatient Infectious Disease curriculum for resident trainees.