UT Southwestern's community engagement connects North Texans with our health care system to enhance wellness and health for all. Our culture of service and commitment to community directly impacts our goals to increase access to care and fulfill our mission of education, discovery, and healing.
Our Mission
UT Southwestern is committed to promoting health and a healthy society that enables the achievement of full human potential. Our collective work is guided by this mission across the three institutional pillars of an academic medical center – education, discovery, and healing.
Community Service
With roots in Dallas and a statewide reach, community service at UT Southwestern encompasses a robust spectrum of work and impact to bring change and advance solutions to community needs.
Community service initiatives at UT Southwestern are supported by the more than 19,000 faculty and staff and nearly 3,600 students, residents, and fellows on campus. These initiatives include: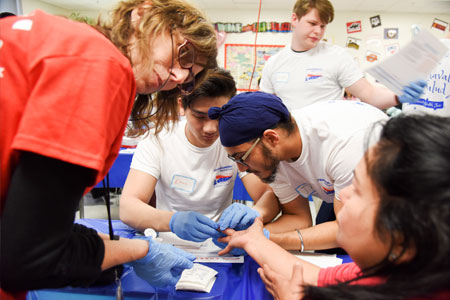 Providing for Health Care Needs
Charity clinics serving both primary and specialist needs
Emergency disaster relief services and support
Health fairs and free preventive screenings
Work with patient support groups, issue advocacy groups, and civic organizations
Enriching Education
STEM and health care education outreach and programs with local school districts
STARS: Science Teacher Access to Resources at Southwestern
Innovative medical student curriculum that educates about underserved communities and social determinants of health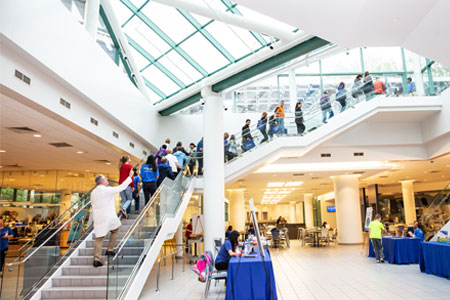 Expanding the Leadership Pipeline
Programs to increase the number of minority and disadvantaged students pursuing careers in medicine
Student research and internship opportunities in biomedical labs
UT Southwestern health care and science outreach initiatives that provide adult and family learning
Learning opportunities to expand the pipeline of future providers, scientists, and researchers
Texas and Community Impact
At UT Southwestern, we are advancing the field of medicine, generating important economic benefits for Texas, and improving the health of our fellow Texans.
We operate the largest public graduate medical education and biomedical sciences Ph.D. programs in the state of Texas. As a University of Texas institution, we are proud to be part of this university system with the most medical schools in the United States. In North Texas, nearly half of practicing doctors received some or all of their medical training at UT Southwestern as interns, residents, or fellows.
Community Outreach and Events
UT Southwestern's community outreach programs focus on engaging with the community to provide fun learning experiences for health care and science education.
We strive to expand the pipeline of tomorrow's doctors, scientists, and biomedical professionals through the exploration of STEM careers, especially for diverse and underserved populations. If even one young person walks away from campus excited about science, we have opened up a world of possibilities to our next generation of leaders.
Outreach and Educational Programs

Community Needs Assessment
North Texas is a center of entrepreneurship, innovation, and technology, fueled by a strong business sector and the talents of a diverse and ever-growing population of more than 7 million people across 16 counties. Hidden in plain sight within this booming economy are many challenges faced by our most vulnerable and need-driven populations.
To address the health care needs of the underserved and most vulnerable populations in the region, UT Southwestern collaborates with Parkland Memorial Hospital and other community organizations to produce a three year community needs assessment and plan for Dallas County. The challenges and community needs of the county inform and impact broader societal and health care issues across North Texas.
Initiated in 2015 and updated in 2018, the current Dallas County Community Health Needs Assessment focuses on five priority areas:
Behavioral health/mental health
Health access/insurance coverage and provider shortages
Maternal, infant, and child health
Community coordination and care partners
Older adults and aging population

Speakers Bureau
UT Southwestern is one of the premier academic medical centers in the nation, integrating pioneering biomedical research with exceptional clinical care and education. Our physicians provide medical care in about 80 specialties to more than 105,000 hospitalized patients, nearly 370,000 emergency room cases, and oversee approximately 3 million outpatient visits a year. Businesses, nonprofits, neighborhood groups, civic organizations, and interest groups can request one of our experts online.
Contact Us

Jennifer King
Director of Public Affairs

Corey Tovian
Manager of Public Affairs
For additional information, PublicAffairs@UTSouthwestern.edu UT Southwestern Public Affairs.