Clinical Research Studies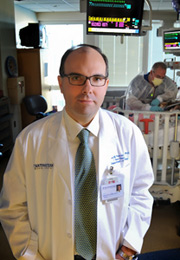 Juan Pascual, M.D., Ph.D., has special clinical research expertise in glucose metabolism, mitochondrial and unusual degenerative and multi-organ disorders. As one of the few pediatric neurologists in the nation who is also a laboratory scientist and an adult neurologist, Dr. Pascual is interested in the molecular mechanisms that cause inherited metabolic and excitability disorders using electrophysiology and nuclear magnetic resonance (NMR) both in human subjects and in models of human diseases.
UT Southwestern aims to foster translational research that makes a real difference in clinical care by moving discoveries "from bench to bedside." The Rare Brain Disorders Program embodies this call and plays a key role in translational research efforts including programs funded by the National Institutes of Health. Currently, scientists in the laboratory are pursuing five key areas of investigation:
Development and improvement of treatments for patients with rare diseases
Whole genome testing to diagnose disorders by fully screening each patient's DNA
Brain imaging based on magnetic resonance imaging (MRI) for precise, noninvasive diagnosis and monitoring
Examining single brain cells in culture to identify mechanisms of rare diseases
Generating disease models to test the safety and effectiveness of potential treatments for rare brain disorders
Studies
The laboratory leads a variety of clinical studies and clinical trials. Dr. Pascual is interested in learning more about certain types of seizures in patients with glucose transporter type 1 disorder (G1D), and how seizures are treated in G1D. We invite all adult patients diagnosed with G1D or the adult caregivers of minor patients with G1D to complete the following survey, regardless of seizure frequency or status.
Please email rare.diseases@utsouthwestern.edu for information if you are interested in participating in any of the following studies:
COMPLETED Treatment Development of Triheptanoin for Glucose Transporter Type I deficiency syndrome (G1D)

PENDING Next stage: Comprehensive neurological and metabolic short and long-term outcomes of Glucose Transporter Type I deficiency (G1D) patients receiving the medical food triheptanoin (C7 oil)
ACTIVE The Glucose Transporter Type I deficiency (G1D) Registry www.G1DRegistry.org
ACTIVE Distribution of Markers of Inherited Metabolic Diseases
ACTIVE The NIH Office of Rare Diseases Research Collaboration, Education and Test Translation (CETT) Program for Glucose Transporter Type I deficiency (G1D)
ACTIVE Repository for the study of the molecular basis of rare and undiagnosed encephalopathies
ACTIVE NMR observation of muscle and brain oxidative metabolism
ACTIVE North American Mitochondrial Disease Consortium
ENROLLMENT COMPLETED Treatment Development for Adult Polyglucosan Body Disease (APBD) due to deficiency of Glycogen Brancher Enzyme (GBE)
COMPLETED Biochemical, Clinical, Radiologic and Genotypic Analysis of MELAS, Mitochondrial Encephalomyopathy, Lactic Acidosis, and Stroke-like Episodes