Priyanka Chaudhry, M.D., joins UTSW Headache Medicine Program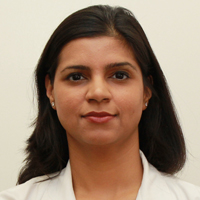 Priyanka Chaudhry, M.D., has joined the UT Southwestern Department of Neurology and Neurotherapeutics as a member of the Headache Medicine and Facial Pain Program.
Dr. Chaudhry trained at UT Southwestern as a neurology resident, and then completed a headache medicine fellowship, also at UTSW.
Her interest in neurology started taking root when she was a medical student.
"When I was in medical school in India, I saw patients who had neurological issues but there weren't very many effective treatments," Dr. Chaudhry said.
Her desire to help those patients led her to specialize in neurology, but it was Deborah Friedman, M.D., Director of the Headache Medicine and Facial Pain Program, who inspired her to focus on headache medicine.

"I was a senior resident on service and she was my attending," Dr. Chaudhry said. "Dr. Friedman is an awesome mentor and very hard working. She spoke a lot about headache medicine during this rotation. I decided to do my elective in her headache clinic and learned that one can really change the lives of those who suffer with chronic headaches."
Dr. Chaudhry, Instructor of Neurology and Neurotherapeutics, was the first physician to complete the newly established Headache Medicine Fellowship.

"Dr. Chaudhry brings a wealth of knowledge and tremendous energy to the Headache and Facial Pain Program," said Dr. Friedman, Professor of Neurology and Neurotherapeutics and Ophthalmology. "She has great ideas for enhancing resident education in headache medicine and a vision of how to continue building our program to gain national prominence."
The Headache Medicine Program is currently recruiting for a 2015 fellow.