Headache Medicine Fellowship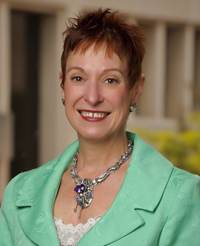 The Headache and Facial Pain Fellowship Program, under the directorship of Deborah I. Friedman, M.D., M.P.H., offers a one-year fellowship which is accredited by the United Council for Neurological Subspecialties (UCNS).
Our Fellowship Program is multidisciplinary with partners in Sleep Medicine, Pain Management, Pediatric Headache Medicine, Oromaxillofacial Surgery, Physical Therapy, Pain Psychology, Obstetrics and Gynecology, Neuroradiology, and Plastic Surgery.
We are one of only a few centers available in Texas that treat patients with complex headache disorders. We have established our program as a regional leader in headache medicine with referrals from throughout the southwestern United States.
Training
Fellows will receive a comprehensive experience in outpatient, infusion center, inpatient headache, and facial pain management, and will become proficient in procedures used in the treatment of headache patients (i.e., chemodenervation, peripheral nerve blocks, transnasal sphenopalatine ganglion blocks.)
The Neurology Clinic at the James W. Aston Ambulatory Care Center houses the outpatient offices and the infusion center. The inpatient service is located at Zale Lipshy University Hospital. Fellows are involved in clinical research and publication and receive support to attend at least one national headache medicine meeting yearly.
Medical student and resident teaching is encouraged. The fellow runs a procedure clinic at Parkland one to two times monthly once they are proficient in the techniques. The core curriculum is focused on outpatient and inpatient management of headache disorders in adults and includes experience in pediatric headache disorders, sleep medicine, oromaxillofacial surgery, pain management, and other disciplines as desired. The fellow sees neuro-ophthalmology patients on one half-day weekly to become familiar with the examination techniques and learn about disorders that overlap the two disciplines. Basic science research opportunities are possible depending on the fellow's interest and faculty expertise at our institution.
Publications by our fellows:
Chaudhry P, Friedman DI. Hiccups as a migraine aura. Cephalalgia PMID: 25416324, pii: 0333102414560633. [Epub ahead of print 2014]
Chaudhry P, Friedman DI. Neuroimaging of secondary headache disorders. (Curr Pain Headache Rep, in press)
Chaudry P, Yu W, Friedman DI. Unilateral pupillary mydriasis from nebulized ipratropium bromide: False sign of brain herniation in the intensive care unit. Indian J Crit Care Med 2014;18(3):177-178. PMID: 24701070
Chaudhry P, Friedman DI. Intravenous lidocaine treatment in classical trigeminal neuralgia with concomitant persistent facial pain. Headache. 2014; 54(8):1376-9. PMID: 24845615
Chaudhry P, Friedman DI. Ophthalmoplegic migraine. Neurology MedLink, MedLink Corporation, 2013.
Friedman DI, Reddi S. Primary headache disorders in women. Peri-FACTS, 2015 (in press)
Eligibility
Applicants must have completed three years of an accredited neurology residency, and be either Board-certified or Board-eligible in neurology. Successful applicants must be able to obtain medical licensure in Texas.
How to Apply
As of the 2016-17 fellowship year, the application and selection process for UCNS-accredited Headache Medicine programs will be through ERAS and the NRMP. Click here to apply.
ERAS will be open for applications in July of the PGY4 year (one year prior to starting the fellowship) with a Match in early December. Any additional questions about the program may be directed to Dr. Friedman.