Sleep Medicine Division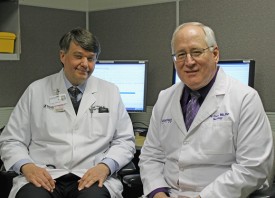 The Sleep Medicine Division is comprised of three physicians who have subspecialty training in sleep medicine: Gregory Carter, M.D., Ph.D.; Pradeep Modur, M.D.; and Jeffrey Ortstadt, M.D. Dr. Modur is also an epileptologist and a member of the Epilepsy Section. Dr. Ortstadt also conducts general neurology clinics at the James W. Aston Ambulatory Care Center.
Drs. Modur and Ortstadt are responsible for interpretation of polysomnograms performed at the Parkland Memorial Hospital Neurophysiology Laboratory, which houses a two-bed sleep laboratory directed by the Department of Neurology and Neurotherapeutics, and perform approximately 50 sleep studies per month. Neurophysiology fellows rotating in epilepsy and EEG also obtain experience in polysomnogram interpretation at his facility. Plans are being made for significant expansion of the sleep laboratory with the construction of the new Parkland outpatient clinic facility.
Dr. Carter and Dr. Ortstadt are staff members at the University Hospital Sleep and Breathing Disorders Clinic, which is a hospital-based facility directed by the Pulmonary/Critical Medicine Division of the Department of Internal Medicine. The Center obtained accreditation from the American Academy of Sleep Medicine as a comprehensive sleep center in July 2010. The neurologists see outpatients for consultation and ongoing care for the full range of sleep disorders, and interpret sleep studies performed in the six-bed sleep laboratory, which performs approximately 130 studies per month.
The demand for sleep medicine consultation and specialty care has grown considerably since the center opened in 2007, and plans for expansion of the clinic are being developed. Both Internal Medicine and Neurology and Neurotherapeutics are recruiting additional fellowship-trained sleep medicine physicians to join the faculty and expand the Center staff. Neurology Residents are encouraged to spend an elective month seeing patients and reading polysomnograms at the Center. Neurophysiology fellows each obtain brief sleep medicine patient care experience there.
A one-year Sleep Medicine Fellowship Program is currently being developed by Dr. Carter, with sponsorship and administrative support through the Department of Psychiatry. ACGME accreditation for two fellowship positions per year is expected to be granted in November 2011. Sleep medicine fellows would rotate among the sleep centers at Children's Health℠, Dallas Veterans Affairs Medical Center, Sleep Medicine Associates of Texas, and the UT Southwestern University Hospital Sleep and Breathing Disorders Clinic. It is expected that two additional fellowship positions will be added within five years.
The Sleep Medicine Section also maintains a relationship with the sleep center at the Dallas VA Medical Center, which operates a six-bed sleep laboratory, and performs approximately 40 sleep studies per month. Richard Dashieff, M.D., is a neurologist and sleep medicine specialist on staff at that facility, and also has an academic appointment in the Department of Neurology and Neurotherapeutics.