Residency Program
The Department of Neurology and Neurotherapeutics offers a categorical 4-year residency training program in adult neurology that is accredited by the ACGME and recognized by the American Board of Psychiatry and Neurology. Nine adult neurology residents are recruited each year.
The Division of Pediatric Neurology offers a fully-accredited, 3-year training program and a combined 5-year program in pediatrics and pediatric neurology based at Children's Health℠ Children's Medical Center Dallas. The program accepts two to four child neurology residents each year. The Division also offers a fully accredited 4-year program in neurodevelopmental neurology, and a combined 6-year program in pediatrics and neurodevelopmental disabilities. Graduates are eligible for boards in pediatrics, adult and pediatric neurology, and neurodevelopmental disabilities.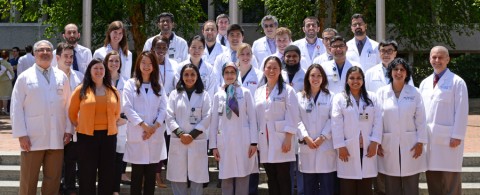 View the Neurology Training Programs brochure.
The residency program enhanced its teaching programs in 2010 with a new web-based curriculum and introduced new fellowships. Read more about the latest developments in the Neurology Department.
Residents train in a variety of settings including Parkland Memorial Hospital and Zale Lipshy University Hospital, which are both JCAHO-certified primary stroke centers; a private university hospital system; the Dallas Veterans Administration Medical Center; and in general and subspecialty outpatient clinics.
After completing their training, residents are equipped with the skills necessary for excellence in either academic or private practice careers. Our program also provides ample opportunity for academic pursuits including basic science or clinical research.
For more information about the adult neurology training program, send an email to the Residency Coordinator.
neurologyresidency@utsouthwestern.edu