Sleep Medicine Division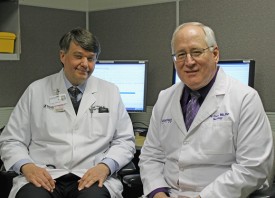 The Sleep Medicine Section is comprised of six physicians who have sub-specialty training in sleep medicine: Gregory Carter, M.D., Ph.D.; Ryan Hays, M.D.; Benjamin Williams, M.D., Ph.D.; Safia Khan, M.D.; Imran Khawaja, M.D.; and Jeffrey Ortstadt, M.D. Dr. Ortstadt is chief of the section. Dr. Hays, chief of the Parkland Sleep Laboratory, is an epileptologist and a member of the Epilepsy Section. Dr. Ortstadt and Dr. Williams conduct neurology clinics at the Aston Center as well. Dr. Khawaja is director of the Sleep Center at the Dallas VA Medical Center. In addition, the Department of Neurology and Neurotherapeutics has a nurse practitioner, Joy Bernardo, ANP for stable follow-ups, especially those on positive airway pressure devices.
Dr. Hays, Dr. Williams, and Dr. Ortstadt are responsible for interpretation of polysomnograms performed at the Parkland Neurophysiology Laboratory, which houses a two bed sleep laboratory directed by Dr. Ryan Hays of the Department of Neurology and Neurotherapeutics, and performs approximately 50 sleep studies per month. Neurophysiology fellows rotating in epilepsy and EEG also obtain experience in polysomnogram interpretation at Parkland. Construction is underway for significant expansion of the sleep laboratory inside the new Parkland Outpatient Clinic Building.
All six physicians are staff members at the UTSW Clinical Center for Sleep and Breathing Disorders (CCSBD) at UH-Clements, which is a hospital-based facility directed by Dr. Won Lee of the Division of Pulmonary and Critical Care of the Department of Internal Medicine. The Center has been accredited by the American Academy of Sleep Medicine as a comprehensive sleep center since July, 2010. The CCSBD is undergoing remodeling for a significant increase in the size of the clinic and laboratory. The physicians see outpatients for consultation and ongoing care for the full range of sleep disorders, and interpret sleep studies performed in the 6 bed sleep laboratory, which performs approximately 120 studies per month. The demand for sleep medicine consultation and specialty care has grown steadily since the center opened in 2007. Internal Medicine and Neurology are recruiting additional sleep medicine physicians to join the faculty and expand the Center staff. Residents and fellows are encouraged to spend an elective month seeing patients and reading polysomnograms at the CCSBD.
A one-year sleep medicine fellowship program is under way with the first fellow graduating in June 2016. Dr. Gregory Carter is the program director. The fellowship is administered within the Department of Neurology and Neurotherapeutics. ACGME accredited the fellowship in late 2014 for two fellowship positions per year. A request is being prepared to increase that number to four fellows per year. Sleep medicine fellows currently rotate between Childrens' Medical Center and UH-Clement's Clinical Center for Sleep and Breathing Disorders. An additional rotation at the Dallas VA Medical Center is expected beginning in July, 2017. The Dallas VA Medical Center has a six bed Sleep Center staffed by three board certified sleep specialists, Dr. Imran Khawaja, Dr. Tom Kuang, and Dr. Wolfgang Schmidt-Nowara. The Dallas VAMC and its faculty will be welcome additions to the fellowship program.