Our mission is to discover and synthesize biologically active small molecules as research tools and drug leads
Overview
The Medicinal Chemistry Lab collaborates with investigators who are interested in using small molecules to test biological hypotheses and to discover new biological processes.
We often work closely with the Simmons Comprehensive Cancer Center's High-Throughput Screening (HTS) Laboratory and Preclinical Pharmacology Core Lab on preclinical drug discovery projects. Our efforts generally commence after an initial screen has been developed and executed in the HTS core. We work with the biologists and the HTS Core to select the most promising initial hits for further evaluation.
Our Focus
We generally focus on three to five promising chemical scaffolds and seek to optimize them through iterative chemistry and biological testing. Through the process of chemical optimization, we heavily rely on the Pharmacology Core Lab to evaluate metabolic stability, toxicity, in vivo pharmacology and solubility.
Our Goals
Discover compounds suitable for proof-of-concept studies in animals

Discover tools that will facilitate mode-of-action or biochemical studies

Synthesize or validate small molecule tool compunds
Our Impact
The Medicinal Chemistry Lab has contributed to five projects that have been licensed to pharmaceutical companies for further development, as well as numerous patents, publications, and grants.
About Our Funding
The Medicinal Chemistry Lab is funded through UT Southwestern Medical Center, grants, and cost-recovery from individual PI's.
For early-stage studies and quality control (e.g., purity, identity of resupplied hits), we charge investigators for supplies, reagents and labor. Later-stage studies are frequently supported by multi-PI or collaborative grants.
Facilities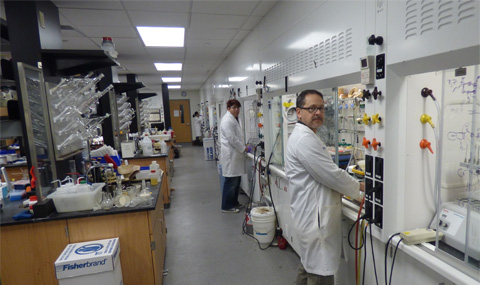 The lab includes nine fume hoods appropriately equipped for synthetic organic chemistry.
We operate two LC/MS instruments, preparative HPLC and medium-pressure LC instruments, and other equipment commonly used for chemical synthesis.
The Synthetic Chemistry lab shares NMR and other instruments
These capabilities allow us to mount aggressive medicinal-chemistry campaigns, synthesize select compounds on large scale for animal testing, and prepare tools for chemical biology.
Location
The Medicinal Chemistry Lab is on the fourth floor of the Green Research Building on UTSW's South Campus (Building Y on campus map).
Core Director