The McDermott Center Human Genetics Clinical Lab is dedicated to help accelerate the pace of human genetic research by providing skilled assistance with collecting and storing biologic specimens.
About Our Lab
The McDermott Center Human Genetics Clinical Laboratory occupies approximately 1,000 sq. ft. of space and contains equipment necessary to perform genomic DNA isolation, dilution of genomic DNA, aliquoting services, lymphocyte isolations and transformations, storage of biologic samples, and phlebotomy services.
Equipment within the core include an automated AUTOGEN FLEXSTAR DNA Extraction instrument that isolates DNA from whole blood, buffy coats, tissues, cells, buccal swabs, saliva, and more, barcode sample tracking readers and printers, a customized laboratory ordering and inventory management system, eight -20°C freezers, seven -80°C freezers, and two liquid nitrogen freezers.
The core facility is available on a cost-recovery basis to McDermott Center and other UTSW faculty members.
About Our Users
Users of the McDermott Center Human Genetics Core Lab are investigators within the UT Southwestern Medical Center or individuals working directly under their supervision.
Our users have currently active research protocols that have been approved by the UT Southwestern Institutional Review Board (IRB) for the collection of human samples.
All samples will be logged into our system using an active IRB protocol number.
What You Need Before Placing an Order
You will be required to enter these numbers into the order form for the services to be performed.
Valid Chart of Accounts (CoA)
You may obtain a CoA from your departmental administrator.

Requisition Number
You may obtain a requisition number from your departmental administrator.
Location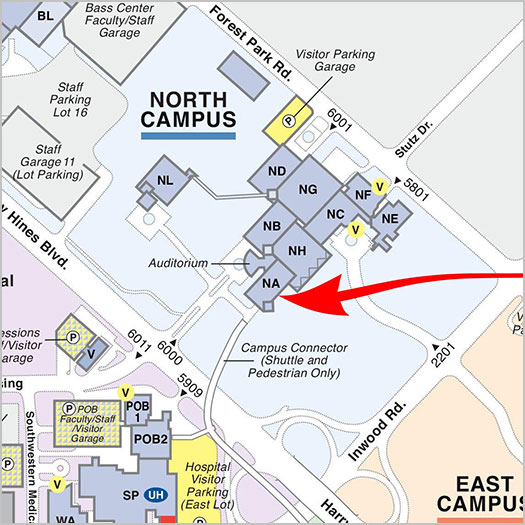 We are located on the North Campus of UT Southwestern Medical Center in the NA building, on the second floor in room NA2.118.
If you are coming from South Campus, get off the intercampus shuttle bus (North/South Shuttle) inside the NA Garage, and take the elevator to second floor.
Mailing Address
Eugene McDermott Center for Human Growth and Development
Hamon Biomedical Research Building
North Campus / NA2.118B (View Campus Map)
6000 Harry Hines Blvd.
Dallas, TX 75390-8591
Core Technician
Vrinda Ganesh
Phone: 214-648-1311
vrinda.ganesh@utsouthwestern.edu
Core Director