Study suggests antibody might be a new tool to fight obesity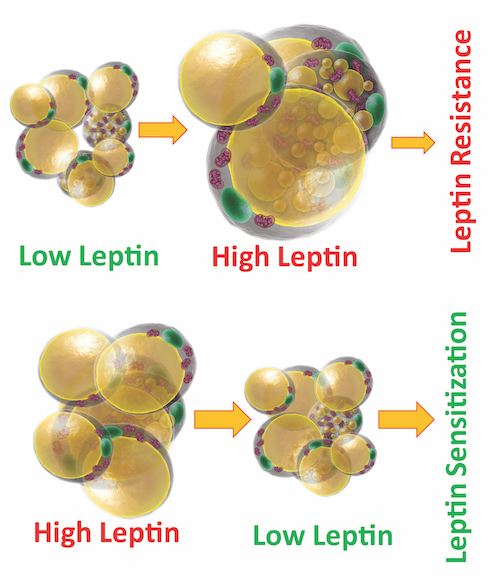 DALLAS – Sept. 5, 2019 – In a surprise finding, UT Southwestern researchers report that lowering levels of the hormone leptin can reduce obesity, overeating, and the insulin resistance tied to diabetes – and they have found an antibody that can do that.
So far, the antibody has only been tested in mice, said Dr. Philipp Scherer, Director of the Touchstone Center for Diabetes Research and senior author of the study, published today in Cell Metabolism. But UT Southwestern and research collaborators hope to test the antibody in human clinical trials soon.
The new study focuses on leptin, a hormone produced by fat cells and sometimes referred to as a "lipostat" because of its presumed function to maintain body weight. It signals the brain to increase or decrease eating and exercise in response to weight gain or loss.
Leptin was hailed as a possible cure for obesity after it was identified in the early 1990s. However, early attempts to inject the protein as a treatment for obesity were disappointing; researchers discovered that obese people became desensitized to the hormone's actions.
Unexpectedly, the UT Southwestern study suggests that reducing leptin levels rather than increasing them may produce the desired weight loss.
"We can actually show that more leptin causes leptin resistance," Dr. Scherer said. Obese mice – like obese people – already have a lot of leptin, produced by an abundance of fat cells that put so much leptin into circulation that it overwhelms the brain's leptin receptors, he explained.
Using an antibody to neutralize some of that leptin nudges the brain's receptors to start working again so they can recognize the remaining leptin, he said.
"We found a way to sensitize the receptors so the brain responds again to the hormone," said Dr. Scherer, Professor of Internal Medicine and Cell Biology and holder of the Gifford O. Touchstone, Jr. and Randolph G. Touchstone Distinguished Chair in Diabetes Research.
Their findings seemed counterintuitive at first, Dr. Scherer said. After all, leptin is what signals the brain to stop eating and thus prevents obesity. "We had a hard time believing it ourselves, and then we had an even harder time convincing the field that this is what happens."
After initial tests about five years ago, Dr. Scherer said his lab used a number of additional strategies to see if the results would be the same. They were, he said.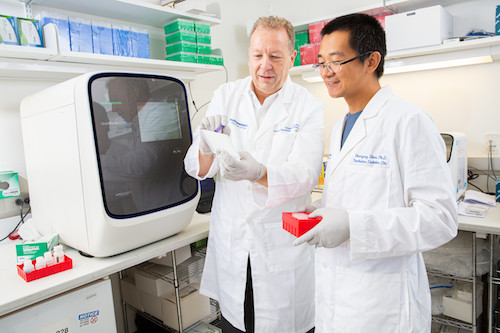 Once it was clear that adding more leptin does in fact make obese mice fatter, Dr. Scherer approached colleagues at the UT Health Science Center at Houston to help design an antibody that could reduce, but not completely eliminate, the excessive leptin levels typically found in the obese state.
Although more testing is needed, "I'm truly excited about the clinical potential this finding has," Dr. Scherer said. "This is a brand-new tool."
Obesity, defined as a body mass index (BMI) of 30 or above, affects about 40 percent of American adults and is associated with a variety of health problems, according to the Centers for Disease Control and Prevention.
"A reduction in obesity would decrease both cardiovascular disease and cancer incidence," Dr. Scherer said. "Most importantly, it would be a potent anti-diabetic approach, independent of any weight loss associated with the treatment."
Dr. Shangang Zhao, a postdoctoral researcher, was first author of the study. Researchers at UT Health Science Center at Houston, Tianjin Medical University General Hospital in China, Southern Medical University in China, Ulsan National Institute of Science and Technology in South Korea, and the University of Arkansas for Medical Sciences also contributed to the study.
The study was funded by the National Institutes of Health, the Robert A. Welch Foundation, and the Fonds de Recherche du Québec-Santé (FRQS) of Canada.
About UT Southwestern Medical Center
UT Southwestern, one of the premier academic medical centers in the nation, integrates pioneering biomedical research with exceptional clinical care and education. The institution's faculty has received six Nobel Prizes, and includes 22 members of the National Academy of Sciences, 17 members of the National Academy of Medicine, and 15 Howard Hughes Medical Institute Investigators. The full-time faculty of more than 2,500 is responsible for groundbreaking medical advances and is committed to translating science-driven research quickly to new clinical treatments. UT Southwestern physicians provide care in about 80 specialties to more than 105,000 hospitalized patients, nearly 370,000 emergency room cases, and oversee approximately 3 million outpatient visits a year.