In memoriam: Professor Emeritus of Surgery Dr. Robert McClelland, provided emergency care to President John F. Kennedy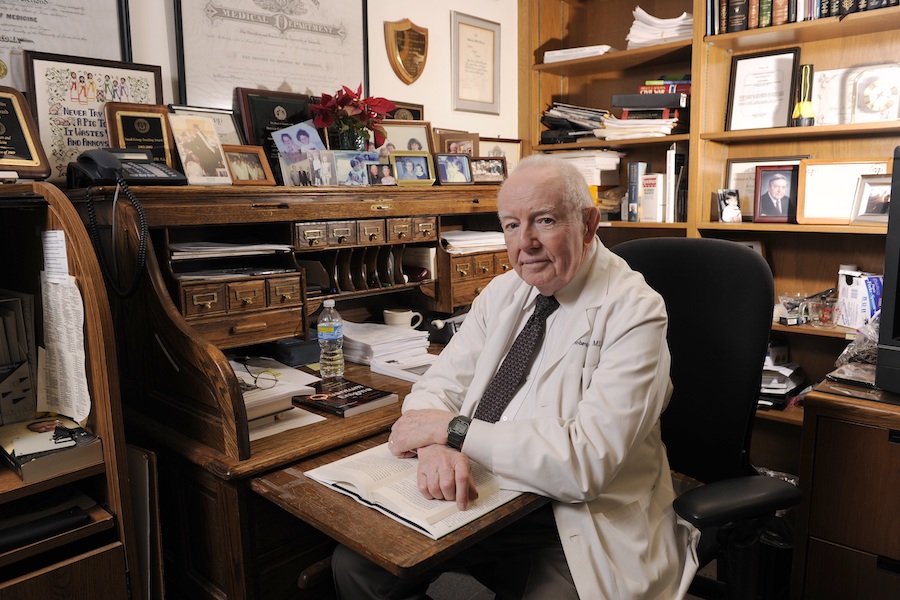 DALLAS – Sept. 13, 2019 – Professor Emeritus of Surgery Dr. Robert N. McClelland, a nationally renowned surgeon and educator, and one of the last surviving members of the Parkland Memorial Hospital surgical team who worked on President John F. Kennedy after he was shot in Dallas, died Sept. 10. He was 89.
Dr. McClelland was a dedicated UT Southwestern Medical Center faculty member throughout his nearly six decadelong career. He was nationally recognized as the creator and originating editor of Selected Readings in General Surgery, a compilation of scientific papers for surgical residents he began in 1974 that was later circulated internationally by the American College of Surgeons. But he was thrown forever into the historical spotlight at the age of 34 when he was called into the emergency room at Parkland to care for President Kennedy on Nov. 22, 1963.
"Over his extraordinary six-decade career, Dr. McClelland had a powerful and enduring impact on the field of surgery and the UT Southwestern community," said Dr. W. P. Andrew Lee, Executive Vice President for Academic Affairs, Provost, and Dean, UT Southwestern Medical School. "A highly skilled and respected mentor, Dr. McClelland always took a personal interest in his students' success. His humble and kind nature earned him the nickname 'Dr. Mac' – a name used by students, residents, and faculty members alike."
President Kennedy's care
Dr. McClelland, who had joined UT Southwestern as an Assistant Professor a year prior to President Kennedy's assassination, was showing his students a surgical video when a knock on the door changed his life. Dr. McClelland and his colleague, the late Dr. William Clark, together entered Trauma Room 1, a small space crowded with the first lady, Secret Service and FBI agents, local law enforcement, and medical personnel trying to save the life of the fatally wounded JFK.
"I stood there kind of dumbfounded for a moment," Dr. McClelland remembered during the 50th anniversary of the assassination. "But then you just move. … Dr. Malcolm O. Perry, who was leading our efforts, asked me to go to the head of the cart. He said we're going to explore the wound and do a tracheostomy," Dr. McClelland said.
Colleagues were focusing on the wound in President Kennedy's neck, when Dr. McClelland moved into position to see what others had not – a massive head wound at the back of the skull. "The first thing out of my mouth was, 'My God, have you seen the back of his head? It's gone.'" Dr. McClelland recalled.
Five minutes later, as Dr. McClelland held the President's head in his hands, the mortally wounded President Kennedy went into cardiac arrest. After last rites were performed, he recalled watching first lady Jacqueline Kennedy re-enter the room. "She took a ring from her finger and exchanged it with a ring on [JFK's]," Dr. McClelland said. Then she kissed her husband's bare right foot and walked out of the room, he added.
"Obviously, this was a very unusual occurrence that one would never expect in an ordinary life. That experience will always be with me," said Dr. McClelland, who kept the blood-splattered white dress shirt he wore that day.
"I have no difficulty remembering what happened," he said during anniversary proceedings, "and I've recalled it so often in the interim that I don't have to strive for that. I may have difficulty remembering what I had for breakfast this morning, but I can tell you what I was doing almost hour by hour that day."
Incredibly, two days later on Nov. 24, 1963, Dr. McClelland again was thrust into U.S. history as one of the surgeons treating accused assassin Lee Harvey Oswald after he had been fatally shot by Jack Ruby. After seeing the news on television, Dr. McClelland headed to Parkland, flagging down Dr. George Shires, Chairman of Surgery at the time, who was returning home after checking on the recovery of Texas Gov. John Connally, who also had sustained bullet wounds in the assassination.
Twenty-eight minutes after Mr. Oswald had been shot in the abdomen, Drs. McClelland and Shires began working on Mr. Oswald's abdomen. Drs. McClelland and Shires worked on Mr. Oswald for an hour when his heart arrested. Dr. Perry opened Mr. Oswald's chest, and the surgeons took turns for about 40 minutes administering an open heart massage. Despite their efforts, Lee Harvey Oswald was pronounced dead almost two hours after being shot, the first live homicide on public television that was witnessed by 20 million viewers.
Over the ensuing years, Dr. McClelland became convinced that Mr. Oswald did not act alone and was the only one of the original emergency room surgeons who operated on the President who maintained that President Kennedy was shot from the front. "All we can say is what we did and what we saw. And if we get off into theorizing about different things, I guess anyone can do that. But we're no better qualified to do that than anybody else, and maybe not as qualified as some people. I hope that people will think that maybe we functioned reasonably well under the circumstances," he said.
Beyond JFK
Born Nov. 20, 1929, in the East Texas city of Gilmer, Dr. McClelland once worked a summer job at the original Parkland Hospital at Maple and Oak Lawn avenues. He graduated summa cum laude from UT Austin in 1950 and attended medical school at the University of Texas Medical Branch, receiving his medical doctorate in 1954 – the year that Parkland Hospital moved to its first Harry Hines Boulevard location. He served as a U.S. Air Force officer stationed in Germany and completed a residency at Parkland before joining the UT Southwestern faculty in 1962.
The liver surgery program at UT Southwestern began under Dr. McClelland's leadership. He often provided support for surgeons in Dallas who recognized him as a fount of knowledge and experience, particularly in the management of liver disease.
He began the legendary Selected Readings in General Surgery out of requests from former residents for copies of the papers discussed in a journal club that he had started. Initially, copies of the reviewed papers were printed personally by Dr. McClelland on a printing press in his office and hand assembled by residents and their wives. "I borrowed $2,700 from the bank. … I thought if we could obtain 500 subscribers, the publication would be practical. Within a month 500 had subscribed. … This number ultimately reached about 5,000."
Subscriptions to the Selected Readings in General Surgery extended worldwide, and he estimated that at one point, more than 60 percent of the general surgery residents in America read them.
A fellow of the American College of Surgeons, Dr. McClelland became the first holder of the Alvin Baldwin, Jr. Chair in Surgery at UT Southwestern, an endowment designed to support surgical education. In 2009, the Department renamed surgical rotations to honor Dr. McClelland, and the McClelland Lectureship is named for him by the Parkland Surgical Society. In addition, he is an Ashbel Smith Distinguished Alumnus at the UT Medical Branch in Galveston.
A Celebration of Life Service will be 1 p.m. Monday, Sept. 16, at Highland Park Methodist Church, 3300 Mockingbird Lane, Dallas, Texas 75205, followed by interment at Greenwood Cemetery, 3020 Oak Grove Avenue, Dallas, Texas 75204.
About UT Southwestern Medical Center
UT Southwestern, one of the premier academic medical centers in the nation, integrates pioneering biomedical research with exceptional clinical care and education. The institution's faculty has received six Nobel Prizes, and includes 22 members of the National Academy of Sciences, 17 members of the National Academy of Medicine, and 15 Howard Hughes Medical Institute Investigators. The full-time faculty of more than 2,500 is responsible for groundbreaking medical advances and is committed to translating science-driven research quickly to new clinical treatments. UT Southwestern physicians provide care in about 80 specialties to more than 105,000 hospitalized patients, nearly 370,000 emergency room cases, and oversee approximately 3 million outpatient visits a year.